The Tracker ATV range is a new addition to the Tracker family that has been boat-centric for years. They designed his Tracker 570 ATV to be a great all-terrain vehicle.
I have written and prepared this article on Tracker 570 ATV Review with detailed information about this vehicle, including its features, pros and cons, top speed, and accessories.
Tracker 570 ATV Review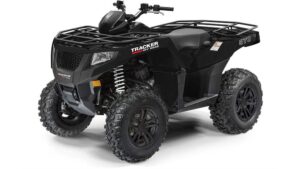 The Tracker 570 is one of the sturdiest ATVs with a powerful 545cc single-cylinder engine that produces 39 horsepower and a speed limit of 52 mph. This vehicle is designed with features to offer energetic trail riding and work-oriented utility.
Check out this electric utv from the same company at Tracker EV IS Reviews.
Tracker 570 ATV Reviews: Features
These are all the features of the Tracker 570 ATV:
545cc Liquid-Cooled, Single-Cylinder, Single Overhead Cam, Gas Engine.
39 HP.
Fuel System: Electronic Fuel Injection.
Drivetrain: Continuously Variable Transmission.
Fuel Capacity: 5.7 gallons.
Overall size: 83.4 inches x 48.5 inches x 49.5 inches.
Double A-Arm front and rear suspension.
Front tires: 25×8.00-12.
Rear tires: 25×10.00-12.
Front Rack Capacity: 100 lb.
Rear Rack Capacity: 200 lb.
Total Capacity: 515 lb.
Towing Capacity: 1,050 lb.
Wheelbase: 52 inches.
Ground Clearance: 11 inches.
Front Differential: 2/4WD Differential.
Rear Differential: Rear Gear Case.
Pros & Cons of the Tracker 570 ATV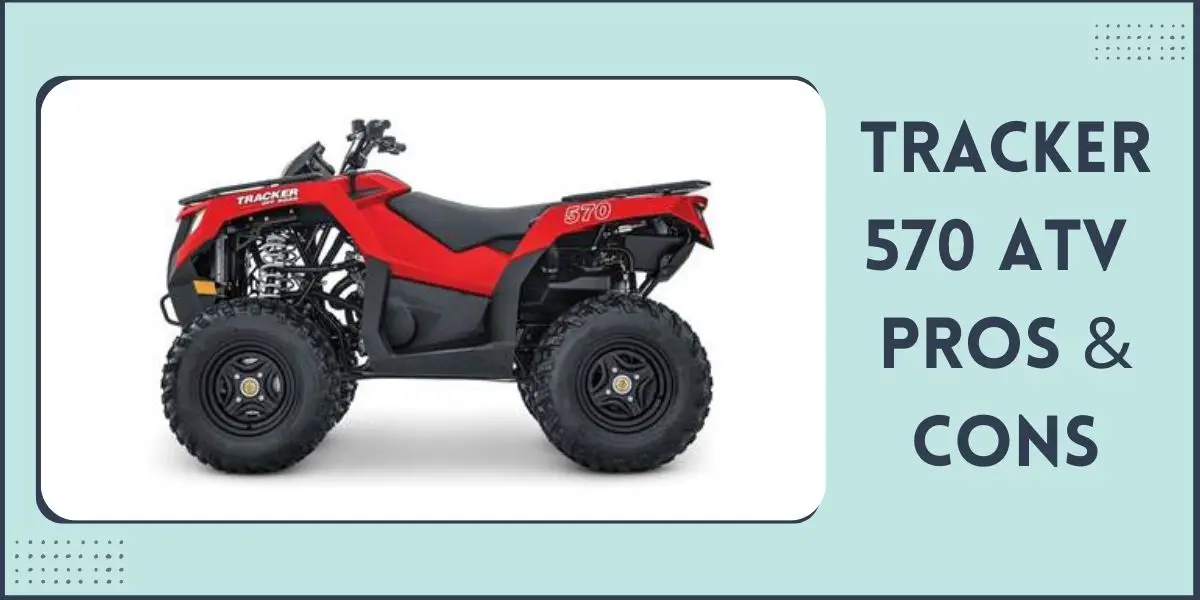 This aspect of the article talks about the pros and cons of using this vehicle.
Pros
It is quite affordable and offers great value for your money.
Great for farm work and leisure.
It has a long-lasting battery.
It has an automatic speed shift.
One year warranty.
It has a quiet and sturdy engine.
Cons
It sometimes takes a long to start or doesn't at all.
It sometimes smokes more than it should.
Tracker 570 ATV Problems
Even the best vehicles experience problems. Knowing these issues in advance will help you know what to expect. Here are some issues that have been reported with using this vehicle.
Loss of power during acceleration.
Leaking oil.
Clogged air filter.
Transmission Problems.
The battery is not charging.
The engine won't start.
You may also like this all-terrain vehicle model: Tracker 450 ATV Reviews.
Tracker 570 ATV Parts & Accessories
Next is a list of various parts and accessories for this vehicle:
Universal Handlebar Grips.
Weize YTX12-BS Battery.
SOLLON Air Filter Replacement.
DB Electrical SCH0006 New Starter.
HKOO ATV rear view mirror.
Kemimoto ATV rear passenger foot pegs.
JINGKE 10 Teeth Starter Motor.
GripPRO ATV Anchors.
MRELC 13mm Kick Starter Lever Pedal.
Starter Relay Solenoid for Tracker 570 ATV.
RPM quadboss ATV backrest.
KDSG ATV LED headlights.
ATV fender bags.
UYYE Universal 12V/24V Car Cigarette Lighter Socket.
Kemimoto ATV seat bags.
KIPA CDI Box For Tracker 570 ATV.
Carburetor Carb for Tracker 570 ATV.
NICHE Starter Motor.
Tokept 190T ATV waterproof cover.
Kolpin ATV rear rack basket.
AMR Racing ATV graphics kit sticker.
Camco Black Boar ATV Rear Storage Box and Lounger.
Kemimoto ATV Waterproof gloves.
Tracker 700 EPS ATV Reviews
The flagship of the Tracker ATV lineup, the Tracker 700 EPS is based on the Arctic Cat Alterra 700 and has a 41 horsepower 695cc single-cylinder engine. There is hardly any difference between this ATV and the Tracker 570 ATV other than the addition of the engine and electronic power steering.
Tracker 300 ATV Reviews
This 2-wheel drive Tracker 300 is built around a 270cc single-cylinder engine and is a great entry-level ATV for most people. The Tracker 300 can tow up to 500 lbs and carry up to 150 lbs with front and rear racks combined. It is 73.6 inches long and 41.4 inches wide and has a 46.4-inch wheelbase.
Tracker 90 ATV Reviews
The Tracker 90 is designed for young riders aged 12+. It looks like a full-size ATV, but it's made for smaller riders. Features include 90cc 4-stroke engine, automatic CVT with neutral and reverse, electric start with kickstart backup, adjustable preload shocks, front and rear racks, and many more.
Tracker 570 ATV Price
The Tracker 570 ATV is available at an affordable price of $6,399. The price is considered affordable as this ATV is packed with great features.
Who Makes the Tracker 570 ATV
The maker of the Tracker 570 ATV is Textron Incorporated.
There is a partnership between Bass Pro Shops and Textron Incorporated, and this partnership has been considered one of the strongest in the automotive industry. This is due to the impressive introduction of his Tracker ATV, a dogged all-terrain vehicle.
Tracker 570 ATV Dealers
There are countless Tracker ATV dealers in the United States. Mom's Foxboro Dealership in Massachusetts is one example of a place that sells this amazing vehicle.
Tracker 570 ATV Top Speed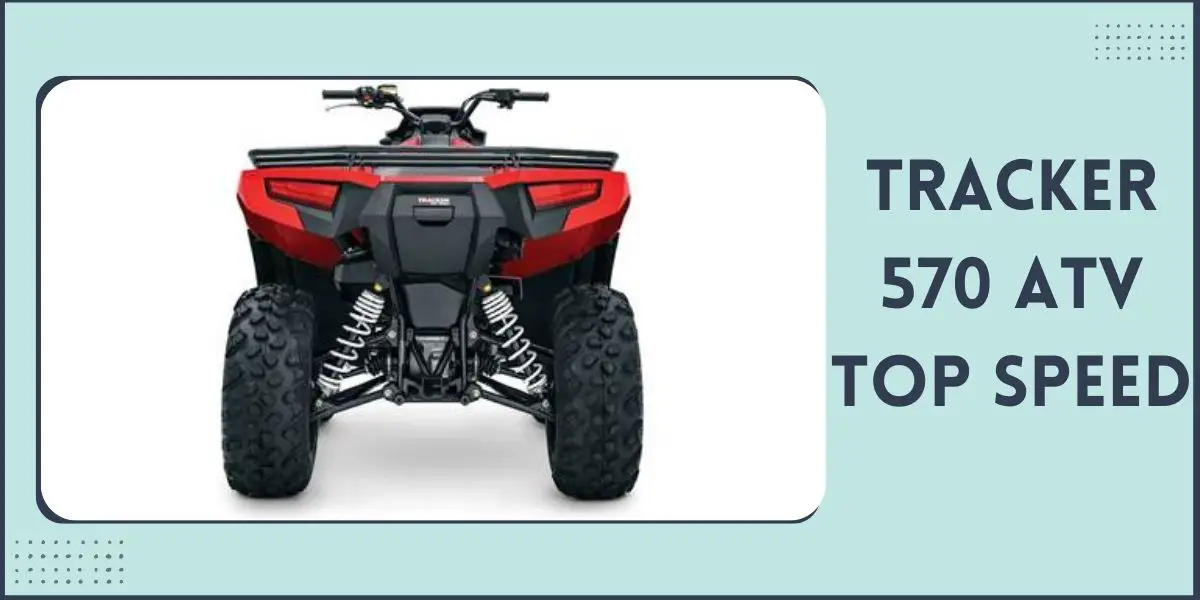 Several tests were performed to determine the top speed of the Tracker 570 ATV. In tests conducted, the 570 averaged 44-52 mph in multiple round trips.
Wondering how you can tweak that speed? Check How to Remove Speed Limiter on Electric Golf Cart.
Is the Tracker 570 ATV Street Legal?
No, the Tracker 570 ATV is not street-legal. However, if allowed by state law, you can make your ATV street legal by finding out the laws governing legal vehicle use on public roads in your state and adding some legal plates, horns, mirrors, turn signals, etc.
What Engine Does the Tracker 570 ATV Have?
In my research writing Tracker 570 ATV Review, I found that The Tracker 570 ATV comes with a 39 Horsepower 545cc Liquid-Cooled, Single-Cylinder, Gas Engine.
Is the Tracker 570 ATV a 4 Wheel Drive?
The Tracker 570 ATV allows shifting from 2WD to 4WD, making it a four-wheel drive vehicle.
Ground Clearance
The Tracker 570 ATV offers 11 inches of ground clearance on a 52-inch wheelbase.
Does the Tracker 570 Have Power Steering?
The Tracker 570 ATV does not have a power steering.
Conclusion
The Tracker 570 ATV is considered a bestseller that offers class-leading front and rear suspension travel for a smooth ride during work or play. As you have seen, the features it offers are next to none, and it will prove to be a worthwhile investment should you consider purchasing it.
I hope you found this article on the Tracker 570 ATV Reviews helpful.