People have begun to think about Golf Cart Christmas Decorations as the holidays approach. It is easy and fun to add festive flair and dress up your carts in a full Christmas theme.
Read more in this article for more information about some of the best Golf Cart Christmas decorations and how to attach them.
Top 5 Golf Cart Christmas Decorations
This is a list of some of the best Golf Cart Christmas Decorations:
Image
Product
Features
Price

Twinkle Star 12 Star LED Curtain String Lights

LED lights.
Composed of 12 stars.
Comes with eight modes.

Check Price

Reflective Lights Christmas Golf Cart Decorations

Bright & reflective.
12 Pack Light set.
Golf cart friendly.

Check Price

10ft Christmas Garland With 40 LED Lights

It has battery-operated lights.
The garland is about 10ft long.
Has a timer and is battery-operated.

Check Price

Reindeer Christmas Decoration Kit

Soft material that comes with antlers, nose, and a tail.
Comes with clips for easy installation.
Perfect for outside use

Check Price

Tree Buddees Golfing Santa Claus Christmas Ornament

Cute figurine.
It is made of very durable plastic.
Made of Top Quality Resin.

Check Price
You may also check our article on the Decorate Golf Cart for Halloween.
Top 3 Golf Cart Christmas Lights
Lights are important when decorating your golf cart. They give it a distinctive bright look that most people will always like.
This is a list of some of the best Golf Cart Christmas Lights:
Image
Product
Features
Price

LED Battery Operated Christmas Snowflake String Light

It is 20ft with forty snowflake-shaped lights.
It is easy to install and use.
It can be used for multiple purposes.

Check Price

BESPORTBLE Battery Operated LED Christmas Lights

It is very durable for outdoor use.
It has three different working modes: Steady ON/Flash/OFF.
It is waterproof.

Check Price

LANKER 24-PACK LED TEA LIGHTS CANDLES

The flames change color from time to time.
It comes with an On/off switch.
It is an LED electric light.

Check Price
3 Easy Golf Cart Decorating Ideas
Decorating your golf cart is fun but not always easy. Some decorations are easier to fix than others. With good golf cart parts and accessories, you can completely transform your golf cart into something truly unique to reflect your personal style. This is a list of some of them.
Image
Product
Features
Price

10" Artificial Green Leaves Decoration

High-Quality Artificial leaves.
Fits on either the front or the back of your golf cart.
Huge 10 inches in size.
Easy to install.

Check Price

Win&Co Elf Hanging Legs Christmas Decoration

It is easy to install.
It is suitable for outside.
It is most suitable on the back of a golf cart.

Check Price

Giant Extra Large Bow

Easy installation.
It can be used repeatedly every year.
It has a very simple and straightforward design.

Check Price
How To Decorate A Golf Cart For Christmas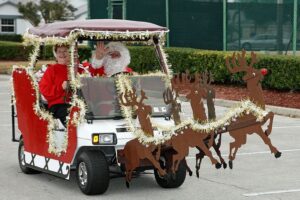 Follow these steps to decorate your golf cart for Christmas:
You should clean out the golf cart and wash the cart if necessary.

Decide what kind of Christmas theme or decoration you would like to put on the cart.

Make mental notes of the things that come to mind. You can write them down too.

Use Christmas wrapping paper to wrap the poles of the golf cart.

Hang Christmas ornaments from the top of the cart using universal clips.

You can cover the top of your golf cart with another item that represents your Christmas theme. For example, a garland.

You can also get Christmas lights and fix them around the cart using zip ties.

The seats should not be left out. Line them up also, with another item that fits your Christmas theme.

Add wreaths to the front and back of your golf cart, and even the steering, but ensure that they don't prevent safe driving.

Take your golf cart for a test run to ensure that all the components of your decoration don't fall off.
How To Attach Christmas Decorations To a Golf Cart
Follow these steps to Attach Christmas golf cart decorations:
Using Universal Clips: Clips come in handy when you want to hang a decoration, light, or garland on your golf cart. All you need to do is to fix it on the side of the golf cart, close to the roof, and you can hang almost anything on it.
Duct tape: Duct tapes are also very useful in attaching decorations to your cart. They might seem conspicuous during the day, but at night, they are totally invisible and most suitable for attaching Christmas lights to your golf cart.
Zip Ties: Zip ties will also make sure that your lights or garlands are firmly placed on your golf cart.
How To Put Christmas Lights on a Golf Cart
Fixing Christmas lights can sometimes prove difficult, especially if you don't have knowledge of the basic electrical steps to take. These are the steps to take:
Fix the lights on the exterior of your cart.

Fix the light toggle switch on the driver's side of the dash and drill a 1/2-inch hole in the dash to thread the mounting screw for the light switch.

Next, connect one of the inline fuse holders to the positive terminal of the battery with a ring terminal and use a "butt" connector to connect the unattached lead of the in-line fuse holder to the middle terminal of the toggle switch with a female spade terminal.

Wire the lights using a 16-gauge wire, connect the switch to the positive connection of the headlights and secure the wiring to the golf cart using zip ties.

Set up the switch in the mounting hole and re-connect the negative battery terminal. 

Finally, check if the light works by turning the light switch to the "on" or "up" position.
How To Power Christmas Lights on a Golf Cart
To power your Christmas lights on your golf cart, you will need the LED Christmas lights, Electrical tape, Auto DC to AC converter, and Zip ties. The following steps can be used to power Christmas lights on your golf cart:
Drive the cart into a sheltered area, and make sure the cart is dry before starting any work on it.

Turn off the cart and make sure the parking brake is on.

Wrap the Christmas lights around the body and poles of your golf cart.

Fix the electrical plug into the 12v normal A.C socket. If your cart uses a D.C socket, pull the lighter plug out, put a DC to AC converter plug, and then fix the LED Christmas light plug into the 12v socket on the plug of the inverter.

Turn on your golf cart, and your Christmas lights should come on.
Conclusion
Fixing Golf Cart Christmas Decorations will prove to be a very fun endeavor. Some of them are a bit complicated to install while others will not take much time, so we outlined some easy golf cart Christmas decorations for you. You will agree that fixing decorations on your golf cart is worthwhile.