If you're thinking about making your golf cart look more fun, then you should consider decorating them. There is no limit to the ideas you can come up with.
A lot can influence your decorations. You can decorate your golf cart depending on an occasion or a season or a celebration. Decorations can include streamers, fringe banners, pinwheels, bows, paper fans, stars, pom poms, lights, flags, and garlands.
In this article on the best Golf Cart Decoration Ideas, we will show you some of the best ones, how to attach them, and the best ideas.
Top 10 Golf Cart Decoration Ideas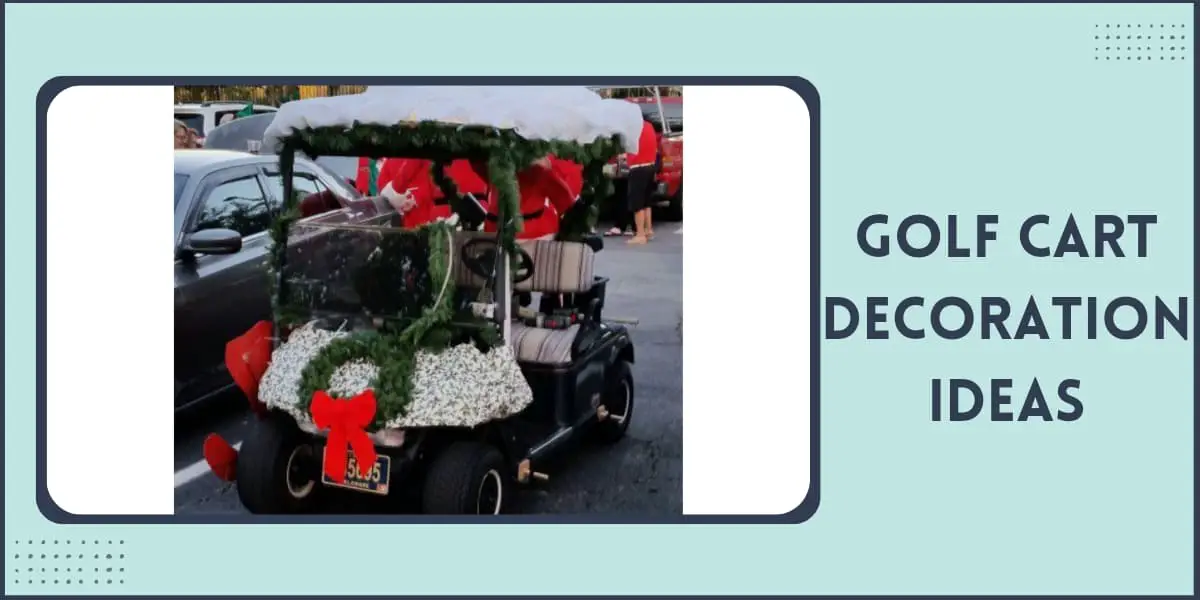 These are the top 10 Golf Cart Decoration Ideas:
1. Santa Sleigh Golf Cart
When thinking about decorating your golf cart, using a Christmas theme for your golf cart is always fun and amazing. You could decorate your cart to look like a sleigh or a manger for Baby Jesus.
2. Donut Golf Cart
To have an awesome Donut design on your golf cart, you can get donut pool floats and design your cart to have donuts by the side.
You might also like this article on the Golf Cart Radio Ideas.
3. Pirate Ship Golf Cart
The idea here is to have fun by making your golf cart look exactly like a pirate ship. To give it an extra fun look, you can also wear a pirate costume and have passersby always looking at you!
4. Tiki Bar Paddleboard Golf Cart
This is another fun idea to use for your golf cart. All you need for this decoration is some nice Albesia wood and you're good to go!
5. Frankenstein Camper
For this theme, you just need to decorate the front of your golf cart to look like Frankenstein!
6. Glow Stick Eyes
You can also design your golf cart to give it a spooky look on Halloween. You just need to cut a pair of eyeholes out of an empty toilet paper tube and insert a glow stick and then place the rolls around your golf cart and the effect is that glowing eyes are watching you.
7. Patriotic Decoration
This is an awesome way to decorate your golf cart if you are feeling patriotic. All you need to do is line your roof perimeter with red, white, and blue plastic or a Mylar fringe banner or use many small American flags.
8. Mardi Gras Decoration
To decorate your golf cart using the Mardi Gras theme, you can use many festive elements including deco mesh, lots of ribbon, picks, flowers, and beads, and you could throw in a fancy Jester Mask just for fun! Make sure that the Mardi Gras colors of purple, green, and gold are all there.
9. Memorial Day Themed Decorations
In this theme, you can use flags, garlands, streamers, fringe banners, paper fans, stars, pom poms, lights, pinwheels, bows, and inflatables.
10. Birthday Celebration
Here, you can give your golf cart a different look by dressing it up to look like a birthday cake. For more fun, you can add candles and toppings!
5 Best Golf Cart Decorations
These are the 5 Best Golf Cart Decorations:
Image
Product
Features
Price

Battery Operated Christmas Lights

🌟Durable for Outdoor Use:Use clean tube to protect the fairy lights, which can be bent into various shapes, and do not have to worry about the string lights knot, easy to recycle the next use. Create the perfect atmosphere for BBQ parties camping and wedding.
🔋Battery powered for Portability and Reliability:The rope light is powered 3 batteries ( excluded ), so portable and can be mounted anywhere for ambience decoration and easy to the power.
🌈 3 Working Modes: Steady ON/ Flash/ OFF. Different modes build different atmosphere. Push the switch button to switch mode.
☔Waterproof Outdoor Lights:The waterproof LED string part can be soaked in water, and the battery case of IP44 can withstand splashing water, it can be used normally even in rainy days.
💯Widely Used DIY Decoration Lights: Suitable for indoor& outdoor lighting decor, such as bedroom ceiling, photograph wall, living room, and also an essential for Valentines Day, St. Patricks Day, Xmas, Halloween, party wedding, creating happy festive lighting atmosphere, this firefly string lights are lightweight, easy to install.

Check Price

10L0L Golf Cart Underglow LED Light Strip Kit

Universal neon underglow LED Lights kit for EZGO Club Car Yamaha and most golf carts, atmosphere decoration light, good for dressing up your carts in any festival such as Halloween, Christmas day, New Year and so on
14 Modes in total, 7 solid color fade modes, 2 colorful fade modes, 4 colorful flow modes and 1 colorful cyclic flash mode, solid colors: Red, Blue, Green, Pink, light Blue, Yellow and White
Wireless remotes control with 4 buttons: A - Close, B - Open, C - Music Mode, D - Switching Mode. You can switch modes to color cycle mode, gradient mode, flash mode or music sync mode
Included 12-66V powered control box, connect to 12V-66V batteries without any voltage converter reducer. (2) 86 Inch 126pcs LED waterproof strip lights (52inch extension cable), 15pcs cable ties
Easy to install, flexible LED strip can bend to any shape, DIY decor under car body, rear trunk, rear strut support or roof

Check Price

FR Metallic Stars & Stripes Fringe Banner Party Accessory

Hang this Stars & Stripes Fringe Banner up to decorate for the 4th of July or Labor Day
Made of shiny metallic plastic and printed with a stars and stripes design
Measures 14 inches tall by 4 feet wide
Festive banner that will look great hanging inside or outside
Use this banner along with other Patriotic Party Supplies

Check Price

Patriotic Garland Decorations

Red White & Blue Foil Tinsel Garland
Great for Patriotic or 4th of July party decorations, Labor Day, Veterans Day, parade floats, local elections, and more!
Dimension: 3 in. wide by 9 ft long each / Total of 18 feet in length in this 2-pack
100% SATISFACTION GUARANTEE: Backed by a no-questions-asked, 100% satisfaction guarantee. Try today for a RISK FREE fun party experience!

Check Price

Halloween Pumpkin Lights

🎃Halloween Pumpkin lights: Pumpkin design with orange led bulbs give you a rich orange glow, decorate your house with these orange pumpkin lights around to create a more realistic spooky Halloween!
🎃Battery Operated String Lights: Powered by 3 AA batteries (Not Included), no worry about trailing cables or having a plug socket nearby, portable and low power consumption.
🎃Easily Control: Control the string lights steady on/flash/off with one switch on the battery box, very convenient to operate.
🎃Two Lighting Modes: This cute orange Jack-O-Lantern pumpkin string lights features two light modes, Steady On and Flash, choose the favorite mode to suit your Halloween mood.
🎃Halloween Decoration Lights: Orange Pumpkin Halloween Lights, perfect for Halloween Cos-play parties ideas, add funny and scary atmosphere to your Halloween. Also it is ideal to decorate carnival, festival, celebration and other special occasion!

Check Price
How to Attach Decorations to A Golf Cart?
As you have seen, decorating your golf cart can be a perfect way to celebrate.
We have a few steps to take when you want to attach decorations to your golf cart:
Clean out the golf cart. Remove shoes, clubs, and bags and wash the cart if necessary.

Decide what theme you want for your golf cart, be it for Easter, Halloween, Christmas, or Independence Day.

Take note of every item that comes to mind when you think of your theme. If you want an oceanic theme, include fish, dolphins, etc.

Wrap the poles of the golf cart with a theme-based item. It could be green construction paper for Saint Patrick's Day or garland or wrapping paper for Christmas but ensure that you do not use tape that will damage the surface of the cart.

Use items that represent your theme and cover the top of your golf cart like tinsel, garland, streamers, and balloons.

Use a decorative cloth that matches the theme to line the golf cart seat. To do this, you must pull out the seat, cover it with the cloth, and set the seat back into place. Make sure the cloth is well tucked into any crevices wherever possible to make sure it is held in place.

Get items and hang them from the top of the cart and along the poles.  Some great items for hanging are birthday balloons, shamrocks, Easter eggs, and candy canes.

Purchase battery-operated lights from any local home supply store and link them to your golf cart for extra glamour.

Place decorations on the front of the golf cart and steering wheel but make sure they do not prevent you from driving safely. Keep all the items away from the wheels.

Take your cart for a test drive to ensure that the decorations will not fall off. Start at a slow speed and then gradually increase, turning a few corners to ensure that everything stays as they were fixed and adjust decorations where necessary.
Golf Cart Customization Ideas
Customizing your golf cart gives added protection and comfort to your golf cart. Here are a few Golf Cart Customization Ideas:
Custom Golf Cart Steering Wheel can give you options of brushed aluminum or stainless steel and colored steering wheels like red, blue, yellow, orange, or green.

Custom Golf Cart Seats and Seat Covers allow you to cover your old golf cart seats with a new custom color design.

Custom Golf Cart Wheels will give your regular-looking golf cart a different look.

Custom Golf Cart Accessories for Your Floor will make your cart look different with shiny aluminum diamond plates or rugged rubber mats.

Custom Lifted Golf Carts: you can also purchase a lift kit to give your cart more ground clearance.

You can also have Custom Made baskets for extra haulage.
Golf Cart Theme Ideas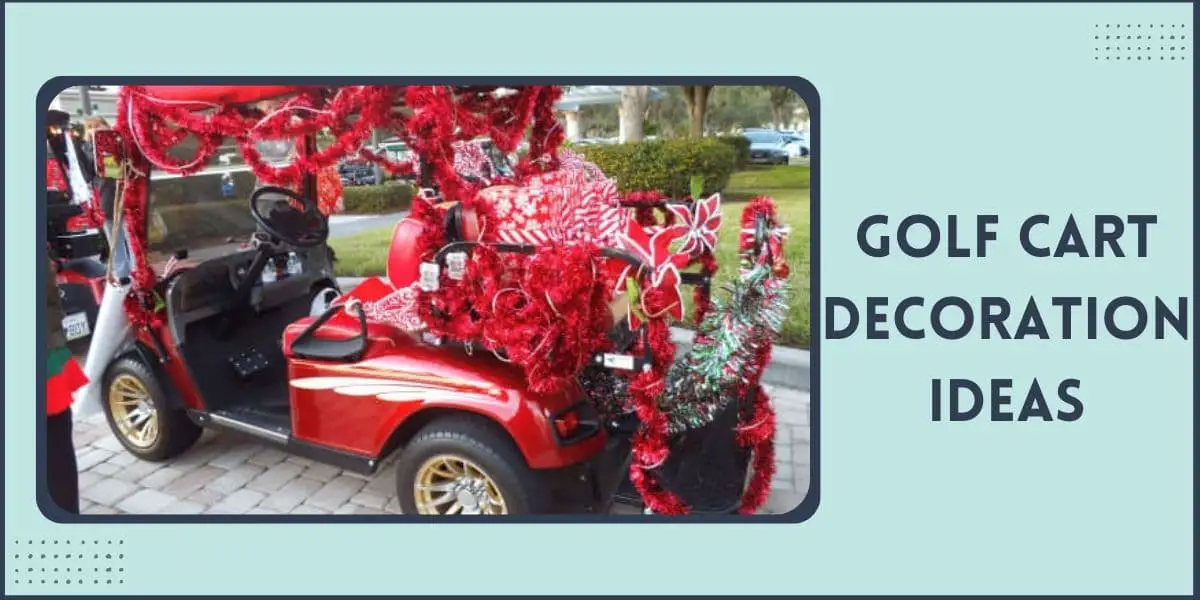 These are the best golf cart theme ideas:
Halloween.
Christmas.
Easter.
4th of July.
Oceanic theme.
4th of July Golf Cart Decorating Ideas
To decorate your golf cart for the 4th of July, line its roof perimeter with a red, white, and blue plastic or Mylar fringe banner. If you don't like fringes, you can use a banner with lots of small American flags or red, white, and blue bunting.
Golf Cart Parade Decorating Ideas
Decorating for parades comes with many different options. You can throw in several colors of red, white, and blue and it won't take you a long time to decorate. It is also not expensive at all.
Golf Cart Decoration Ideas for Halloween
To decorate for Halloween, you need a spooky concept. You can do the Frankenstein Camper where you decorate the front of your cart to look like Frankenstein. You can also throw in a jack o'lantern theme or a ghost theme or a witch theme. All of these ideas are suitable for Halloween.
If you are looking to decorate your cart specifically for Halloween, check out this article on how to Decorate Golf Cart for Halloween.
Golf Cart Christmas Decorating Ideas
If you want to decorate your golf cart using a Christmas theme, you can decorate your cart to look like a "one-horse open sleigh", or put a mini-Christmas tree with elves or a Baby Jesus setting with the manager. Any of these ideas would look perfect on your golf cart.
Mardi Gras Golf Cart Decorating Ideas
To decorate your golf cart using the Mardi Gras theme, ensure that you have the Mardi Gras colors of purple, green, and gold. You can also use festive elements like deco mesh, lots of ribbon, picks, flowers, beads, and a fancy Jester Mask.
Conclusion
To be able to decorate your golf cart to look fun, a lot of creativity is needed but the great thing about it is that it is not expensive. There are so many fun ways that we recommended in this article for you.
I hope you found this article on Golf Cart Decoration Ideas helpful.