A golf cart is a very popular vehicle for golf courses and driving ranges. They are easy to maintain, operate and can carry a lot of weight. However, golf carts are not designed for off-road use and are not meant to be driven on unpaved roads. In this article, we will show you 36 volt to 48 volt golf cart conversion. Many people consider a 36 volt golf cart motor upgrade because it provides better overall performance. This article also includes a comparison between 36v vs 48v golf carts with their benefits and drawbacks. Further, we have listed the top 36 volt to 48 volt golf cart conversion kits below which would help you to convert your golf cart.
Why 36 Volt to 48 Volt Golf Cart Conversion?
The main reason behind converting a 36 volt golf cart to 48 volt golf cart is that you can achieve better power, performance, and speed from the same golf cart. This conversion can also give you a good distance due to increased amperage compared to the old 36 volt one. A 48 volt golf cart also gives better performance on off roads compared to 36 volts.
How to Convert a 36 Volt golf cart to 48 Volt?
Below mentioned are the 7 steps on how to convert 36 volt to 48 volt golf cart:
First of all, determine how many volts your golf cart is through the owner's manual. You can find out how many batteries are inside by removing the battery case. Once you see the number of batteries then multiply them by 6 to calculate the voltage. The total should be equal to either 36 or 48.
To find out what is the amp-hour rating of the currently installed batteries you have to locate the battery label. Make sure that the amp-hour usage is of a higher rating to improve the length time of the golf cart. It also reduces the number of times to recharge the batteries.
Remove the connectors on each battery by using a wrench and then remove each battery. Clean the connectors with a wire scrub so there would be a strong charge to the batteries. Now measure the space in the battery box to determine that would it be enough to hold the four 12 volt batteries.
Examine the old batteries connector cables, that they might fit the new batteries. And if they don't then install the leads that you purchased of the new 12 volt batteries. The cable connects to the battery by sliding the tip over the terminal on the battery. Slide the connector over the terminal and tighten the screw.
Now place one of the batteries from the new 12 volt batteries in such a way that the positive connection is near the battery connecting lead if the battery is positioned correctly. The other batteries should be placed in the cart box on the side of the opposite terminal. The cart box's negative battery connector should be facing the final battery's negative connector.
Check the golf cart's ignition switch to make sure it's turned off. You can connect the batteries in sequence if the batteries are Aligned in the cart box. You will need to place the negative cable of the first battery over the positive cable of the second battery. The negative and positive connections of the second and third batteries will be replaced by the negative and positive connections of the third battery. Continue this process until you have linked all the batteries.
The positive terminal of the first battery needs to be connected to the positive lead from the cart. Put the negative cable to the negative terminal of the final battery by moving it to the end of the battery box. The golf cart should work after you turn on the switch.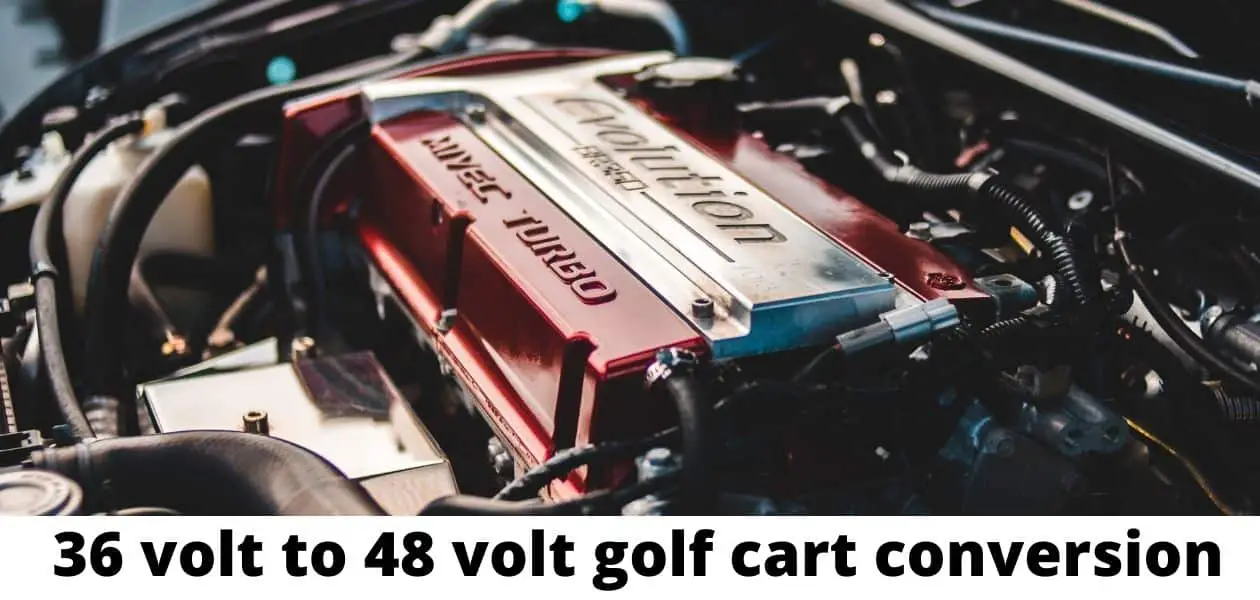 36 Volt Golf Cart Motor Upgrade- Benefits
Upgrading your 36 volt golf cart motor can help you by giving you a boost to your golf cart. This is because the upgraded motor will be more powerful. It will also improve your golf cart's performance. 36 volt golf cart motor upgrade will increase the distance your golf cart can travel. It will also increase the speed at which your golf cart travels.
Top 36 Volt to 48 Volt Golf Cart Conversion Kits
If you are looking to convert your golf cart to run on a larger battery pack, this is a great option. These conversion kits come with all the parts you need, and you don't have to mess around with any wiring. Below mentioned are the top conversion kits with their descriptions that would help you to convert your 36 volt golf cart to a 48 one.
1. Ezgo 36v to 48v Conversion Kit
Navitas E-Z-GO is a 36v to 48v conversion kit for golf cart. It has a 5 kW motor with a Speed sensor/motor temperature harness. It has a 600 amp AC Controller with Bluetooth with a Mounting plate and hardware.
2. BigBattery Kit
BigBattery KIT is made in the USA from NMC (Nickel Manganese Cobalt) Lithium Cells. It has a LED display, having a Compact Modular Design. It has High Temp Operating Range with the Best Power Density/Pack Size. It also has 3000 A Short Circuit Protection with High Cold-Cranking Amps (400A). Talking about the performance specs, its Max Continuous Discharge Current is 100A and its Max Continuous Power is 6000W. It has safety features such as BMS (Battery Management System), Over Voltage, Under Voltage, Over-Current (Thermal Management System), Breaker (300A). BigBattery kit comes with a 10-Year Warranty.
3. Plum Quick Green Extreme DC to AC Conversion Kits
Plum Quick Green Extreme DC to AC Conversion Kits has increased speed and longer running time. It has a Bluetooth app that has a security system that locks your vehicle automatically. Many parts are included in this kit such as AC 4 KW motor, 600 amp TAC2 AC controller with Bluetooth, Speed sensor/motor temperature harness, Mounting plate and hardware, Motor phase cable, and On-The-Fly programmer.
4. Carts Unlimited Kit
The electronic pedal assembly is included with the kit. The 5 wire pedal comes with a 2-foot harness and is wired directly into the system. A few simple crimp connections to the batteries, solenoid, and controller will allow you to control the high amperage current flowing to the motor with precise control. To make sure you get the performance you want, the Alltrax speed control is completely user-programmed with a simple USB connection.
How Difficult Is the Conversion from 36v to 48v?
It is not difficult to convert a 36v golf cart to a 48v golf cart. You can easily convert by using the above-given steps. After conversion, you can get many benefits such as better power better performance, and more speed with an increase in distance.
Is 36v to 48v Conversion Golf Cart Expensive?
36v to 48v golf cart conversion requires batteries, solenoid, controller, charger, and a new motor. So it is a bit expensive, but it won't cost more as compared to a new one.
Difference Between a 36v vs 48v Golf Cart
Let's start with power/torque, When you accelerate, you will feel the higher low-end Torque in a 48V system. A 48V system will give you more pep in your step and will pick up speed a little faster than a 36V system.
Taking about Amps, a 48V system provides a little more range with fewer Amps. It's a good idea to use a 48V system for terrains where the golf cart will need a little more push on hillier areas or a little off roads.
Now looking at the cost factor from 36v vs 48v golf carts, the repair parts of 36V golf carts can be cheaper than 48V golf cart parts. Read the entire article on the difference between a 36 volt and 48 volt golf cart.
Will my golf cart go faster if I convert it from 36 volt to 48 volt?
Yes, your golf cart will go faster with a higher voltage. This is because a higher voltage allows the motor to work harder. A higher voltage also gives you more torque which means your cart will accelerate faster and go further. It will also give the cart a smoother ride.
What Are the Downsides?
1. Expensive:
It would be more expensive to replace batteries first of all. The cost of replacement controllers and motors is more expensive.
2. Complicated:
Though we have tried our best to explain everything needed for a 36 volt to 48 volt conversion, the process in itself is challenging. You need to check the 36 volt forward reverse switch wiring diagram and bring all the parts together. Alternatively, you can hire someone to do that for you.
Conclusion
Thus, in conclusion, the 36 volt to 48 volt golf cart conversion is one of the best upgrades that you can do to your golf cart. It will give you more power and better performance. The only downside is the higher cost of replacing the golf cart's motor and controller. 36 volt golf cart motor upgrade gives you a boost in the speed and performance of our cart. Each and every detail about conversion and difference between 36v vs 48v golf carts are mentioned above in this article.