A friend the other day asked me about my Advanced EV Golf Cart reviews, and told me he was thinking of buying one. Now, I have heard about this company a lot recently, but not enough to give him my actual take on the cart.
So I decided to dig deep and write a detailed overview of the Advanced EV Golf Cart.
Due to the increasing demand for affordable golf carts in the US market today, I have known that this golf cart brand is doing good recently.
After reading many Advanced EV Golf Cart reviews from people who have used the vehicle, I've compiled a list of things you need to know before purchasing a golf cart from this company.
Advanced EV Golf Cart Reviews: Top Features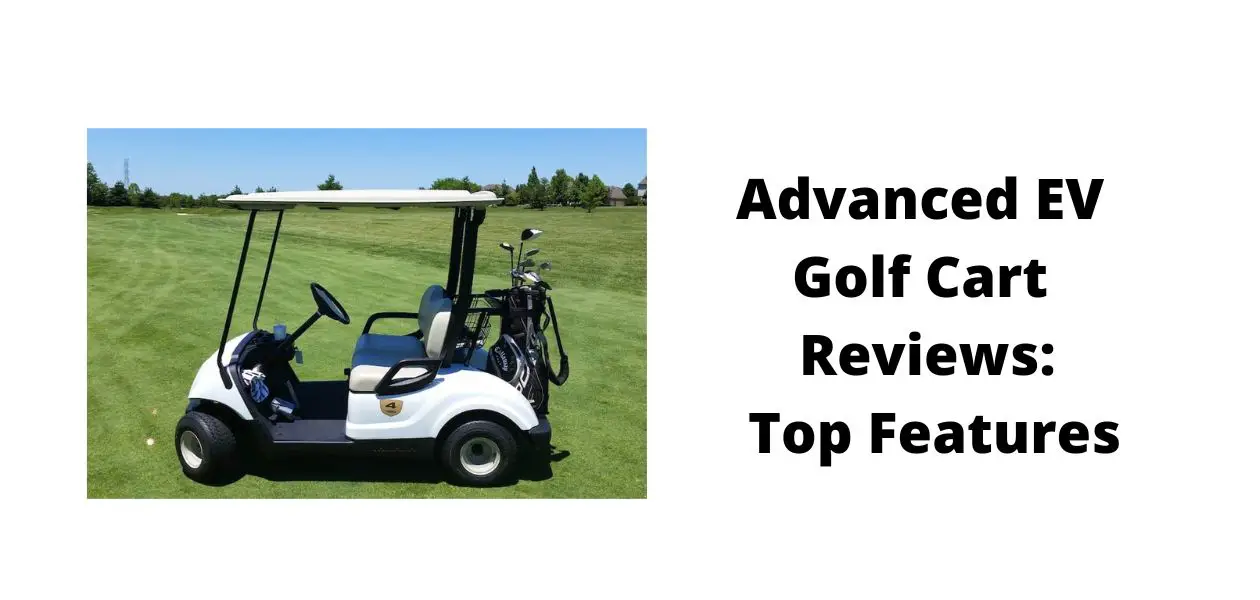 Some of the top features that are enough for you to buy Advanced EV Golf Carts are:
These carts are stylish, and the roof is well-made with an Aluminum Alloy Frame.

The Advanced EV Golf Cart's 4kW AC Motor drive mechanism sets it apart from the competition. 

A 350A Toyota controller powers the system.

The AC drive provides enhanced torque and climbs capabilities in addition to acceleration. You can safely traverse a wide range of challenging terrains.

With an average speed of 25 miles per hour, it is much faster and smoother than many other golf cart models.
If you are interested in a Small Electric Golf Cart, check out my  article on the topic.
Why Choose the Advanced EV Golf Carts?
While writing Advanced EV Golf Cart reviews, I made sure that it ensures a safe and enjoyable ride for all of its riders from beginning to end.
Has a Pre-installed 2 inch lift.
Passengers are also protected by additional safety bars on golf carts with rear-facing backseats.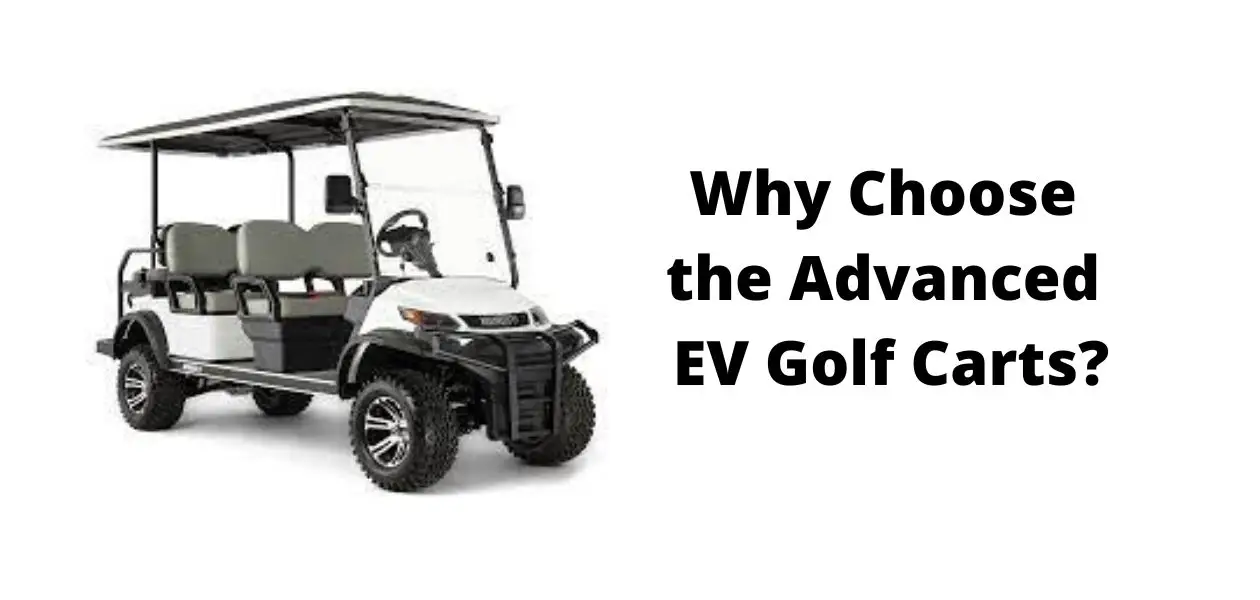 But that being said, almost all the standard features of Advanced EV Golf Carts fulfill the street legal requirements in many parts of the US.
Cons & Problems
Apart from its benefits, there are some cons that I found during the Advanced EV Golf Cart reviews:
After a few years, the steering, wiring, body, and paint develop problems. 

The core design is sound until premature failures begin to occur.

 Like most other electric golf carts, the Advanced EV also has a range of 
List of all the Models
Advent 2

Advent 4

Advent 4L

Advent 4F

Advent 4FL

Advent 6

Advent 6L
As per the Advanced EV Golf Cart reviews, these are some of the best models with excellent features.
Are Advanced EV Golf Carts Street Legal?
Some of the golf cart models are already street legal, and the ones that are not can be improved if you wish to drive them on the road.  
Some features that are required to make your Advanced EV Golf Carts street legal are mentioned below:
An acrylic windscreen that folds.

Side mirrors that can be adjusted and folded.

Seat belts that can be retracted.

Mechanical drum brakes on both rear wheels

Manually locking park brake.
The fact of the matter is that Advanced EV golf carts include (or can include) these features.
How Much Do Advanced Ev Golf Carts Cost?
The Evolution Advent 2 costs $7,325 and the Advent 4L model costs $10,599.
Where are Advanced EV Golf Carts made?
In Rosenberg, Texas, advanced electric golf carts are partially constructed. This is where the company's headquarters, manufacturing plant, and distribution center for the entire United States are located.
There is not much information available related to the manufacturing processes, but it is confirmed that Advanced EV Golf Carts are distributed from the company's Rosenberg Base.
Advanced EV Golf Cart Speed
Almost all Advanced EV golf carts have a top speed of 25 miles per hour. This is more than fast enough for the vast majority of customers, and these maximum speeds are the best choice to comply with US state legislation.
The carts are equipped with a 4KW AC motor steering system and a Toyota controller, contributing to a smooth ride.
How Can I Make My Advanced Ev Cart Faster?
If you're wondering how you can make your Advanced EV Cart faster, then you're at the right place. You can easily make your cart faster by replacing your cart's motor with a high-speed/torque upgraded electric motor.
This is arguably the most drastic move you can consider to fix your speed problem, and it will set you back roughly $1,000 in labor.
Some other ways by which you can increase the speed of your cart without upgrading are mentioned below:
By inspecting your cart's batteries.

Washing your cart correctly.

By refilling the water of your cart's battery.

By measuring the tire pressure.
Advanced EV Golf Cart Accessories
Front Cargo Clay Basket

Inner Dash Storage Basket

Side Nerf Bars

Cup Holder Armsets

Black Carpet Overlay Mat

Icon or Advanced Key

Seat Covers

Custom Two-Tone Seat Covers

Rain Enclosure

Storage Cover

Custom Steering Wheel

Clear or Tinted Windshield

Panel Mirror

Shorter Front Canopy Roof Supports

Fender Flares
Available Colors
Black
Metallic Charcoal
Champagne
Silver
White
Metallic Green
Metallic Blue
Metallic Red
Seat Options
With Advanced EV carts, you have 3 seat color options namely Gray, Carbon Fiber, and Saddle with the option to upgrade to Advent Seats.
What Type of Battery Do Advanced Ev Carts Use?
Advanced EV Carts uses 6 US8VGCXC batteries. Their high energy density and improved power per mass battery unit have enabled the creation of various types of batteries with decreased weight and dimensions at reasonable rates.
How Long Does It Take to Charge an Advanced Ev Golf Cart?
Many Advanced EV Golf Cart reviews suggest that a 80% drained battery pack, whether old or new, takes less than 8 hours to charge.
The depth of discharge and the number of amp-hours you've used are the factors that can influence charging time.
Other factors that have an immediate impact on the time it takes to charge the golf cart entirely are:
Quality of the Battery

Depth of Discharge of the Battery

Charger for Golf Carts of Excellent Quality
Summary
The Advanced carts on offer are worth considering if you're looking for a new golf cart but don't want to spend a fortune.
With an MRP of just over $7,000, our Advanced EV golf cart reviews show that these carts are exceptional value for money and are among the lowest-priced golf carts in the United States.