My wife has been using the Star EV Sirius for almost a year now, so I can provide you with real-life Star Golf Cart Reviews.
The Star Golf Carts are probably one of the most booming golf cart brands in recent years, which is why I decided to get one for my wife.
That being said, in this article I will share my Star EV golf cart reviews with you and provide you with every bit of information you need to get make a purchase decision.
Star EV Golf Cart Reviews: Sirius & Capella
The Star EV golf carts are an excellent mid-range low-speed vehicle. This is because they come with all the essential features like a foldable rear, flip-tinted glass, dashboard storage, and aluminum 10″ rims. Other manufacturers cannot match the pricing to feature ratio of the Star EV golf carts.
Check out our Evolution golf carts reviews, as they are also a very popular brand.
Star Golf Cart Reviews: Top Features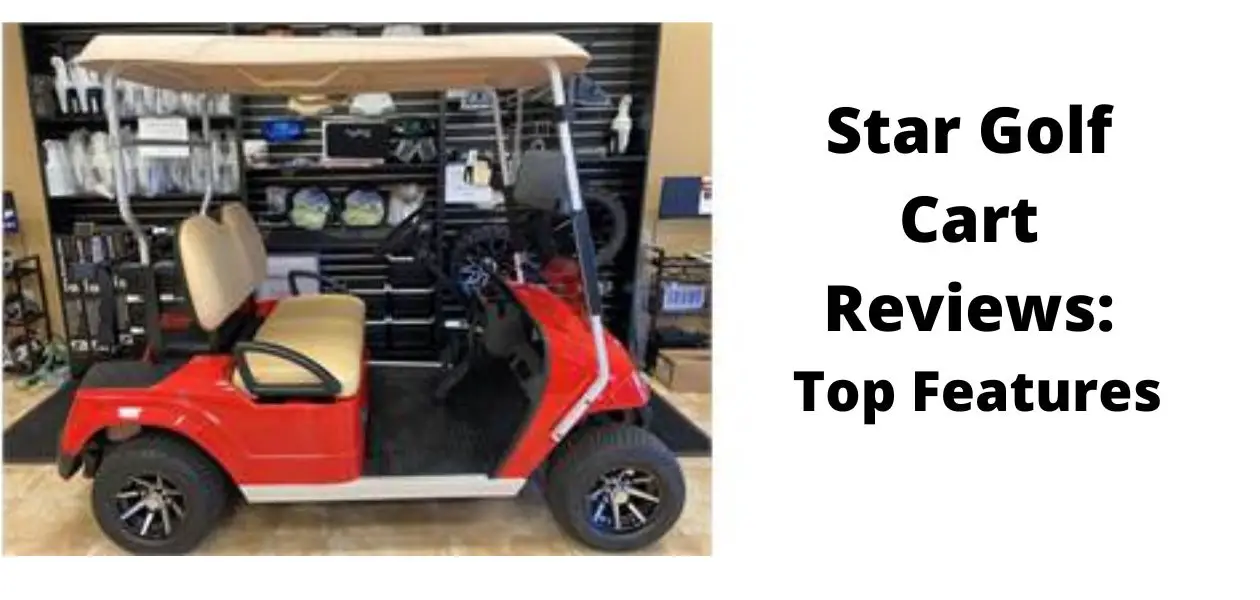 From my Star Golf Cart Reviews, I found these are the key features:
Wheelbase: 1680 mm
350 A Curtis programmable controller
Power: 4.0 kW AC with thermal protection
Motor: 5.4 horsepower AC
4-wheel hydraulic brakes
Elegant silver and black aluminum 10′′ rims are standard on the STAR Sirius.
The roof color is standard and matches the rest of the golf cart.
There is plenty of storage space in the cup-holders and glove compartments.
Front and backlights are standard, and direction indicators are included.
Windshield with a Flip-Up Tint.
3 spoke aluminum with self-canceling steering.
Lockable storage space in the front trunk of the cart.
The backseat folds down to make additional room for luggage.
Are Star Golf Carts Any Good?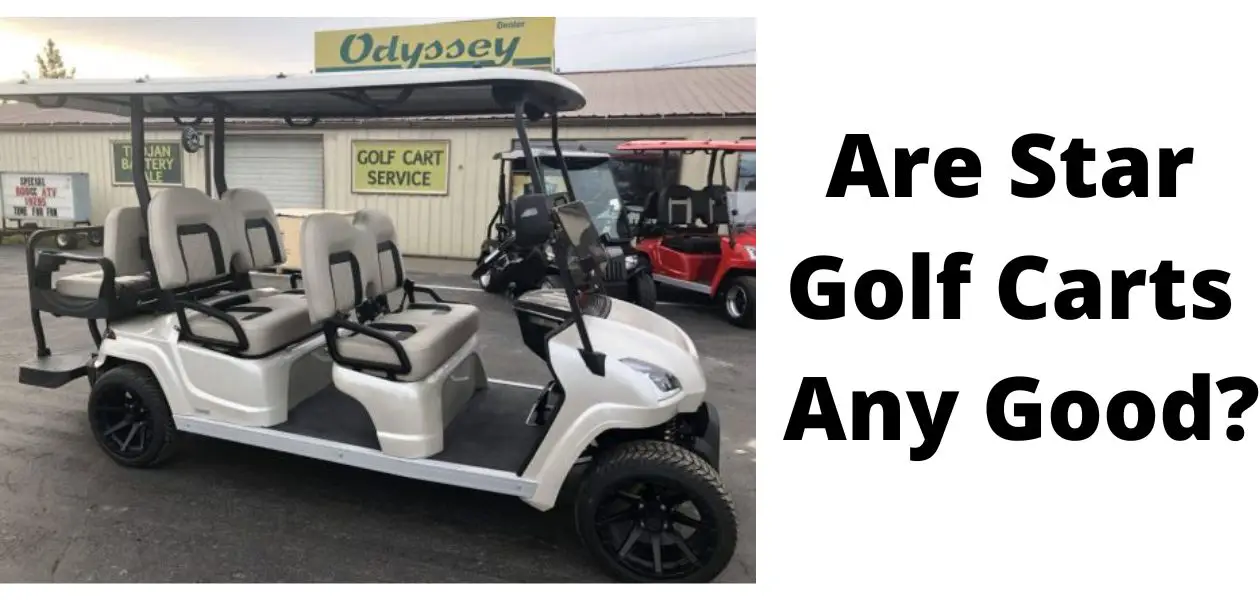 Due to its attention to detail, quality of build, and features, the STAR EV SIRIUS is among the best golf carts on the market. The Star EV golf cart is a reasonable vehicle with a top speed of 25 MPH and most standard equipment, such as a folding windscreen, and battery charger.
While writing this Star Golf Cart Reviews article, I was wondering how this company manage to produce such good carts at such a good price.
Who Makes Star Golf Carts?
Star golf carts are made by Star Electric Vehicles, a JH Global Services company. The company's headquarters are in Greenville, South Carolina, and it manufactures a wide range of electric vehicles in the United States.
Where Are Star Golf Carts Made?
Greenville, South Carolina is where Star golf carts are built. Part of the production process is outsourced to China, as it is with the majority of electric automobiles on the market.
List of all the Star Golf Cart Models
These are the top models of the Star Golf Carts:
Star EV Sirius
Classic 36-2
CP-2
CP-2+2+ Lithium Batteries Star EV
Sirius 4 Lithium Star EV
Classic 36-2+2- Star EV
Star EV Capella
Are Star Golf Carts Street Legal?
As a "low-speed vehicle," the Star EV Golf Cart complies with state and federal regulations by having safety features like LED headlights with daytime running lights and high beams as well as hazard lights that are uncommon for a golf cart. This classification enables it to operate on public roads.
How Fast Does a Star EV Golf Cart Go?
Star EV Golf Carts are low-speed vehicles, with a top speed of 25 miles per hour. They are carefully constructed to be driven on public roads and are made street legal, allowing them to reach speeds of certain limits only.
This golf cart is equipped with heavy-duty powerful AC and DC motors that assure your cart can carry a reasonable amount of weight without compromising its top speed.
Star EV Parts & Accessories
The following are some of the interior features and accessories:
Digital dash display in full color

Glove box that locks

Seat backs that can be adjusted

A tinted, collapsible windshield.

4 cup-holders on the center console

A holder for the ball and the tee

STAR SIRIUS12V outlet LED lights

Ambient dash lighting

Front lockable trunk with insulated, drainable cooler

Mirrors

Optional lithium iron phosphate battery

Seat kits

Electronic accessories: Light Kits, Audio, Converters, Chargers, Programmers

Other Off-road accessories.
This Star Golf Cart Reviews article also includes battery info and my final verdict on the low-speed vehicle, so read on to find out more.
What Type of Battery Do Star Golf Carts Use?
The cart comes with 6 volt*8 units, 48V Trojan batteries with a range of 50-60 kilometers on a single charge. These are no maintenance and are super lightweight batteries.
Star Sirius Golf Cart vs Club Car
    Star Sirius Golf Cart
              Club Car

It has a maximum speed of 25 km/hour.

It has a top speed of 40 km/hour.

It has a turning radius of 3.2m.

It has a turning radius of 2.52m.

Its dimensions are 3022 X 1295 X 2019 mm.

Its dimensions are

3000 X 1270 X 1960 mm.

These carts range 50-60 kilometers on a single charge.

These carts have a running distance of 80 kilometers on a single charge.

They use 6 volt*8 units, and 48V

Trojan batteries.

They use

8V – 150 Ah x 6 (SMF)

batteries.

It has a 5.4 horsepower AC motor.

It has

a

48V, DC, 3.0 KW motor.
Once you've concluded which qualities are most important, weigh the benefits and drawbacks of each before making a decision. You will be satisfied regardless of the cart you choose.
Star Sirius Golf Cart Price
The starting price of a new Star Sirius golf cart is $12,999. This is for a two-seater Sirius that's great for the golf course. It has all of the features you might desire in a golf cart and looks fantastic.
Obviously, the larger the Sirius cart you choose, the higher the price. For example, the Sirius 4+2 raised cart is expected to cost between $15,000 and $18,000.
Star Sirius Golf Cart Dimensions Table
This is the Star Sirius Golf Cart Dimensions table:
| Body Part | Dimensions |
| --- | --- |
| Weight with Battery Pack | 658 kg |
| Body | Plastic |
| Tire | 12 inch |
| Size | L3022 mm x W1295 mm x H2019 mm |
| Ground clearance | 174,6mm |
| Wheelbase | 1680mm |
| Turning Radius | 3.2 m |
Conclusion
You should read my Star Golf Cart Reviews thoroughly if you're in the market for a feature-rich golf cart and have a good budget.
When compared to other brands, this golf cart brand provides excellent value for money and permits you to have a street-legal golf cart at a low price.