Cazador is a lesser-known golf cart company that produces high-quality, well-reviewed, U.S. golf carts and offers them for a fantastic price.
Despite the fact that they've been around for a while and make a variety of utility vehicles, EZGO and Yamaha garner more attention.
So, to help you determine if a Cazador golf cart is right for you, we've compiled a list of some features after going through many Cazador Golf Cart Reviews and explained everything you need to know about their high-performance golf carts.
Cazador Golf Carts Reviews: Top Features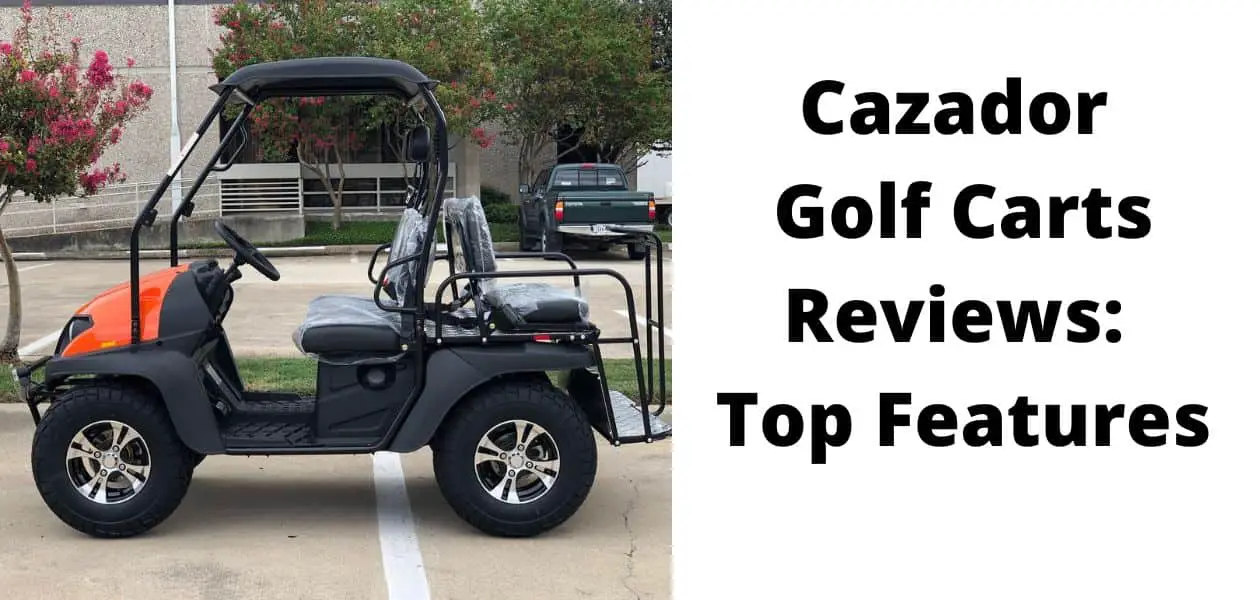 According to our Cazador Golf Cart reviews, the following are some of the primary qualities that will persuade you to buy this golf cart:
Wheelbase: 63IN

Tires: Street 24*8-12

Drive System: 2WD, Shaft Drive

Fuel Capacity: 4.8 Gallons

Engine type: Four stroke single cylinder

Front & Rear Brakes: Hydraulic disk brakes with drilled and slotted vented rotors and single piston calipers.  

Hand-operated mechanical parking brake

 

Front Suspension McPherson Strut

 

Rear Suspension with Double A-Arms and Full Independent Suspension

Under-seat storage and a rear folding seat

Hydraulic Disc Brakes on All Four Wheels
The most popular golf cart brand right now is Icon, so check out our Icon golf carts review, if you are interested.
Are Cazador Golf Carts Any Good?
The Cazador golf carts are good for the money. This means that you can get a street legal golf cart with all the new features but pay less than US brands like Club Car and EZ GO. However, when it comes to longevity, these might not be the best option for you.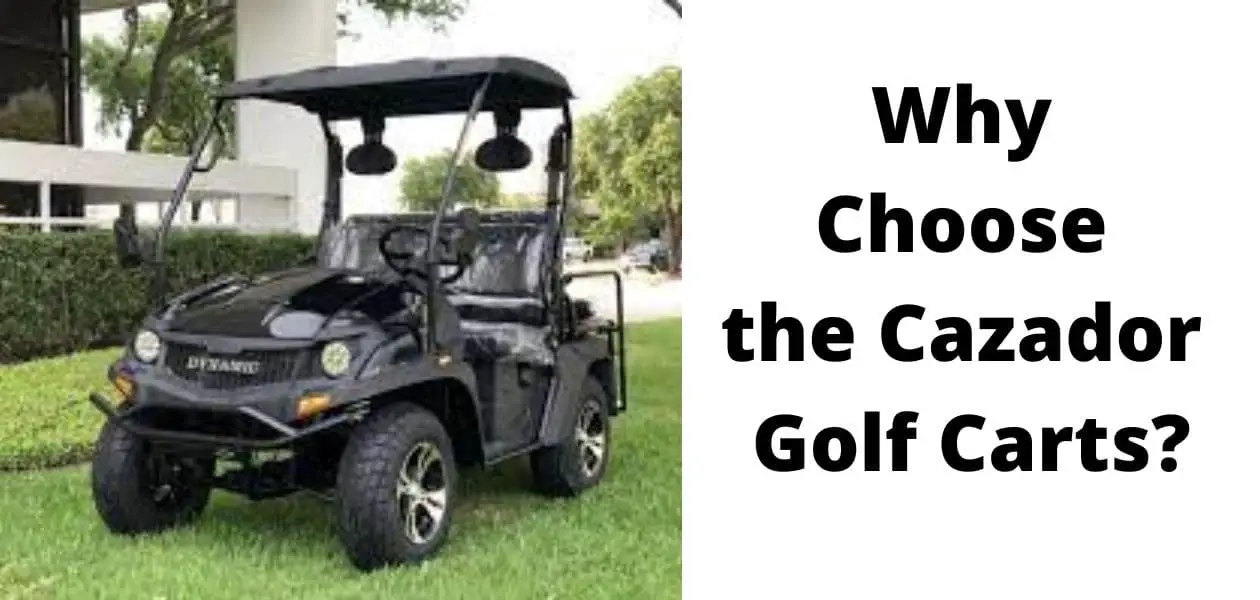 Why Choose the Cazador Golf Carts?
You'll turn heads in the Little Cruiser, which is built like a UTV but designed like a brand new golf cart.
The 4-stroke single cylinder engine gets you where you need to go with your passengers or baggage, and the front and rear independent suspension improves the ride even more.
This golf cart outperforms any other on the market thanks to features including a folding rear seat, digital display, superb illumination, and a canopy.
Cons & Problems We Found in Our Cazador Utv Reviews
According to Cazador UTV reviews, it has several drawbacks:
The engine is quite small, which is found these days on a small electric golf cart.

Another issue is that the clutch lever, cable, or other minor part wears down quickly and you can't use the entire machine without it.

This cart is much noisier and faster than its size suggests, so it shakes a lot while driving.

They aren't as roomy as other golf carts.
List of all the Models
According to Cazador Golf Cart Reviews, these are some of the top models with some amazing features:
Cazador Beats 180
Cazador Outfitter Eagle Hunk 200
Cazador EV5 Hulk Emax
Cazador Outfitter 400
Cazador Eagle 400 Limo
Bighorn Cazador 4×4 400cc. Gas golf cart.
Cazador Eagle 200 Reviews
From our Cazador Eagle 200 Reviews, we found out that it is easy to drive, has a big capacity, and is 13 inches of ground clearance.
This golf cart has a powerful engine and good braking force, which is really great.
Are Cazador Golf Carts Street Legal?
You'll need to add a windshield and other necessary pieces to get your Cazador golf cart ready for the road, but safety features like headlights, indicators, and seat belts come preloaded.
Where Are Cazador Golf Carts Made?
Cazador golf carts are manufactured in Carrollton, Texas, that is near the company's headquarters. However, as with many other golf carts on the market in the United States, some parts of manufacture and manufacturing are contracted to China.
Cazador Golf Cart Speed
Cazador golf carts may reach speeds of up to 25 miles per hour.
Cazador is a hybrid of a golf cart and a utility vehicle (UTV), which is one of the reasons it has such a powerful punch.
The 4-stroke engine produces a lot of low-end torque and can accelerate on a variety of terrain and inclines.
How Can I Make My Cazador Golf Cart Faster?
Some methods for increasing the speed of your Cazador Golf Cart without upgrading are listed below:
By upgrading the motor of your cart. (if necessary)

Cleaning your cart thoroughly.

By recharging your cart's battery with fresh water.

Increase the torque of your cart.

Invest in a high-capacity golf cart battery.

Enhance the cart's high-speed controller.
Cazador Golf Cart Accessories
Beats 180 windshield
Chrome rims
Golf cart cover
Cazador User Manual
Dump bed replacement kit
Wheel removal tool
Front metal bumper
Golf bag holder
Snow plow kit
Cab enclosure
Roof
Dump Bed
While doing the Cazador Golf Cart Reviews, we found out that some modifications can improve the appearance whereas others will allow you to drive your Cazador golf cart out on the street
What Type of Battery Do Cazador Carts Use?
Cazador Golf Carts use 12V 9Ah batteries. This battery is compatible with the Cazador Outfitter 200 and the Golf Cart 200. It is a Sealed Lead Acid (SLA) battery that requires no maintenance.
How Long Does It Take to Charge a Cazador Ev Golf Cart?
According to Cazador Golf Cart reviews, a fully exhausted battery takes around 5-6 hours to charge.
Other immediate considerations that affect the time it takes to completely charge the Cazador golf cart include:
1. The quality of the cart's battery.
2. The cart's battery's Depth of Discharge.
3. The quality of the cart's charger.
Check out This Video Review
Conclusion: Are Cazador Golf Carts good?
Cazador Golf Cart Reviews Conclusion: While Cazador golf carts aren't as well-known as some of their competitors, they are an excellent choice if you're searching for a low-cost, high-feature golf cart made in the United States.
When compared to other companies, this cart offers outstanding value for money and allows you to get a street-legal golf cart at a low cost.