Despite the outstanding specifications of the Yamaha Rmax 1000 UTV, sometimes they are full of surprises, breaking down at the most inconvenient times and places.
Understanding Yamaha RMAX 1000 Problems before they may arise, will give you a head start on solving these issues.
This article explains every tiny detail you need to know about the common Yamaha RMAX 1000 Problems, Troubleshooting & Fixes.
1. Yamaha RMAX 1000 Problems with Transmission
One common way a transmission problem can manifest itself is, a loud, grinding noise from the engine when you try to change gear. You could also notice your gear feeling stuck sometimes as if meant to start on a higher gear, all of these are often caused by the lack of a transmission shifter.
Fixes for the RMAX 1000 Transmission Problems:
Use a good oil making sure it isn't sticky.

Don't add any other oil such as motor oil to your transmission.

Since this issue often arises during cold conditions, try placing your UTV in a warmer place.
If you are looking to buy a UTV that will help you plow snow, check out this article on the Best UTV for Plowing Snow.
2. Yamaha RMAX 1000 Engine Issues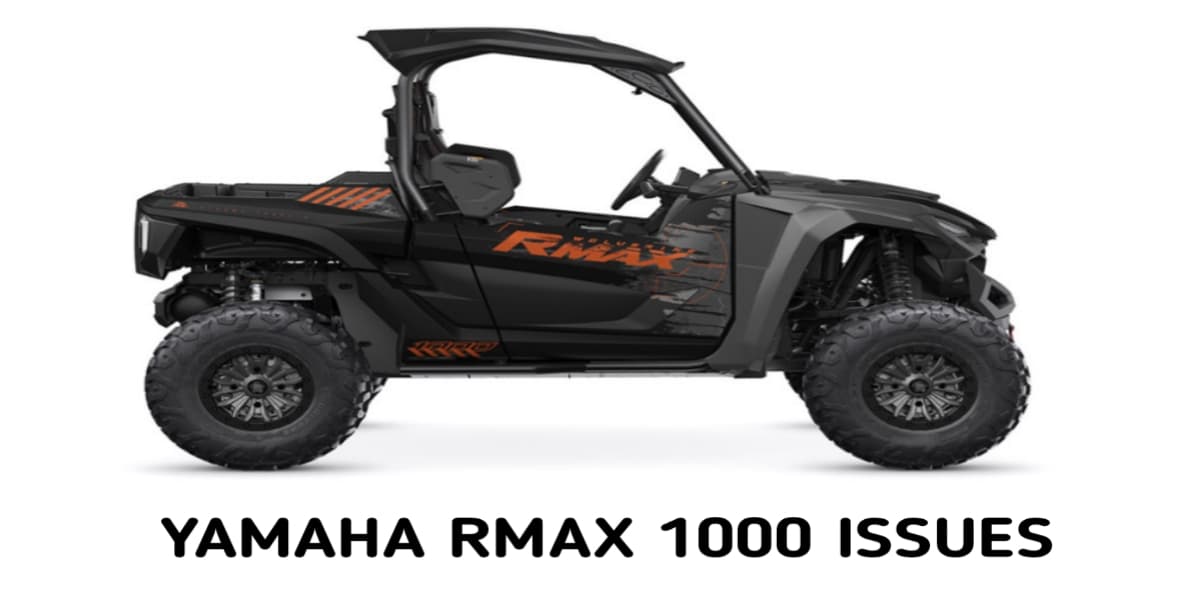 An engine issue is one of the commonest Yamaha RMAX 1000 problems you can experience with your vehicle. This problem often manifests itself through an engine that just won't start or takes a long time to, especially in cold weather conditions, coolant boils, performance failure, and popping noises. If you notice any of these symptoms, you have an issue with your engine.
Yamaha RMAX 1000 Engine isn't Starting:
Simply take a look at the coolant drain and ensure the coolant isn't frozen.

Check the battery connections and ensure it's charged and well connected.

Check the starter for any damages.

Also, check if the spare plug is generating any sparks and if the ignition is in great condition.

Ensure the air cleaner isn't blocked.

Lastly, check if the exhaust system is blocked.
For an engine that won't start in cold conditions:
Place your RMAX in a warmer place for a start.

Check the battery voltage to know if it reduces during cold weather conditions.
Yamaha RMAX 1000 Engine Makes Popping Sounds:
Take a look at the connection joint of the engine and exhaust pipe.

Check the muffler and admission lines for leaks.

Check the air cleaner and ensure it isn't blocked.

Lastly, check the level of gasoline to know if it is too low.
RMAX 1000 Performance Failure:
Check the air filter and clean it.

Ensure the muffler isn't partly blocked.

Make sure the spark arrestor and tire pressure are in good condition.
For Coolant Boils:
Take a look at the dilution of the anti freeze and ensure the ratio is at 1:1 or greater.

Also, check for any damages on the radiator sensor and fan motor to ensure it is operating properly.
3. Engine Brake System (EBS) Problems
Another one of the most common Yamaha RMAX 1000 problems that is particularly prevalent in very low temperatures. EBS issue is often characterized by erratic lights and functions.
Fix:
Run some tests on your quad to ensure your EBS failure is an electrical one. If it is, then check for any unplugged or movable contact to the orange wire you find in the quad system.
Check for any loose wires too.
Check for low voltage or corrosion.
4. Yamaha RMAX 1000 issues with the Throttle
An unresponsive throttle is one of the Yamaha RMAX 1000 issues normally encountered by its users. You know you have throttle issues if you notice hesitation when accelerating, a rough acceleration, or an unresponsive throttle. This issue often arises as a result of a loose throttle, bad gas, defective seat belt sensor, and most especially fuel starvation.
Fixing RMAX 1000 Throttling Issues:
Take note of the time your UTV takes before it starts acting up and check if your pickup or fuel is compromised in any way.
Check the butterfly on the choke and clean up the carb and air filter.
Drain the tank thoroughly while you check for any sediments making sure to verify the fuel pressure based on the manual specifications.
Carry out a compression test to know if your valves and clutch need any adjustments.
These throttling issues are frustrating when we want to use the UTV for work. Check out this article on the top 10 Best UTV for Work and Play, to know what are the current top models in the market.
5. Glowing Exhaust Issues
A glowing exhaust is another common Yamaha RMAX 1000 issues. This problem is most times a result of the fuel running lean in the lower throttle opening range. It can also occur as a result of a clogged exhaust end.
Fix:
Wrap the exhaust header or use a fuel controller and a little fuel to reduce the temperature of the glowing exhaust.
6. Header Pipe Issues with The Yamaha RMAX 1000 UTV
Another issue on our list of Yamaha RMAX 1000 problems is the header pipe issue which is usually a result of a glowing exhaust or a heated header pipe that may have gone brittle.
Fix:
Block the air induction system and add a power commander.
Also, add a positive crankcase ventilation valve into your UTV.
Adding a ceramic coating in and out of your pipe and lastly, reflashing your ECU will offer a solution to this issue. It may however not be a permanent solution.
7. Flooded Fuel Tank Issues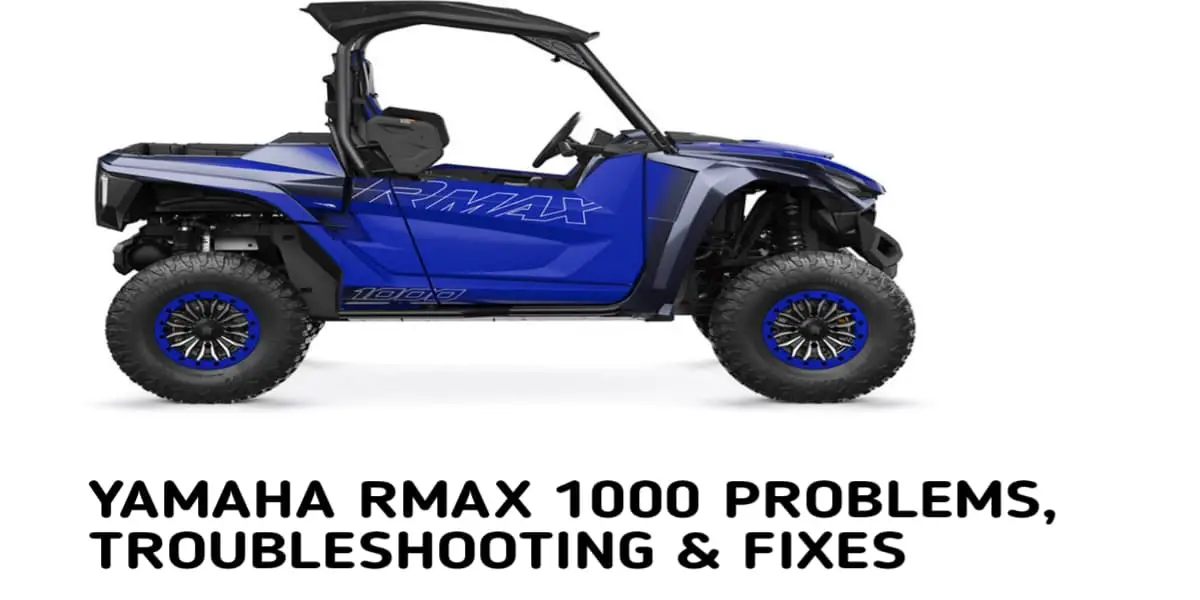 Having a flooded tank is one of the very common Yamaha RMAX 1000 problems reported. You could notice difficulty starting up your engine, a no start, or hesitation during acceleration as symptoms of a flooded fuel tank.
Fix:
Drain out the water from your tank. You can do this by either siphoning it from the gas cap or by draining it out through the drain plug. The latter is easier.
Afterward, refill your now empty fuel tank with a higher octane gas.
8. Yamaha RMAX 1000 Problems with Clutch
Next on our list of Yamaha RMAX 1000 problems are the clutch issue. There have been cases reported where worn clutch plates rub against each instead of grabbing when you engage the clutch. This often time will result in the clutch springs losing their tension leading to slippage.
Fix:
Position your quad over on its side and pop off the clutch cover.
Check the drive, clutch springs, and fiber plates to know if any have been damaged.
Replace the damaged parts.
9. Foot Brake Issues
You may have noticed that the footbrake of your RMAX has a lower floorboard which means you have to lift your foot every time you need to step on the brake. This has posed some level of inconvenience and worry to some users and so we included it on this list of Yamaha RMAX 1000 problems.
Fix:
Raise the footpad a little higher so your foot can be directly positioned over the brake.

Then move the brake lever out to about ¾ of an inch.
10. Cab Heat Issues
Last on this list of Yamaha RMAX 1000 problems is the cab heat issue. The heat build up cools and often lines down the center of the wheeler's firewall which results in the riders feeling some level of heat where the driver's right foot and where the passenger's right foot is.
Fix:
Open the doors and add insulation to the tunnels.
Conclusion
There are many common Yamaha RMAX 1000 problems that you can experience in your UTV which can easily be fixed by you.
In this article on Yamaha RMAX 1000 issues, we have done our best to help you understand the symptoms of these problems and how to fix them. We hope this article was helpful to you.