The Phoenix vehicles have been well-known for years to be awesome All Terrain Vehicles. They have also been known to be the perfect ATVs to introduce young riders to driving the trails under strict supervision.
I have written this article on the Polaris Phoenix 200 Top Speed and I review the ATV with thorough information about its features, pros, problems, top speed, accessories, and much more.
Polaris Phoenix 200 Review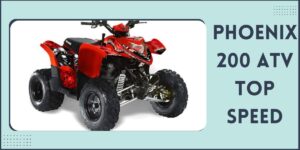 The Phoenix ATVs are equipped with a 196cc cylinder, making it easy for kids to confidently and effortlessly ride on rough terrains. It has an adjustable speed limiter, an industry-exclusive safety kit, LED lights, and an automatic Passively Variable Transmission, offering forward, neutral, and reverse, making it a comfortable ride for your kids.
Vitacci is also a popular ATV brand that you can check in this Vitacci ATV Reviews article.
Polaris Phoenix 200 Top Speed

The top speed of Polaris Phoenix 200 ATV is limited to 20mph, but the speed limiter can be set to increase the maximum speed to about 30 mph.
Polaris Phoenix 200 Specs
These are the top specs of the Polaris Phoenix 200 ATV:
A 196cc air cooling SOHC 4-stroke single-cylinder engine.
Automatic PVT F/N/R; Shaft transmission.
2WD, Chain Drive System.
Double A-arm front suspension.
Rear Suspension: Mono-Shock Swingarm.
Front Brakes: Front Hydraulic Disc.
Rear Brakes: Rear Mechanical Drum.
Adjustable Speed Limiter.
Fuel Capacity of 2.5 gallons (9.5 L)
Size (L x W x H): 65 x 42 x 42 inches.
Payload Capacity: 215 lb.
Dry weight: 420 lb.
Top speed: 20mph.
Wheelbase: 45 inches.
Ground clearance: 5.7 inches.
Pros & Cons
This aspect of the article talks about the pros and cons of using this vehicle:
Pros
It is quite affordable and offers great value for your money.
It is easy to start.
It has a long-lasting battery.
It is equipped with an automatic speed shift.
It has an adjustable speed limiter.
Cons
It takes a long time to speed up.
Difficulties in finding the accessories and dealers for this vehicle have been reported.
Polaris Phoenix 200 Problems
These are the 7 common Polaris Phoenix 200:
Engine Stalling Problems.
Loses Power When Accelerating.
Throttle Speed Control Problems.
Carburetor Problems.
Starting Problems.
Electrical Problems.
Transmission Problems.
Phoenix ATV Parts & Accessories
Next is a list of various parts and accessories for this vehicle:
RPM quadboss ATV backrest.
HKOO ATV rear view mirror.
Kemimoto ATV rear passenger foot pegs.
KDSG ATV LED headlights.
ATV fender bags.
Kemimoto ATV seat bags.
KIPA CDI Box For Phoenix 200 ATV.
Tokept 190T ATV waterproof cover.
Kolpin ATV rear rack basket.
AMR racing ATV graphics kit sticker.
GripPRO ATV Anchors.
MRELC 13mm Kick Starter Lever Pedal.
Carburetor Carb for Phoenix 200 ATV.
NICHE Starter Motor.
Universal Handlebar Grips.
Weize YTX12-BS Battery.
SOLLON Air Filter Replacement.
DB Electrical SCH0006 New Starter.
JINGKE 10 Teeth Starter Motor.
Starter Relay Solenoid for Phoenix 200 ATV.
Phoenix Tarzan 300 ATV Reviews
Phoenix Tarzan has a lot of great attributes. Its 300cc fully automatic engine of the Honda type, high mileage of 30-40 km per liter, affordability, and low maintenance costs are all great features that make it offer high quality for all types of terrains.
Phoenix Tarzan 135 ATV Reviews
The Phoenix Tarzan 135 ATV has a 125cc air-cooled single cylinder 4 stroke engine, 1F/N/1R automatic transmission, wheelbase 900mm, and ground clearance 120mm. Anyone can confidently drive this ATV with fantastic large LED lights and turn signals.
Phoenix 200 ATV Price
The Phoenix 200 ATV is available at an affordable price of $4,499. The price is considered affordable because this ATV comes with great features.
Check out this popular UTV brand from the same company, at Polaris Ranger 570 Reviews.
Phoenix 200 ATV Comfort
The Phoenix 200 is designed for riders who are ages 14 and up and must be under an adult's supervision. This means it's not designed for taller riders, but it's comfortable for some adults as they find it easier to handle in a compact machine.
Everything about Phoenix 200 is designed with ease of use in mind. This is especially beneficial for riders who are familiar with their new machine or who are new to it.
Who Makes the Phoenix 200 ATV?
The Phoenix 200 was designed by Polaris and built in Taiwan by Aeon. Its air-cooled 196cc 4-stroke engine is added to a downsized version of its CVT transmission from Polaris with forward, neutral, and reversed gears.
Phoenix 200 ATV Dealers
There are countless Phoenix ATV dealers in the US. Examples include McKibben Powersports in Lake Wales, Florida, USA, Brinson Powersports in Athens, Texas, USA, and Valley Cycle Center in Winchester, Virginia, USA.
Is the Phoenix 200 ATV Street Legal?
No, the Phoenix 200 ATV is not street-legal. However, if your state law allows it, you can make your ATV street legal by adding a few legal license plates, horns, mirrors, turn signals, and more. You need to find out the laws governing the use of street-legal vehicles in your state, but from my research for Phoenix 200 ATV Top Speed, it's mostly not street-legal.
What Engine Does the Phoenix 200 ATV Have?
The Phoenix ATV has a 196cc air-cooled 4-stroke SOHC engine with electric ignition. This motor develops a top speed of 20 mph.
Is the Phoenix 200 ATV 4 Wheel Drive?
The Phoenix 200 ATV is not a four-wheel drive vehicle. Instead, it uses a clutchless 2WD system to give users semi-automatic third-speed shifting via reverse and front.
Ground Clearance
The Phoenix 200 ATV offers 5.7 inches of ground clearance on a 45-inch wheelbase. This ground clearance may not be as high as other great ATVs on the market today, but for the price of this vehicle, it's well worth it.
All terrain vehicles from Kayo are also very popular, check them out at Kayo ATV Reviews.
Conclusion
The Phoenix 200 ATV is known for its durability and superior performance. Designed for children, teenagers, and even adults. These vehicles are easy to operate and maintain. It also offers a list of unique features, such as automatic manual transmission and electric start, all at a very affordable price. I hope you found this article on Polaris Phoenix 200 Top Speed helpful.