It is already established that illegal spin wedges do not conform to the golf rules but offer great features to help any golfer improve their game and have fun while playing.
Most individuals who desire to go for non conforming wedges list often lack the needed information about getting the best of these clubs.
This article is drafted with all the necessary information you need to know about the 8 best illegal golf wedges, their features, pros, and cons.
Top 8 Illegal Spin Wedges for Golf
These are the top 8 Illegal Spin Wedges for Golf:
Mazel Wedge
Designed with holes through the head.
Hollow face design.
Wide sole for more bounce and forgiveness.
Spin Doctor RI Wedge
Reverse groove face for 250%-400% more backspin.
Replaceable high spin groove insert system.
Medium flex steel shaft for better distance.
Investment casting.
Alien Golf Roswell Wedge
A round front edge.
Large sole face.
Increased weight.
Discover the key differences between S Grind and M Grind Vokey Wedges by exploring our comprehensive comparison article on S Grind vs M Grind Vokey Wedge Differences.
1. Mazel Wedge
The mazel wedge is the first on our list of top 10 illegal golf wedges. This club is a sand wedge designed with holes through the face to help you hit the ball through the sand. The mazel wedge offers great control and solid strikes on full-pitch shots. It also has a wide sole that promotes forgiveness and offers a lot of bounce.
Pros
Very forgiving.
Offers lots of bounce.
Provides great strikes on full pitch shots.
Offers amazing control around the green.
Cons
It is too expensive for a non-conforming wedge.
2. Extreme Smith Works Wedge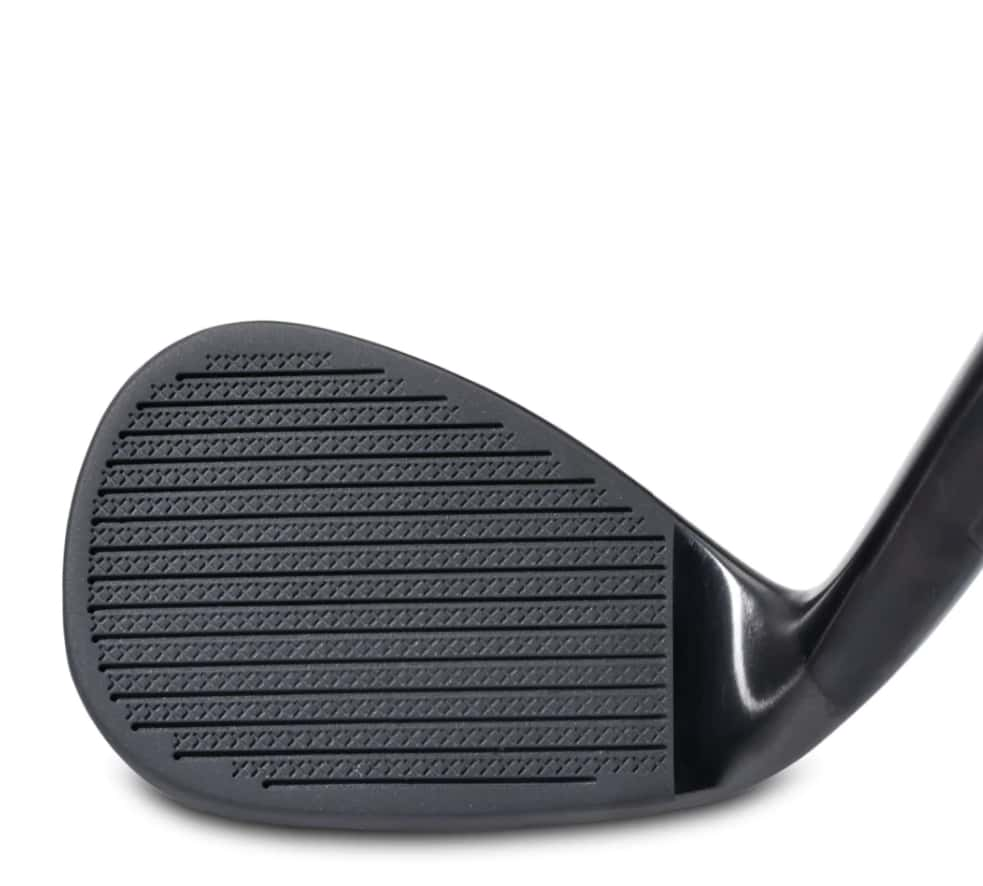 X-shaped grooves between the full-faced grooves.
A milled sole area for improved turf interaction.
Compact look at address.
A thick top line.
The extreme cast milled smith work wedge is designed with x-shaped grooves within full-faced grooves which make them non-conforming grooves. It has a milled sole area that promotes consistency and turf interaction. This wedge is suitable for golfers struggling with commitment and accelerating the club into the ball on shorter shots.
Pros
Increased spin on shorter shots.
Increased ball speed.
Better consistency.
Cons
It doesn't have a very soft feel. 
It tends to ruin golf balls.
It is quite pricey.
Almost impossible to keep the groove clean.
3. Spin Doctor R1 Golf Wedge
Reverse groove face for 250%-400% more backspin.
Replaceable high spin groove insert system.
Medium flex steel shaft for better distance.
Investment casting.
Available in 52° pitching wedge, 56° sand wedge, and 60° lob wedge.
The spin doctor R1 golf wedge is a game improvement club designed with a reverse groove face for increased ball spin. It has a pro-style insert that is replaceable and offers more spin, control, and forgiveness. It is a great wedge to help reduce your number.
4. Alien Sand Wedge
A round front edge.
Large sole face.
Increased weight.
The Alien sand wedge is particularly suitable for golfers who struggle with shots out of the bunker. The Alien sand wedge is designed with a round front edge which allows it to burrow into the sand more and get under the ball. This makes it easier to get the ball out of the bunker and on the green.
Pros
Increased launch.
Very forgiving.
Cons
It may take a while to get used to this wedge because of the heavy weight.
Discover the differences and features of two popular Vokey wedge models in our comparison: SM8 vs SM9 Vokey Wedges.
5. Bogger Vance Grooveless Wedge
Rillenloses racquet surface for better backspin and control.

Grooveless face.

No friction or moisture on the club face.

Creates a spin of 6000 rpm
The bogger Vance grooveless wedge is a low spinning club compared to its counterparts, but it offers high ball flight, with a carry distance of 83 yards, roll distance of +3 yards, a total distance of 86 yards, and loft of 60°.
Pros
It offers great ball flight.

No friction on the club face.

Better ball control.
Cons
It is a lower spinning wedge.
6. Condor Fairway Balata Wedge
60° rubber face for maximum control.

Graphite shaft for a rapid backspin.
The condor fairway balata wedge offers maximum control approaching the green from about 50-100 yards out. The condor balata wedge has a soft surface that holds the ball on the club face longer and gives you maximum control. It offers plenty of distance and a great feel. It also has a firmer grip which gives the ball a rapid backspin and sticks it to the green.
Pros
Offers rapid backspin.

Provides maximum control.

Has a great feel.

Offers plenty of ball distance.
Cons
The face doesn't offer as much spin.
7. Knight Ripstop Sand Wedge
The Knight Ripstop sand wedge is a non-conforming club that offers great backspin. It is designed with a soft cast stainless steel and milled face for more bounce, distance, and forgiveness.
Features
Soft cast stainless steel.

Milled face.
Pros
Offers good backspin.

Better distance.

More forgiving.
Cons
8. Indi non-conforming FLX SR Wedge
Scoopback tech for better off-center hits.
Traction face grips.
22 full-face grooves for longer shots.
Diagonal micro mill pattern for an increased spin around the green.
The Indi FLX is suitable for shallow pickers and golfers who play in firm conditions. The leading edge on the FLX is straight for better workability and shot-making with a tour-inspired look. This wedge offers better off-center hits, longer shots, and increased spin.
Pros
Adds  50% more spin to your game.
Better forgiveness to help lower your scores.
Great feeling.
Maximum spin.
Better workability.
Top 2 Illegal Golf Wedges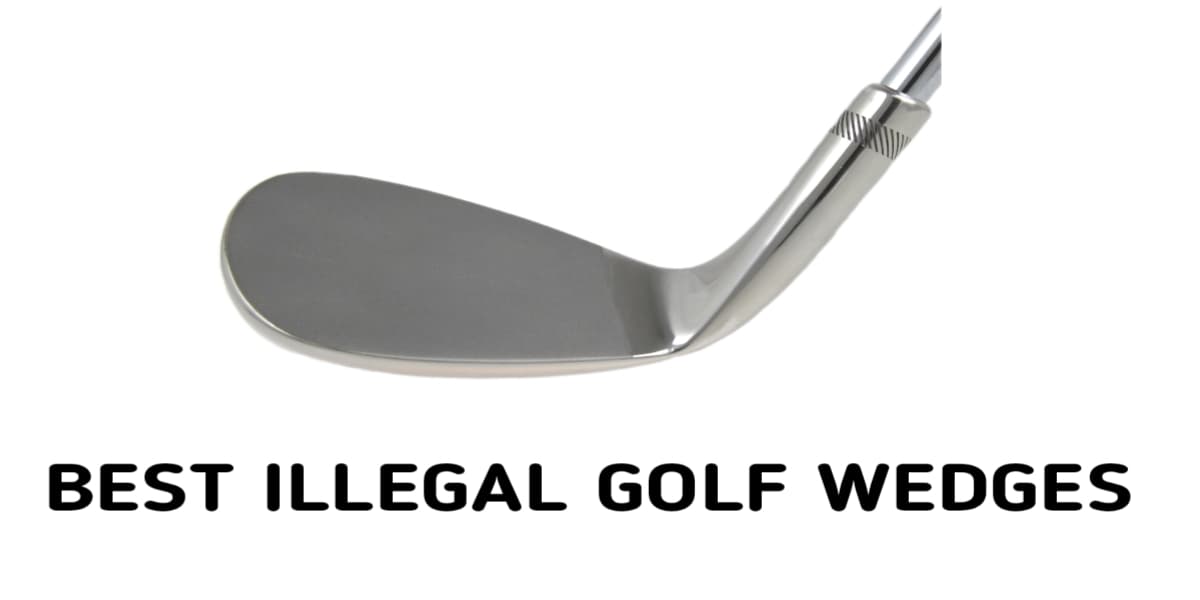 These are the top 2 illegal spin wedges:
Spin doctor R1 golf wedge.
Extreme wedge by smith works.
Top 3 Illegal Sand Wedge
These are the top 3 illegal sand wedges:
Mazel SW wedge.
Alien sand wedge.
Knight Ripstop sand wedge.
What is the best Non Conforming Golf Wedge?
The best non conforming golf wedge is the KNDI non-conforming FLX SR wedge.
What Golf Wedges Are Illegal?
All wedges with sharped-edged U-Shaped grooves are illegal. This is because it offers excessive backspin. It is also important to note that some wedges are illegal because they were not submitted to the UGSA for validation.
Check out this article on Cleveland CG One Wedge Review.
Why Should You Use Illegal Golf Wedges?
There are a few reasons why you might want to use illegal golf wedges:
They can help you to hit the ball further.
They can help you to hit the ball straighter.
They're more comfortable: You might feel less stressed when you're using an illegal golf wedge. You might find it easier to hit a ball with one.
They're more reliable: Golfers often buy an illegal golf wedge because they think it's going to be better. It might not be as good as an official golf wedge.
They're easier to swing: If you're a beginner golfer, then you might not want to use an illegal golf wedge. It might be difficult to hit a ball with a wedge that isn't designed for you.
Which Vokey Wedges Are Illegal?
The Vokey red raw spin milled Titleist SM2 and SM3 are illegal golf wedges because they were produced prior to 2010. All wedges produced before the 2010 groove rule took effect as illegal.
Are Vokey Spin Milled Wedges Illegal?
Vokey Spin Milled wedges are not illegal for use in golf. These wedges, produced by Titleist and designed by master craftsman Bob Vokey, are quite popular and conform to the rules set by the United States Golf Association (USGA) and the Royal & Ancient Golf Club of St. Andrews (R&A).
Is the H7 Hummingbird Wedge Legal?
The H7 Hummingbird wedge is legal to use when golfing. This wedge passes the specifications of both the pro-2010 rules of golf and the 2010 groove laws
Is a Texas Wedge a Legal Club?
It is legal to play the Texas wedge with a firm ground between you and the putting surface.
Is a Square Strike Wedge Legal?
The square strike wedge is legal. This wedge conforms to the USGA and R&A rules. It can be used for all casual, high-level amateur, and professional golfing games.
Is the Cutter Wedge Legal in Golf?
The cutter wedge is legal. It conforms to the USGA rules. It offers great versatility and spin around the green and offers solid performance to help improve your game.
Are Ping Eye 2 Wedges Legal?
The Ping Eye 2 Wedges manufactured before March 31, 1990, are conforming to the USGA rules. They are acceptable for all USGA competitions.
Is the Spin Doctor Golf Club Illegal?
The Spin Doctor RI Wedge is considered illegal for use in official tournaments and competitions, as it does not conform to USGA and R&A equipment regulations due to its face insert technology and aggressive groove design.
Conclusion
Illegal spin wedges are technically modified clubs that offer exceptional spin and ball performance. While they can't be played during golfing games, you can practice with them and have fun on the golf course.
We hope this article on illegal golf wedges was helpful to you.