With the new SM9 out on the market, everyone is asking "what's the difference between the two Titleist SM8 vs SM9 Vokey wedges? Is it worth the price? Is SM9 actually an upgrade over the SM8?
I too was curious, so I went out with some friends to the golf course to do some testing with the SM9 and compare it to the SM8.
So, if you are curious about the difference between the SM8 vs SM9 Vokey wedges, then this article is for you. Jump right in, we have some comparison to do.
Difference Between SM8 vs SM9 Vokey Wedges
The main difference between the SM8 vs SM9 Vokey wedges is that the SM9 has more spin and lower range compared to the SM8. While the physical structure difference is subtle, the SM9 has a launch angle of 30-35 degrees with an increased spin of up to 8200 RPM giving it a better ball flight and control.
SM8 vs SM9 Comparision Table
Product
Item package dimensions 
Item package dimensions 
37.01 x 3.54 x 3.15 inches
39.37 x 11.81 x 11.81 inches
Material 
Material 
Alloy Steel
Alloy steel
Golf Club Flex
Golf Club Flex
Rigid-flex
Wedge flex
Hand Orientation 
Hand Orientation 
Derecha
Right
Golf Club Loft
Golf Club Loft
60.12 degrees
54.12 degrees
Trajectory 
Trajectory 
Low Trajectory with Good Spin
A Lower Launch and High Spin
Feel
Feel
Good Feel
Great Feel
Control
Control
Good Control 
Great Control
If you are a 15 handicapper and want to improve your game, check out Best Irons for 15 Handicap.
Why Choose SM9 Vokey wedges over SM8 Vokey wedges?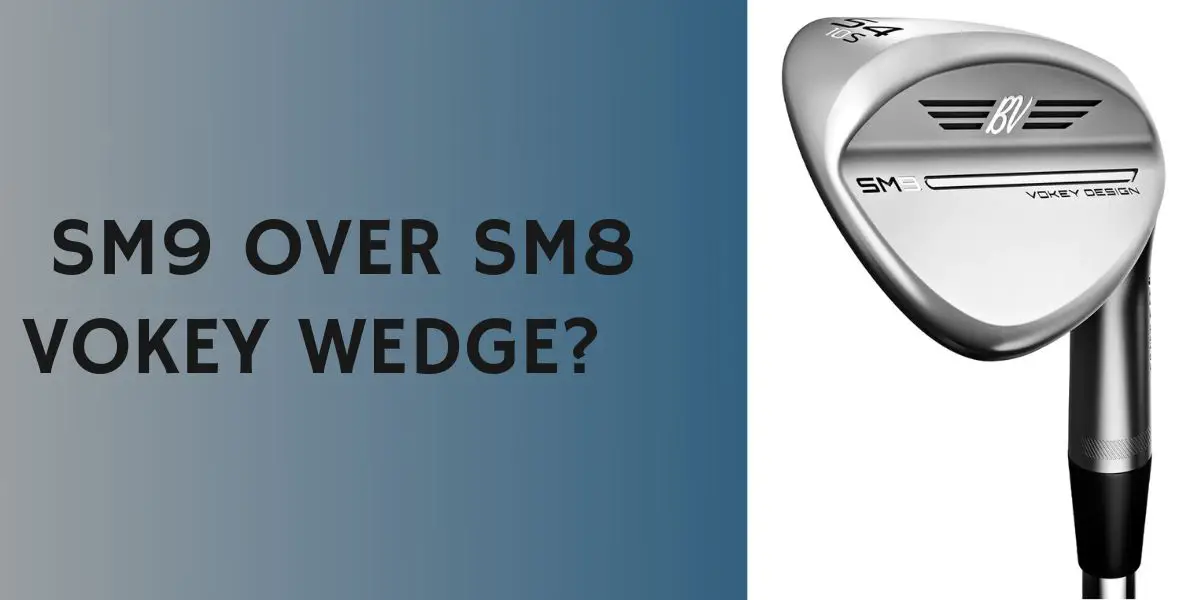 The SM9 Vokey wedge is worth being chosen over SM8 because the SM9 provides an increased spin of up to 8200 RPM with a lower trajectory which gives you better control, consistency, ball flight, and a cleaner shot than the SM8.
Pros & Cons of SM8 vs SM9 Vokey Wedge
These are the pros & cons of the SM8 vs SM9 wedges:
Pros of SM9
Greater versatility.
Improved turf interaction.
CNC milled grooves for trajectory and spin control.
Looked brilliant at the address.
Consistent in distance and flight.
Loads of spin.
Custom fitting options are massive.
Your on-course street cred will go through the roof.
Cons of SM8
Less forgiving.
Price is premium and if you carry a lot of wedges, things get expensive.
Only a slight improvement on SM7 in my opinion, it's hard to improve perfection.

 
How to Choose the Right Vokey Wedge for You?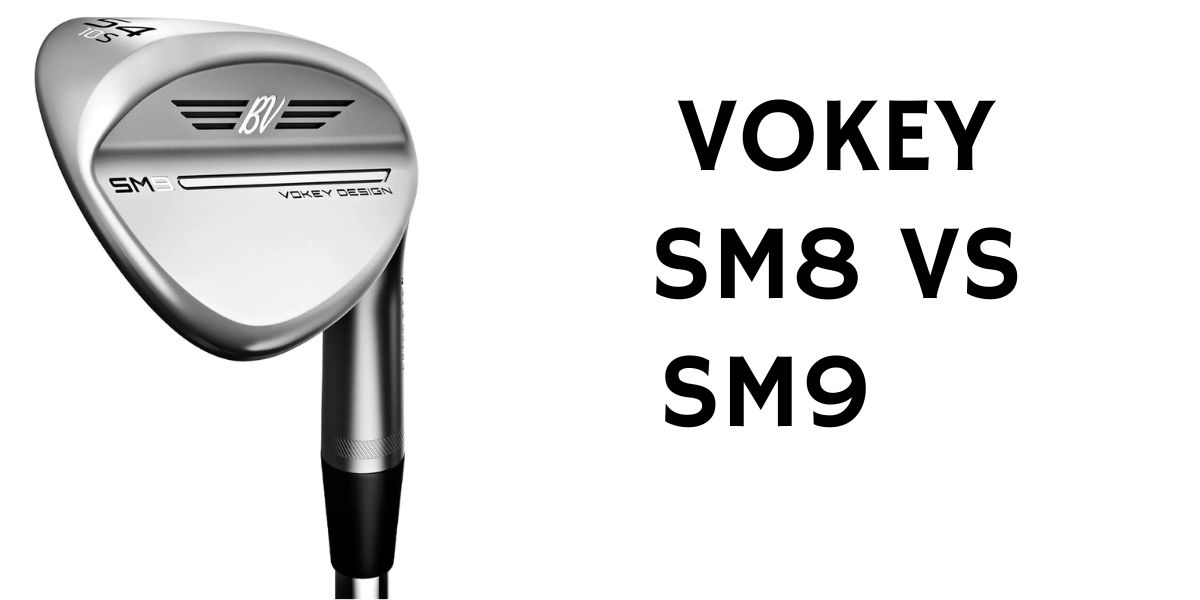 To choose the right Vokey wedge, you have to consider three things; loft, bounce, and grind.
1. Bounce:
This refers to how much and how fast the wedge staves off the playing surface when it comes in contact with it. It is the distance that the leading edge of your wedge sits above the ground when the clubface is square to the target. The bounce on wedges also varies by the depth of bounce called grind.
Below is a guideline for choosing the bounce on your wedge:
The pitching wedge 46-48 degrees has a low bounce and shallow to medium depth.

The gap wedge 50-52 degrees has a low bounce and medium depth.

The sand wedge 54-56 degrees has the most and deepest bounce.

The lob wedge 58-60 degrees has the smallest and narrowest bounce.
If you play on soft and tight turf, match your bounce to these conditions. If you are going to use your wedge frequently on the greens, the sand wedge and lob wedge should be your choice. If you play on a ground that is always soft and lush, then a sand wedge of 12 degrees and a lob wedge of 8 degrees is a wise choice to make. 
If you play on grounds where there are lots of hardpans, you might carry a sand wedge of 10 degrees and a lob wedge of 4 degrees.
2. Grind:
Grind is usually specific to Vokey wedges. It could either be M grind, F, S, D, K, or L.
M grind: This provides a bit of versatility in your wedge. It is suitable for golf courses with firm or average turf conditions. It comes with 54-62 degree loft options.
F grind: This is suitable for both soft and normal turf conditions with 46-56 degrees loft options
S grind: This usually gives a bounce of 10 degrees
D grind: This is convenient if you are playing on soft turfs. It comes In a 58-60 degrees alternative.
K grind: This provides the highest bounce. If you struggle with bunkers, the K grind is for you.
L grind:  If you are dealing with firm turfs, this grind is for you. It has the lowest bounce and Is suitable for golfers who are trying to create shots around the green.
3. Loft:
This is another option to consider when choosing a golf wedge. A loft of 56-60 degrees is a good combination to compliment your pitching wedge. A Pitching wedge typically has a loft of 43° to 47°. Gap wedges have a  loft of 47° to 52°. Sand wedges feature lofts of 54° to 56° and Lob wedges have the highest lofts of 58° to 62°.
Conclusion
A lot has been covered in this article on SM8 vs SM9 Vokey wedges. The major difference between the SM8 and SM9 is that the SM9 has more spin and a lower trajectory than the SM8. Other differences are listed above to help you make a confident choice between these two such as the feel, control, and consistency.
To be able to choose the right sm9 vs sm8 wedge, there are 3 options you have to consider which are bounce, loft, and grind. Getting a wedge with a bounce that suits your playing condition gives you more ball speed and straighter shots. This applies to loft and grind. These options are based on your level as a golfer and the ground you are playing on.
We hope the SM8 vs SM9 Vokey Wedges information made available to you in this article was helpful to you.