If you look for Green Machine Golf Cart Reviews on the Internet, I bet you won't find any website that has done a complete review of these carts.
This is because the Green Machine Carts aren't very popular like Icon or Ez Go. But, the company claims that they are the highest quality built LSVs & Street Legal Golf Carts on the market today.
So, I decided to dig in and provide you with my Green Machine Golf Cart Reviews for 2023.
Green Machine Golf Cart Reviews: Features
In this article about Green Machine Golf Cart Reviews, I will talk mainly about its most popular model that is the GMCC Discovery 2+2.
Let's discuss some of its exclusive features:
The cart has 14-in aluminum wheels, 23-in terrain tires, and three types of lights namely, headlights, taillights, and brake lights.

It is equipped with advanced features like a Bluetooth stereo system, a digital battery gauge, and a tinted folding windshield.

Other exclusive features include side mirrors, rear mirror, and extended top.

It includes upgraded 2-tone seats, front and rear seat belts, and one year warranty with a 23mph top speed range up to 47 mi on a full charge.

The type of battery used is US batteries and Trojan batteries (48 Volts) which are usually built-in. 

Advanced wiring Curtis or EV New York controller motor system 

The engine, gearbox, and axle are well integrated with an efficient transmission system. The engine capacity is about 200cc.

The cart is well designed with front McPherson struts, rear coil-over the double A-arm, a single balance shaft design, front and rear differential, and true two-wheel drive. 

All engines of this golf cart are tuned and perform testing for extreme reliability. Moreover, these are Chassis Dyno Tested and tuned, ensuring smooth drivetrain flow and reliability to produce maximum performance.

The frame is galvanized to prevent rust.

It comes with the Discovery Deluxe Edition. 
Check out my most trending article on Icon Golf Cart Reviews.
List of all the Green Machine Golf Cart Models
Let's check out the popular models of the Green Machine Carts:
GMCC 6 Passenger 72 v Limo Cruise Series
It comes with a tilted LSL high-performance charger of 72V and 7.5KW. It has hand-actuated mechanical brakes and cast alloy wheels with gel-filled batteries. It can hold 6 passengers in total.
2. GMCC Discovery 4+2 Street Legal Golf Cart Limited 48 V
It has 14-inch aluminum wheels with all other features like 23-inch terrain tires, lights, side mirrors, rear mirrors, and a digital battery system with a one-year warranty.
GMCC 6 Passenger Gas 4×4 LSV
It is equipped with dual-disc front brakes with a disk rear brake. It has a pulling capacity of 1212 lbs. The engine type is defined to be liquid-cooled 4 strokes.
Green Machine Carts Reviews: Engine
The engine of the green machine cart is a 200cc 4-stroke with an oil-cooled radiator. It is a compact engine with a power of 9 HP to 13 HP along with a proprietary efficient transmission mechanism.
While writing about green machine carts reviews, this is the one thing that I liked the most.
If you are interested in small electric golf carts, check out my article on Best Mini Golf Cart in 2023
Are Green Machine Golf Carts 4-Wheel Drive?
Green Machine Golf Carts are 4-wheel drive and come with hydraulic brakes. Some models are equipped with hydraulic brakes on all 4 wheels and they have independent suspension.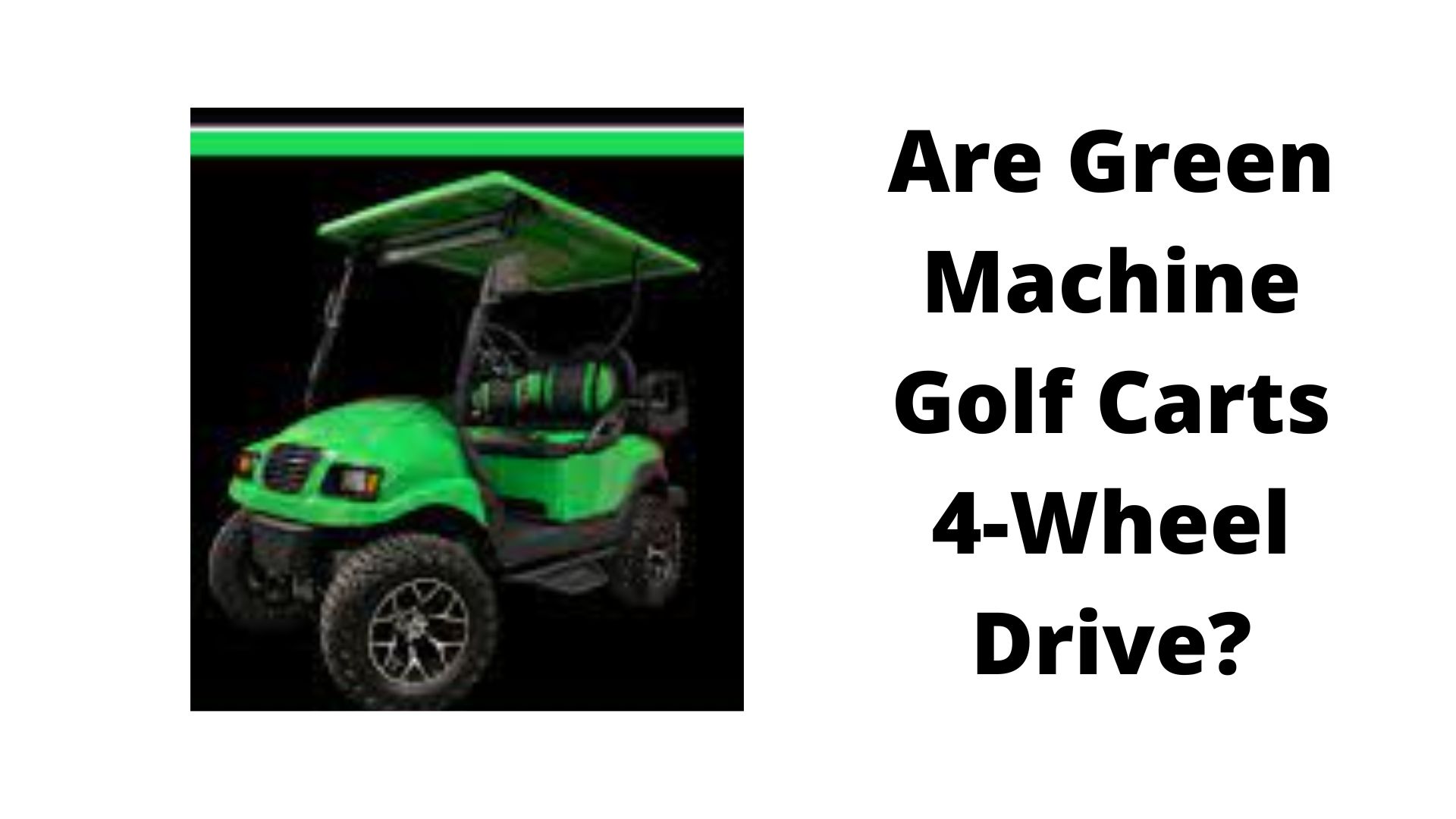 Are Green Machine Golf Carts Street Legal?
Green Machine Golf Carts are certified Street Legal with a federally approved 17 number VIN.
Green Machine Golf Cart Speed
The speed of a Green Machine Golf Cart is 23 mph on a fully charged battery which is similar to an LSV (Low-speed vehicle).
Green Machine Golf Cart Accessories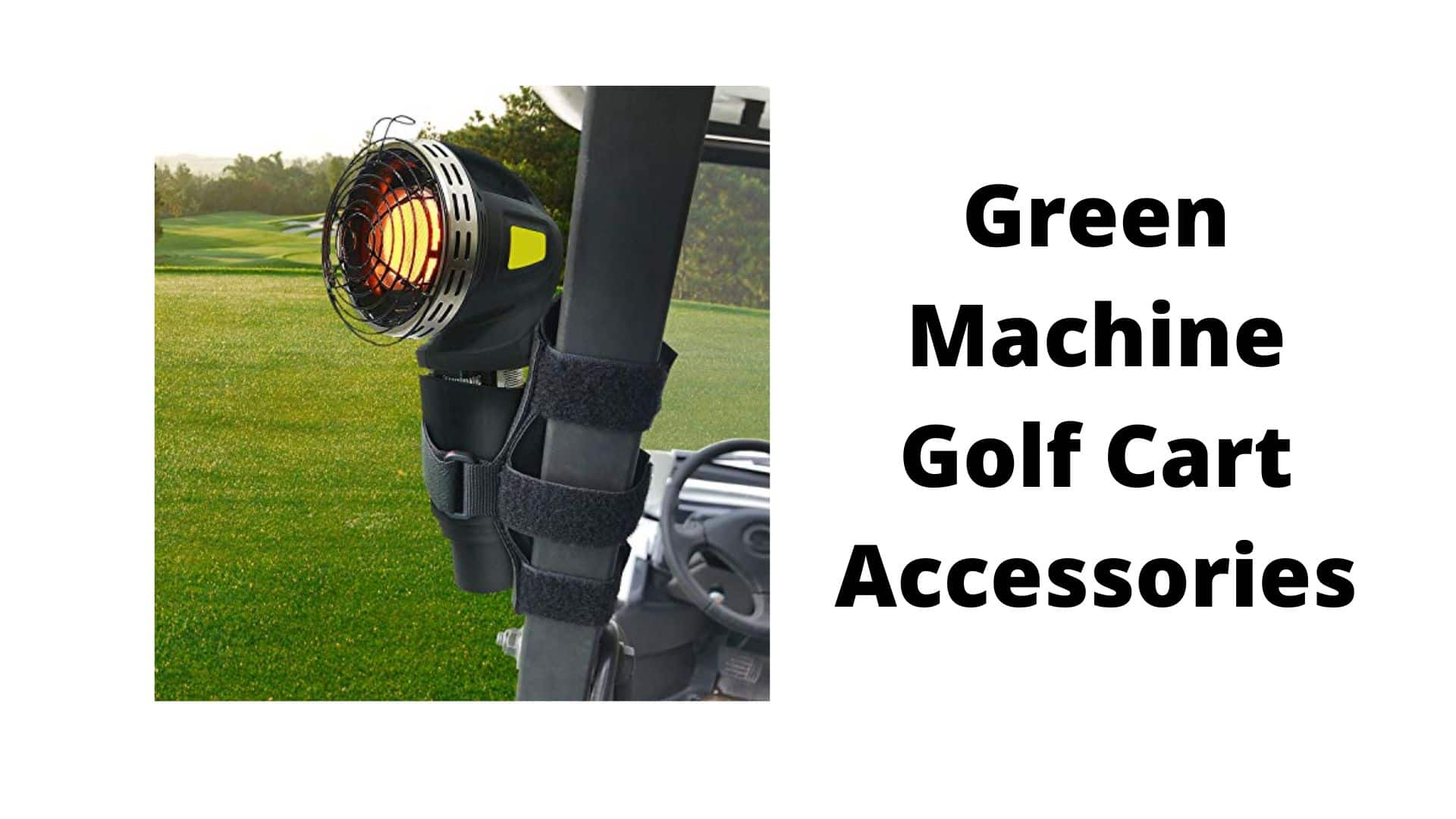 In this Green Machine golf cart reviews, I have also mentioned a list of accessories that can be bought along with the cart.
Upgraded LED headlight and turn signal kit

GMCC Upgraded LED light white headlight bulb

GMCC winter enclosure heavy duty

GMCC custom two-tone seat covers

GMCC Bluetooth FM radio soundbar

GMCC ArmRest Rear Cup Holders

GMCC all-terrain tires
Available Colors
Red, Blue, and Black are the 3 color options for the Green Machine Carts.
I found the blue color very cool while I was doing my reviews on Green Machine Golf Carts.
Where are Green Machine Carts Manufactured?
The company's headquarters are at 221 Bliss Ln, Cape Girardeau, Missouri 63701 USA.
Green Machine Carts Warranty
Green Machine Golf Carts have a 1-year warranty that includes the battery, controller, engine, and electronics from the date of purchase. The warranty needs to be claimed within 15 days of buying the cart.
Being an original owner, it is always recommended to fill out the warranty claim form within this stipulated time. The warranty will remain void if you fail to fill this up. Moreover, it is essential to transfer a $100 fee to the new owner, if you sold it during this warranty period. Always remember that the warranty is covered on the original factory-installed parts.
In this section of Green Machine golf cart reviews, I would like you to know that a warranty of one year from the date of purchase is given to the original purchaser.
The warranty states the materials and the components of a new GMCC vehicle will be free from defects in materials and quality. A certified technician performs all the evaluations or replacements, and this warranty covers the replacement of all the manufactured defective parts.
Green Machine Golf Cart Dealers & Locations
The following local dealers have established members of the communities and help in installations, service, and support needs. You can get in touch with an authorized green machine dealer in your area to get all the details about your queries. 
1. Atlanta: MFG Facility, Lawrenceville GA 30043
Phone: 573-986-1188​
2. MISSOURI : 221 Bliss Lane, Cape Girardeau, MO 63701
Phone: 573-986-1188
3. Lake of the Ozarks: Lake Ozark, Mo. 65049
Phone: 573-986-1188
4. Sikeston: 101 N Ranney, Sikeston, MO 63801
Phone: 573-986-1188
​5. TENNESSEE: Tobacco Road Golf Carts, 4000 Memorial Blvd, Springfield TN 37172
Phone: 615) 380-8765
Cost
The cost of the green machine carts can range from $7000 to $15000. However, the GMCC discovery 2+2 street legal golf cart costs $9400.  
You may incur a bit more in shipping charges. The shipping cost may vary according to your location and is calculated at the time of the checkout.
What Type of Battery Do They Use?
The Green Machine Golf Carts use the 48v US or trojan battery system powered by a pack of six 8-volt batteries.
It is essential to use a battery charger rated as 48V for an electric charger to increase the battery power. The battery should be adequately maintained and recharged for maximum performance and service life. 
Cons
You may get accidental problems in steering, like excessive free play or rattling sounds that can indicate a loose steering component. Hence advisable to consult a green machine dealer if necessary.

The electrolyte of the battery is highly poisonous and dangerous. Thus it can cause severe burns due to the presence of sulfuric acid. It might also release harmful gasses that can be explosive. Hence it is advisable to keep flames and fire away.
Conclusion
I hope our Green Machine golf cart reviews article was able to provide you with complete details about the cart and the company behind it. Knowing about this rising company is necessary because their golf carts are very good. It's always good to give a chance to a small company like this because they can provide you with a lot of features and customization options which unfortunately the big brands can not.