There aren't many UTVs in the market today that promise durability and comfort over a long period. However, the BMS UTV is a great choice for those looking for a rugged vehicle for off-road travel at a reasonable price.
If you want to purchase or know more about this vehicle, I have written this article on the BMS UTV Reviews with detailed information, including its features, pros, cons, top speed, and accessories.
BMS UTV Reviews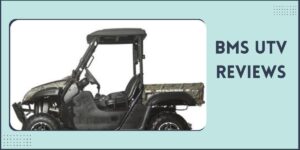 The BMS UTV is perfect for family adventures with a 43hp 686cc engine, automatic CVT transmission with high and low gears (H-L-N-R), and 4WD-2WD on request. It has an innovative design and top performance and offers outstanding comfort.
You can also check out my extensive review on Bighorn UTV Reviews.
BMS UTV Reviews: Features
This aspect of the article is a list of some features that make this vehicle an excellent recommendation.
686cc SOHC Four-stroke, Liquid-cooled, Single Cylinder EFI Engine.
Ignition Type: Electronic Control Module.
Fuel Capacity of 7.4 gallons.
4WD-2WD Switchable.
43 HP.
2WD/4WD with locking differential on Demand.
Fully Automatic CVT P/R/N/L/H Transmission with a high and low gear.
Overall size of 148 x 60.5 x 78 inches.
Front Suspension: Independent Dual A-Arm.
Rear Suspension: Independent Dual A-Arm.
Front Tires: AT 25 x 8-12 Radial.
Rear Tires: AT 25 x 10-12 Radial.
Cargo Box Capacity 400 lbs.
Towing Capacity 1,200 lbs.
Rider Load Capacity of 800 lbs.
4-Wheel Hydraulic Disc Brake.
The wheelbase of 87 inches.
Ground Clearance of 11.2 inches.
Top speed of 35-45 MPH.
Pros & Cons
These are the pros & cons of the BMS UTV:
Pros
Provides comfortable and ample space for up to four people.
It is easy to start.
It has a long-lasting battery.
It is equipped with an automatic speed shift.
It offers great value for your money.
Its halogen headlights provide brighter light and consume less energy.
Perfect for outdoor camping and daily chores on the farm or ranch.
Cons
The engine sometimes overheats.
Difficulty in shifting gears.
BMS UTV Problems
Even the best UTVs have some problems. Knowing these issues in advance will help you know what to expect. I have attached some issues reported during my research for BMS UTV reviews.
Engine starting Problems.

Overheating issues.

Electrical Problems.

Transmission Problems.

Problems with the carburetor.

Gear shift problems.
BMS UTV Parts & Accessories
Next is a list of various parts and accessories for this vehicle:
RZR Storage Bags- SUNPIE UTV Rear Cab Pack Center Storage Bag.

Universal Air Filter for BMS UTV.

KEMIMOTO UTV Rear Windshield with Zipper Back Window.

HIAORS Brake Master Cylinder.

Oil Filter for BMS UTV.

CNCMOTOK Ignition Coil Voltage Regulator Rectifier.

Solenoid Relay Voltage Regulator Rectifier 4 Pin.

ERTY Gear Shifter.

GOOFIT Hydraulic Brake Master Cylinder Replacement.

Kemimoto Upgraded Convex UTV Mirror.

NOCO Lithium Powersport Battery.

Chikia OEM Air Filter.

Chikia Hisun Hood Straps Door Rubber Return Latch Kit Replacement.

Kemimoto UTV Camo Bucket Seat Cover with Back Seat Cover.

OEM Hisun Brake Master Cylinder Pump.
WonVon X3 Cover with Zipper & Air Holes Heavy Waterproof Duty.

Universal ATV UTV SXS Street Legal Kit with Rocker Switch Turn Signal Light Horn Flasher Relay.

Kemimoto UTV Rear Windshield with Zipper Back Window.
BMS Beast 1000 UTV Reviews
The BMS Beast 1000cc features an aggressive, compact look. It delivers the performance you need to conquer uneven terrain confidently and comfortably. This UTV features a 996cc V-twin engine, 81 horsepower, and 4-wheel independent suspension delivering efficiency, power, overall superiority, and more.
BMS Stallion 600 RX UTV Reviews
The BMS Stallion 600 RX-EFI UTV is perfect for outdoor camping, hunting, or daily work on farms and ranches. It is equipped with a 594cc/37 hp, water and oil cooling system, 2WD and 4WD modes and limited slip differentials, and the automatic CVT transmission (L-H-N-R) with high and low gears.
BMS COLT 700 UTV
The BMS COLT 700 LXS 2S offers an innovative design, outstanding comfort, and a 43hp 686cc engine EFI with an automatic CVT and an on-demand 2WD/4WD drive system. It has an aggressive, compact look and is designed to be the best-performing off-road recreational model.
BMS UTV Price
BMS UTVs come in different models and are sold at different prices. Prices range from $10,000 to $19,000. This price range is considered affordable because this UTV is packed with great features.
Who Makes the BMS UTV?
BMS Motorsports Incorporated designs BMS UTVs. Located in Riverside, California, they are known for providing quality off-road vehicles.
Check out my detailed article on the most popular utility vehicle at Intimidator UTV reviews.
BMS UTV Dealers
There are countless BMS UTV dealers across the country. Examples include 23 Powersports of Grass Valley Highway in Auburn, CA, BMS Motorsports of Riverside, CA, and Broward Motorsports of Fort Lauderdale, FL.
BMS UTV Top Speed
The top speed of the BMS UTV is adjustable and can reach anywhere between 35 and 45 miles per hour.
Is the BMS UTV Street Legal?
BMS UTVs are not street legal. However, state law allows you to make your UTV street legal by adding legal plates, horns, mirrors, turn signals, and more. You'll need to be aware of the laws governing legal vehicle use in your state.
What Engine Does BMS UTV Have?
The BMS UTV has a 43 HP 686cc SOHC Four-stroke, Liquid-cooled, Single Cylinder EFI Engine with a speed limit of 35 to 45mph.
Is BMS UTV 4 Wheel Drive?
Yes. The BMS UTV is a four-wheel drive vehicle. It uses an on-demand 2WD/4WD with a locking differential drive system.
Ground Clearance
The BMS UTV offers 11.2 inches of ground clearance on an 87-inch wheelbase.
Conclusion
BMS UTVs are known for their durability and superior performance. These vehicles are easy to operate and maintain. It also provides a list of unique features. They are well made, practical, sturdy, and most of all, really fun. There are few comparable brands in their price range, making them worth your consideration.
I hope you found this article on BMS UTV Reviews helpful.