Wisconsin has some of the best UTV trails in the country, with a variety of terrain and breathtaking views to enjoy. Whether you're a beginner or a seasoned pro, Wisconsin has a trail for every UTV rider.
So bundle up, start your engines, and get ready to hit the trails. This article has been prepared for you to have enough information about the best winter UTV trails in Wisconsin, their features, and how to navigate them.
Top 5 Winter UTV Trails in Wisconsin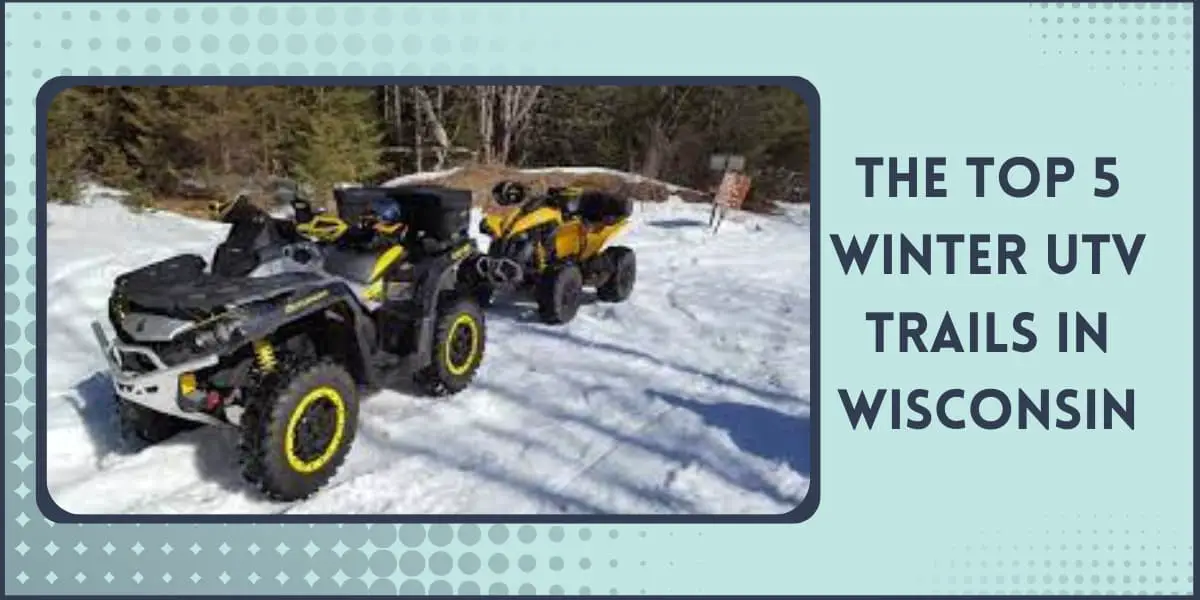 These are the top five winter UTV trails in Wisconsin:
Cheese Country Trail System.

Chippewa County Trail.

Iron County Trails.

Kewaunee County Riverview Park.

Tuscobia State Trail.
To protect yourself from the cold during the winter while UTV riding, Check out my article on Best Winter Golf Pants for you.
1. Cheese Country Trail System
This Wisconsin trail system was built on a disused railroad, stretches 47 miles (75 km) south and east, and has a 440-foot trestle that spans the Pecatonica River. The Cheese Country Trail System rhythmically ascends and descends through Lafayette, Green counties, and Iowa.
Features of Cheese Country Trail System
It is level and well-groomed.

It has wooded "tree tunnels/ overgrowth.

It has lots of wildlife.

It has great scenery, including farms, rocky bluffs, fields, rivers, and streams. 

It has bridges.
2. Chippewa County Trails
This trail is one of Wisconsin's favorites and comes with steep climbs and dramatic descents. The Chippewa County UTV trail winds through a scattered chain of 33,000 acres of county woodlands. What this 19+ mile Wisconsin UTV trail lacks in length, it makes up for in grit.
Features of Chippewa County Trails
Steep hills and valleys characterize it.

It has a glacial topography.

There is an abundance of wildlife.

The trail winds past small lakes and beaver ponds.
3. Iron County UTV Trails
This 250-mile network of trail systems is so well maintained that UTVs can visit nearly every major town in the county.
Riders can see the beautiful natural landscapes, lakes and waterfalls of the Northwoods. There are also plenty of places to eat, refuel, and stay overnight.
Features of Iron County ATV Trails
It is characterized by well-marked hiking trails that meander through forests and fields.
Local bars, gas stations, lodging, and restaurants can be found on UTV routes and town roads open to UTV traffic.
It has a waterfall view and beautiful scenery.
4. Kewaunee County Riverview Park
The Riverview Park covers 220 acres and offers trails for riders of all abilities. When you're done riding for the day, there's plenty to see and do in this historic community on the shores of Lake Michigan. Forty buildings on the National Register of Historic Places exist, and the Kewaunee Historical Society Museum, housed in a former prison building built in 1875, explores the region's maritime history.
Features
The park offers 20 miles of trails.
It also offers a large gravel parking lot with plenty of room for your truck, trailer, BBQ, and pop-up shelter.
It has great features such as two canyons, a climbing area, and a versatile challenge course.
5. Tuscobia State Trails
Tuscobia's 60+ miles of UTV trails are a must for riders. One of Wisconsin's longest rail-to-trail routes, it winds through Wisconsin's scenic Blue Hills. Imagine a tree-lined avenue with bald eagles soaring overhead and water views across several rivers. The route runs from Park Falls through Flambeau River State Forest, through southern Sawyer County, with several communities along the way, and ends in Birchwood.
Features of Tuscobia State Trails
UTV loading & unloading ramp.
Baseball diamond.
The paved pedestrian trail to the City of Park Falls.
UTV and snowmobile trail access.
Picnic area, tables, and grill.
Wildlife pond.
Overnight parking.
Paved parking lots.
Open Dates For The Best Winter UTV Trails in Wisconsin
The best winter UTV trails in Wisconsin operate only from October 1st to April 30th due to snow removal.
The Best Winter UTV Trails in Wisconsin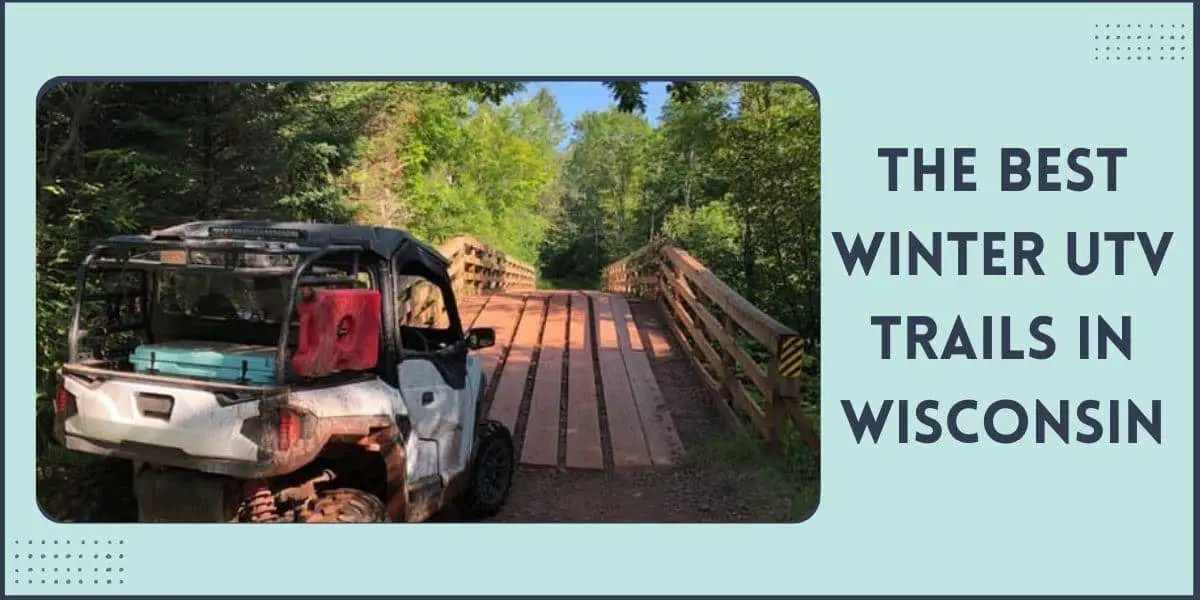 The Iron County trail is considered the best winter trail in Wisconsin. With over 250 miles of UTV trails, this county has more trails than any other in Wisconsin.
Wisconsin UTV Routes
These are some of the UTV routes you can find in Wisconsin:
Antigo UTV Route.
Augustyn Springs UTV Trail
UTV Scenic Tour – Washburn County.
Buffalo River State Trail.
Dead Horse Connector.
Northwoods Powersports Adventures
Clark County Knobby Ridge Motorcycle Trails.
Flambeau Trail System.
Land O' Lakes Recreation.
Map of UTV Trails in Wisconsin
This is the map of all the winter UTV trails in Wisconsin: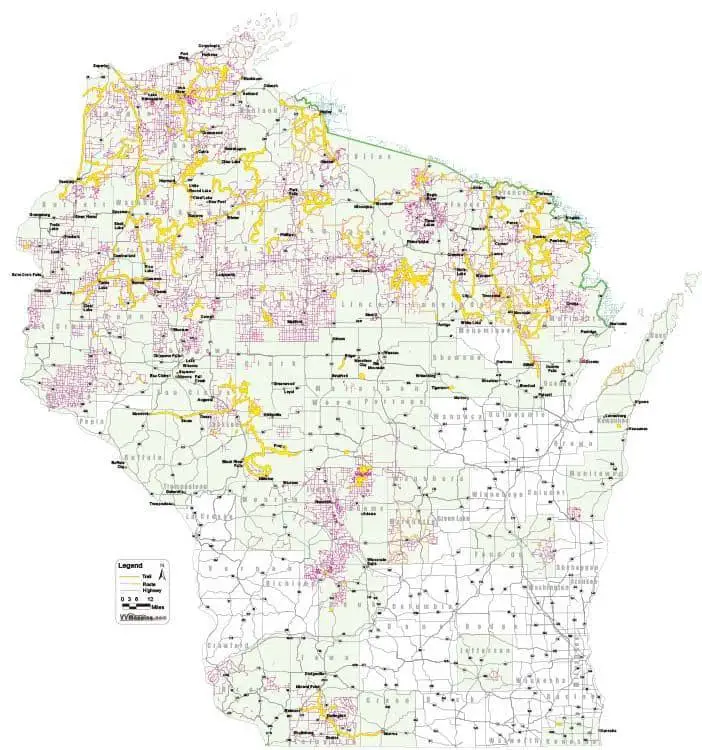 When Do UTV Trails Close in Wisconsin?
While some UTV trails open all year, most close around March 31.
FAQ
Are Utv Trails Open in Winter Wisconsin?
Yes, UTV trails are open in winter in Wisconsin.
Are UTVs Allowed on Wisconsin Roads?
UTVs are not allowed on interstate highways but on state highways with a permit from the DOT within the community that allows them to be used on local roads.
Where Can I Ride my UTV in the Winter in Wisconsin?
You can ride your UTV in the winter in any of the following:
Burnett County UTV Trail System.
Pine Line Trail.
Chippewa County UTV Trail.
Kewaunee County Riverview UTV Park.
Embarrass River UTV Park.
Neillsville Trails.
Tuscobia State Trail.
Iron County UTV Trails.
Cheese Country Trail System.
Barron County Trails.
Washburn County Scenic UTV Tour.
Oconto County UTV Trail System.
Chequamegon Nicolet National Forest.
Black River State Forest.
Tri-County Corridor Trail.
Are UTV Trails Open in Wisconsin?
UTV trails are open for UTVs to be driven from May 15 through October 15.
Are UTVs Allowed on Wisconsin Roads?
UTVs are not allowed on Wisconsin roads unless they have a permit from DOT that registers your vehicle. You must also find out the rules of driving a UTV on the road in Wisconsin.
How Long Are Wisconsin UTV Trails Open?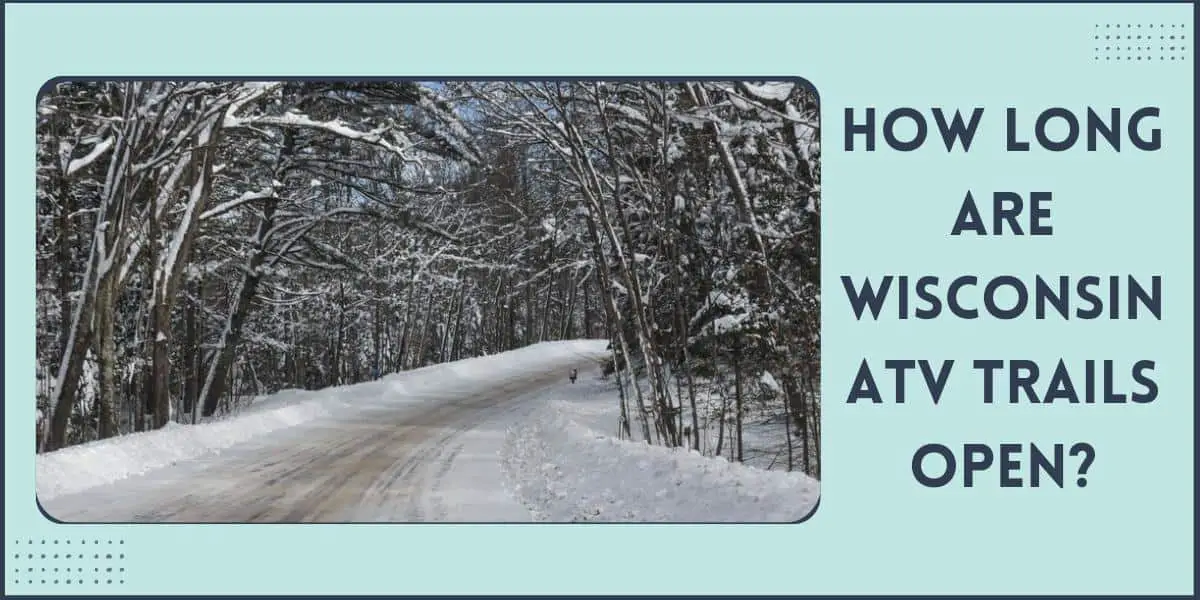 The UTV trails in Wisconsin are open throughout the year. You must know the operation laws to know when to use the trail.
Tips and Tricks for Staying Safe and Having Fun on Wisconsin UTV Trails in The Winter
UTV riders older than 12, born after January 1, 1988, must complete a certification course on UTV safety to ride on Wisconsin's public trails.

You must slow down to 10 mph or less if you are riding a UTV within 100 feet of an ice shack, ice shanty, or a person not riding a motorized vehicle.

UTVs should not be driven on snowmobile trails unless marked for UTV traffic.

The far right-hand side of the road is the designated area to drive a UTV.

Your headlights must always be on when driving.

Helmets must be used for those under the age of 18.
Another safety tip is to ensure the lights on your UTV are working right, or you can check out my article on Best Rock Lights for UTV for more information.
Conclusion
The Wisconsin UTV Association always suggests taking a hands-on safety course before driving a UTV in the winter. Knowing the way your machine handles in both dirt and snow conditions will improve your overall safety while riding. If an accident or malfunction occurs in winter, remember that the risk of injury from weather-related exposure is high, so you must ensure that your vehicle is in top shape.