Icon i40 golf cart is one of the leading electric carts you can find anywhere. A look at the details of this cart is more than enough to convince anyone of its uniqueness.
This article on Icon i40 golf cart Reviews has been written based on research, customer reviews, and the company's integrity, laced with every necessary detail regarding this cart, including its features, pros, and cons.
Icon i40 Golf Cart Reviews
The ICON i40 is the perfect street-legal electric golf cart suitable for residential and commercial needs. It has premium features like a 48V ICON 5KW 3 Phase High Torque motor, 4-wheel disc brakes, powder-coated steel chassis, a speed limit of 25 mph, lights, and turn signals.
While researching for Icon Golf Cart Reviews, I noticed many people have asked for Icon i40 Reviews, so I decided to write this guide on it.
Icon i40 Golf Cart Reviews: Features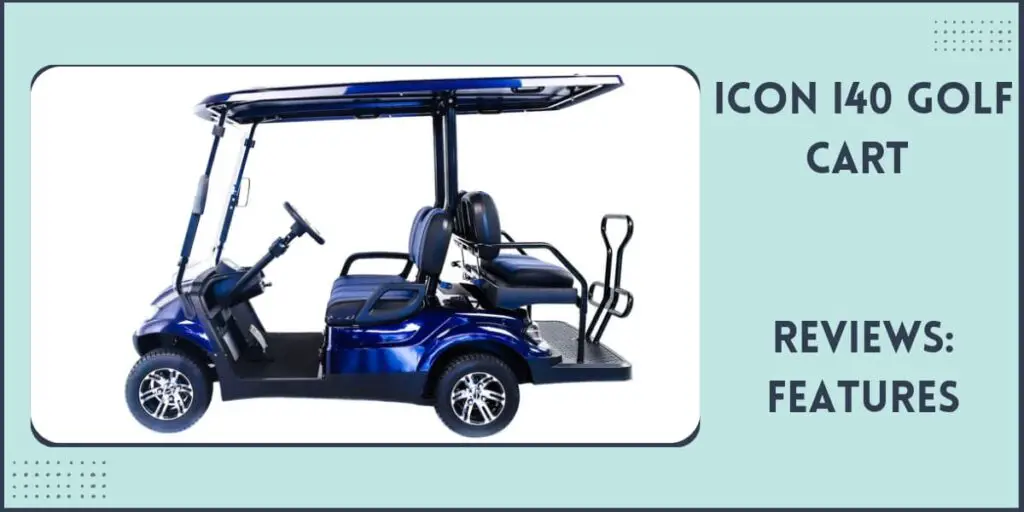 These are the top Features of the Icon i40 Golf Cart:
48 Volt AC 5kw phase High Torque Motor.
NexGen Advanced Lithium battery.
Board charger.
Transaxle of 10.5:1 High-Speed Rear Axle – continuously variable
Toyota® 350 Amp controller.
Seating Capacity of 4 persons.
Braking Distance:7 feet.
Safe Climb 25% grade.
Max Climb 35% grade.
Maximum distance per full charge:25-50 miles
A-Frame powder coated Steel chassis.
Ground Clearance of 4.5 inches.
Net Weight of 639 lb.
Icon i40 Golf Cart Problems
These are the most common Icon i40 Golf Cart Problems:
Flat tire problems 
Battery problems
Bar solenoid problems.
Tire pressure problems.
Ignition or motor problem.
Wiring problems.
You can also check out our detailed Icon Golf Cart Problems article to know the issues with these golf carts in more detail.
Safety
Designed to ensure that the user is safe while using the golf cart. The cart is fitted with turn signals and mirrors, making sure people know which direction you're going to turn, reversing camera that lets you see who's behind you, a Horn, an Integrated reversing camera for reversing, 3-point seat belts for all seats to ensure user and passenger safety, and hydraulic 4-wheels disc brakes for prevention of accidents.
Seat Capacity 
Icon i40 Golf Cart is available in 4 seaters and designed to offer maximum comfort to all passengers.
Warranty
Icon i40 Golf carts come with a 2-year limited manufacturer's warranty. 
Performance
To ensure that this golf cart performs at its best, icon i40 golf carts have the following features: NexGen Advanced Lithium battery for extended range, 5kW AC high torque motor, 7″ speedometer display, 1x. Coilover front suspension, unique ignition key, Horn, Digital Speedometer, Toyota® 350 Amp controller, in-dash controls, independent rear suspension, carbon fiber dash and glove box, clay, basket, and brush guard.
Pros & cons
These are the pros and cons of Icon Carts:
Pros
Ease of maintenance due to electrical properties and few moving parts.
Fast on flat roads compared to competing golf carts.
Smooth, quiet performance on the road.
Great resale value.
Street legal approved for traveling at a low speed
Good aesthetics
It comes with a fairly affordable price tag.
Cons
No Gas Cart Option for Gas Golf Cart Enthusiasts
It weighs more than other carts such as the EZGO golf cart.
Large dimensions that can cause parking restrictions in small or tight spaces.
You may experience starting difficulties overtime.
Durability
With rugged and durable makeup, the Icon i40 golf cart can be used at full speed for 25-50 hours before needing a new charge.
Size
The Icon Golf Cart measures 9 ft. x 4 ft. x 6 ft. overall and weighs 639 lb. 
Icon i40 Golf Cart Parts and Accessories
In this aspect of the article on Epic golf cart Reviews, I have listed some parts and accessories for this golf cart:
YEHICY Universal Red Golf Cart Steering Wheel.
Red Dot storage covers
Roykaw Golf Cart Phone Mount Holder for icon golf cart.
Single-point Battery Watering System
4 PCS Golf Cart Replacement Ignition Keys.
HomeMount Portable Speaker Mount.
Swivel Cup Holders
Flngr Golf Cart Phone Holder.
Aluminum Char Holders 
DIYOLFALL Golf Cart Front Wheel Hub Assembly.
Wet Sounds Stealth 6 Ultra HD soundbars.
Street Radial rims and tires
10L0L Golf Cart Seat Covers for icon golf cart.
What is the Icon i40 Golf Cart Top Speed?
Icon i40 golf cart has a top speed of 25 mph, which is 6 mph more than most golf carts. With a 5KW 3 Phase High Torque motor and controller, this golf cart offers you speed and power.
Icon i40 Golf Cart vs EZGO Golf Cart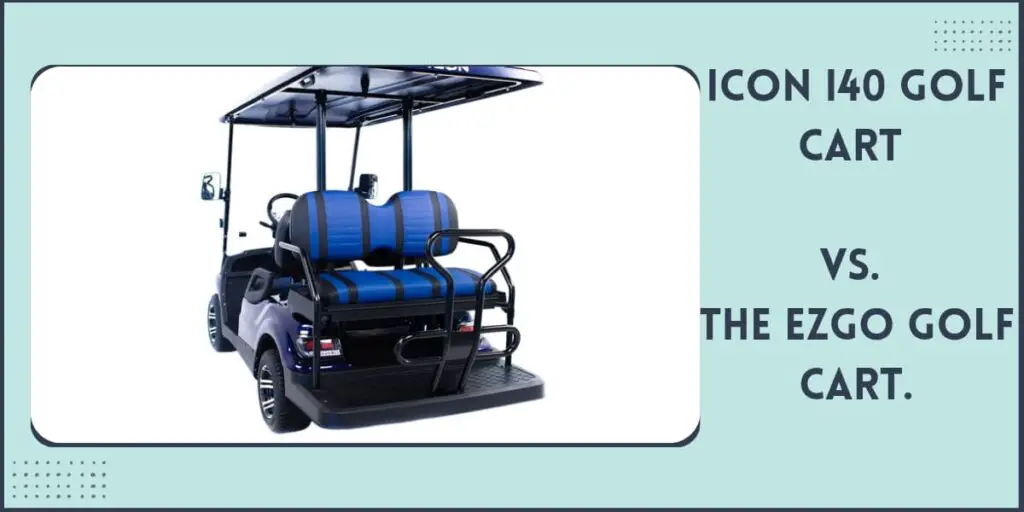 The table below compares Icon i40 Golf Cart vs EZGO RXV Golf Cart:
| Comparison Points | ICON i40 Golf Cart | EZGO RXV Golf Cart |
| --- | --- | --- |
| Top speed | 25+ MPH | 14.8 |
| Engine | 8 Volt AC 5kw phase High Torque Motor. | 150cc gas 4 stroke cylinder engine  |
| Price | $8,000 | $8,582 |
| Ground clearance | 4.5 inches | 4.5 inches |
| Weight  | 639lb | 577 pounds |
| Model type | Electric  | Electric/gas |
Icon i40 Golf Cart Price
The ICON i40 golf cart is sold at a starting price of $9999, making it one of the most affordable electric carts offering great value for money.
Where Can You Find an Icon i40 Golf Cart for Sale?
You can get an icon i40 golf cart for sale from any authorized dealer or distributor in the US. To find dealers nearest to you, check out the official website @iconev.com.
Where Are Icon i40 Golf Carts Made?
ICON i40 golf carts were made in China. Recently, however, Icon Electric Vehicles was established in Tampa, Florida. The major advantage of manufacturing carts in China is that they are cheaper to manufacture.
Is the Icon i40 Golf Cart Street Legal?
Yes, the icon i40 golf cart models are DOT-compliant, allowing them to be legally used on the street at low speeds. They come with 3-point seat harnesses, full glass windscreens, LED turn signals, side mirrors, license plate brackets, a horn, and a backup camera, making them street-legal.
Ground Clearance
Icon i40 golf cart has a ground clearance of 4.5 inches.
What Engine Does the Icon i40 Golf Cart Use?
The icon i40 golf cart uses NexGen Advanced Lithium battery, 48 Volt AC 5kw phase high Torque Motor, Toyota® 350 Amp controller, 4-wheel independent suspension, and 4-wheel disc brakes.
Conclusion
The icon i40 golf cart offers its users excellent, comfortable, and safe rides at a very affordable price. You can tell that this golf cart is unique, unlike most electric carts available in the market. This icon i40 Golf Cart Reviews offers you the needed information to consider this cart worth having.