If you're a golf cart owner, you know how important it is to have a safe and secure garage to store your cart when it's not in use.
This article on Golf Cart Garage Dimensions has detailed information about the right dimensions you should have when planning for your golf cart garage, the costs of building a golf cart garage, building materials, and many more.
Typical Golf Cart Garage Dimensions
These are the dimensions of a Golf Cart Garage:
| | |
| --- | --- |
| Sidewall Height | 6 Feet 4.5 Inches |
| Garage Door Opening Height | 7 Feet |
| Garage Door Opening Width (12′ Wide) | 9 Feet |
| Garage Door Opening Width (10′ Wide) | 6 Feet |
| Overall Building Height of 10 ft. Wide | 10 Feet 8 Inches |
| Overall Building Height of 12 ft. Wide | 11 Feet 3 Inches |
If you are thinking of golf cart garages, you probably should make space for a net, so check out my top picks for the Best Golf Net for Garage.
Cost to Build Golf Cart Garage
Adding a golf cart garage to your home typically costs between $10,000 and $15,000. A two-car garage, however, takes that number from the previous range to a $25,000 to $35,000 range.
Materials make up the bulk of the cost and are the main reason for price fluctuations. Now you know what are the Golf Cart Garage Dimensions and their respective costs.
Golf Cart Garage Plan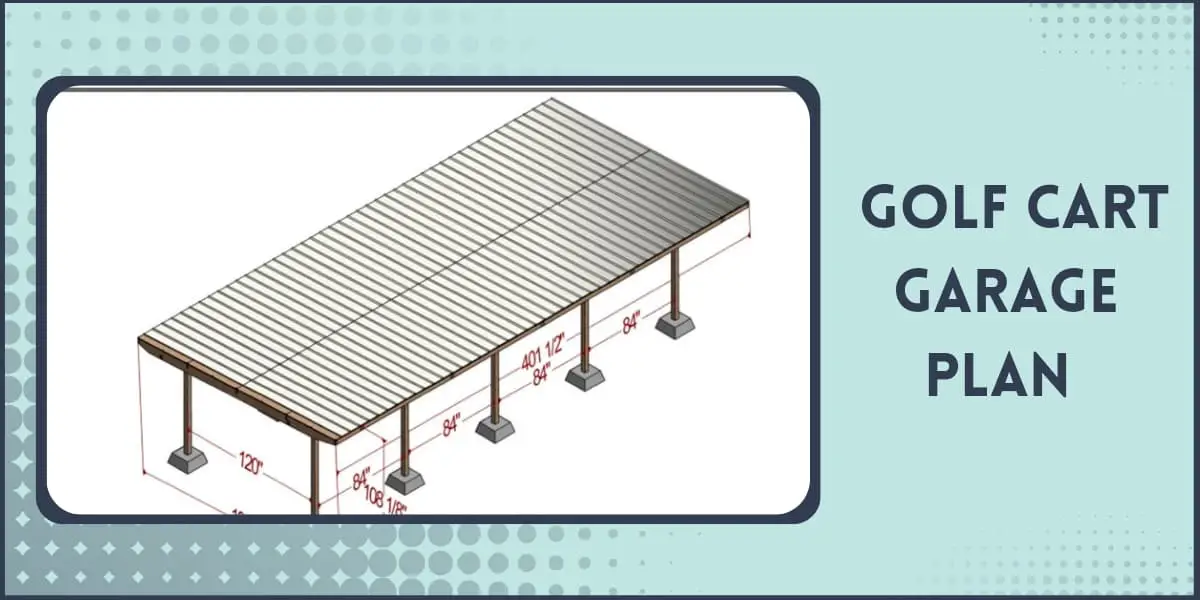 Here is an ideal golf cart garage plan:
16x 32′-Garage Door Shed Plans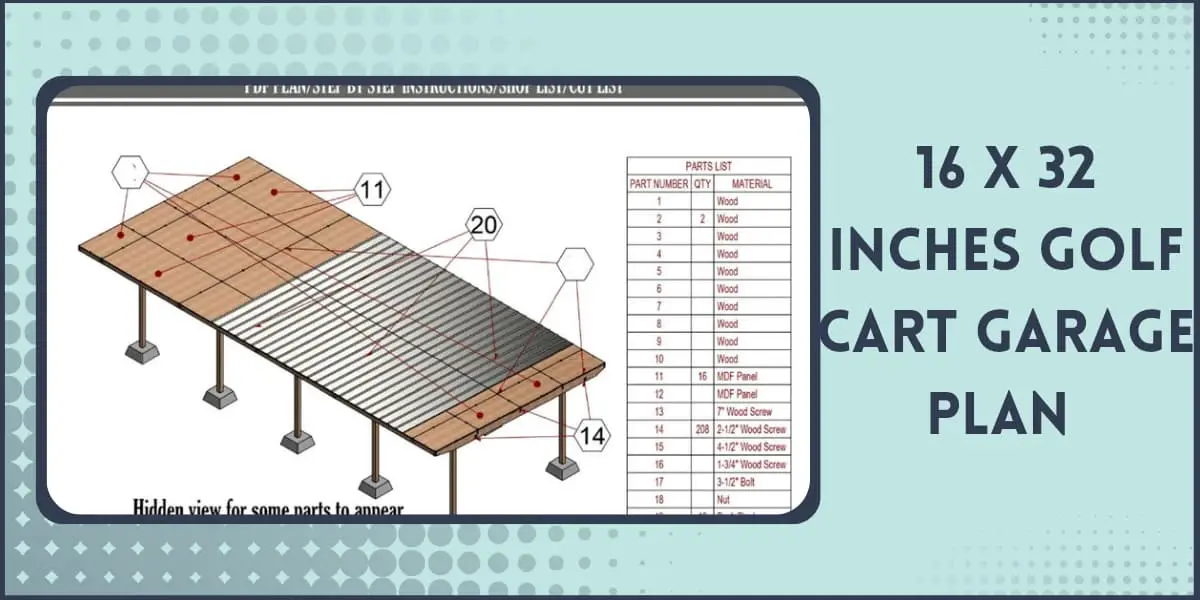 Golf Cart Garage Door Size
Golf cart garage doors are most commonly available in one of the following four sizes: 5 by 7 feet, 6 by 7 feet, 5 by 8 feet, and 6 by 8 feet.
Garages are smaller in retirement communities and islands for vacation, where golf carts are used as vehicles.
How Big of A Golf Cart Garage Do I Need?
Standard garages range from 7 by 15 feet to 20 by 30 feet. So you can say that that's how much space you need. However, like most things, the answer depends on your individual needs.
The size of your garage depends on how many cars you own, how many golf carts you want to store, how many bedrooms you currently have in your home, and how much land you have available on your lot.
Your golf cart should also be big enough to ensure that you can enter and exit your garage with ease. With these in mind, you can decide how big your golf cart garage should be.
Average Dimensions (Width and Length) of A Golf Cart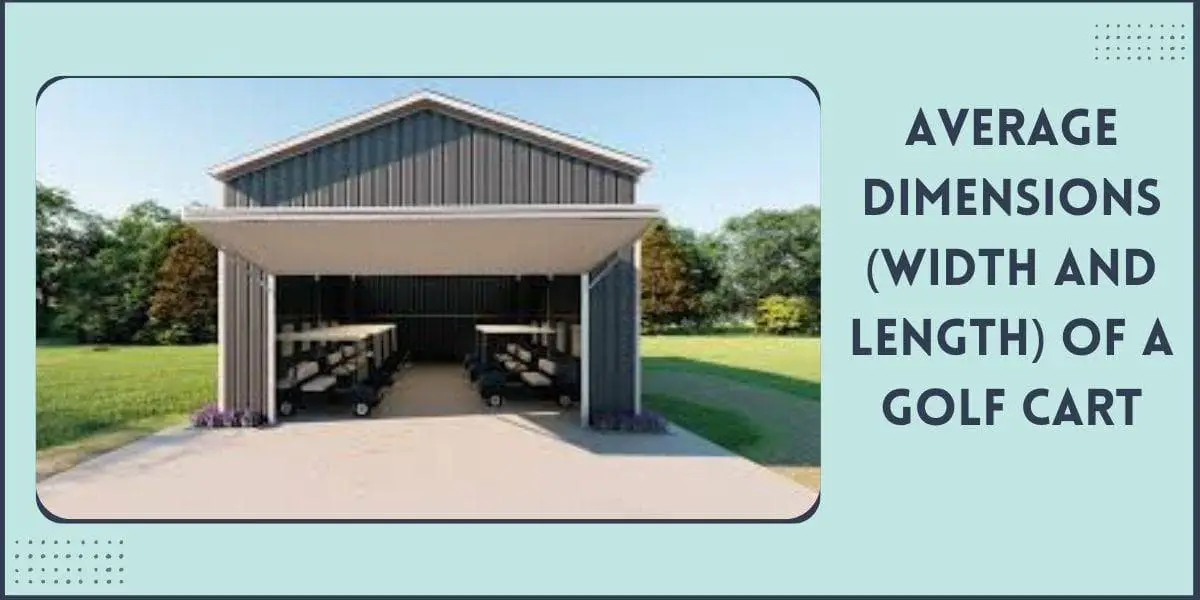 The average golf cart dimensions are approximately 92 x 48 x 75 inches for a standard 2 seater golf cart. However, the dimensions of different carts vary in length depending on the number of seats the golf cart can accommodate. Adding seats to a golf cart increases the length of the cart but doesn't necessarily increase the width or the height.
For a 2-seater golf cart: the average dimensions (length and width) is 92 x 48 inches.
For a 4-seater golf cart: the average dimensions are 110 x 48 inches.
For a 6-seater golf cart: the average dimensions are 144 x 48 inches.
Should I Build My Own or Buy an Existing Golf Cart Garage Kit?
Golf cart garages and sheds can be built for a low price, but you will lose time and the shed's quality.
Golf carts sheds have a higher initial cost if you want to purchase them, but the shed lasts longer, and you can enjoy more time. So it will pay off in the long run.
Where Should I Put My Golf Cart Garage?
Golf cart garages and sheds should preferably be built on your own property, close to the road, and it must be easily accessible. It should be far away from underwater surfaces and mud. Overall, it's best to choose the safest place with plenty of space.
Your golf cart's safety is important, so why not insure it? Check out my article on Cheapest Golf Cart Insurance.
What Are the Best Materials to Use for My Golf Cart Garage Flooring?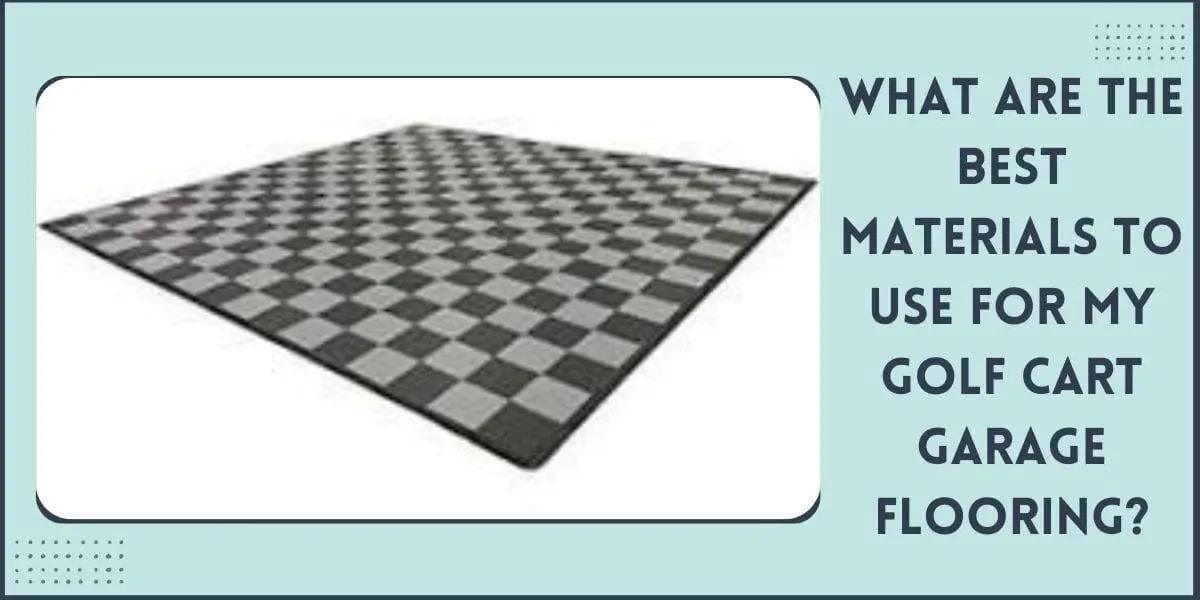 There are many materials out there that are good for your golf cart garage or shed, but these recommendations stand out from the many:
1. Rubber Tile Flooring
This flooring is very easy to install. The rubber floor tiles are flexible and have an attractive interlocking pattern to give your floors extra strength and stability. Rubber tile floors require less maintenance and are easy to clean. The most affordable and viable option is rubber tile. They withstand all climatic conditions. These floors can be laid on concrete floors or any other type of sub-floors.
2. Vinyl Flooring
Choosing urethane-coated vinyl tile flooring for your garage is never the wrong choice if your garage doesn't get much traffic and pressure. These tiles are flexible and comfortable. You can give your garage a unique look by choosing from various shades and attractive vinyl composite tile floors available on the market. Vinyl floors are easy to clean and look great in a standard home.
3. Polished Concrete Flooring
Polished concrete floors are the best option for flooring golf cart garages. Concrete floors are generally hard and resilient. They can work under high pressure without wear. Concrete floors are inexpensive and readily available to customers on a budget. The polished concrete surface looks graceful and elegant and complements the overall look. Polished concrete surfaces are generally stain resistant and easy to clean, making them ideal for golf cart garage floors.
4. Epoxy Floors
Epoxy floors are pretty viable and a clever option for current floors. Epoxy coating is a long-lasting coating and may be used on any floor. It may be used on concrete flooring, stone flooring, or any subfloor to boost your garage floor's overall performance and sturdiness. Epoxy floors are to be had in lots of appealing colors and may be easily cleaned. Epoxy isn't appropriate for floors that soak up moistness.
Conclusion
Few people realize the importance of a well-planned golf cart garage. A good golf cart garage must have the right dimensions to allow easy access, a good floor, and strong, durable materials. Planning your garage is just as important as planning your home.
I hope you found this article on golf cart garage dimensions helpful.