If you have a golf cart and want to be able to express your humor through your car horn, these top 5 Funny Horns for Golf Carts will put a smile on the face of anyone who hears it.
I found tons of funny golf cart horns during my research, but in order to save you time and energy, I've compiled a list of the top 5 Funny Horns for Golf Carts, so you can find the perfect one for yourself.
Top 5 Funny Horns for Golf Carts
These are the Top 5 Funny Horns for Golf Carts:
| Image | Product | Horn Type | Price |
| --- | --- | --- | --- |
| | Train Horn for Golf Cart | | Check Price |
| | Dukes of Hazzard Horn for Golf Cart | | Check Price |
| | Bugle Horn & Retro Clown Horn | | Check Price |
| | Vintage Classic Old Car Golf Cart Air Horn | Vintage Classic Old Car Horn | Check Price |
| | FIAMM OOGA Old Fashioned Sound | | Check Price |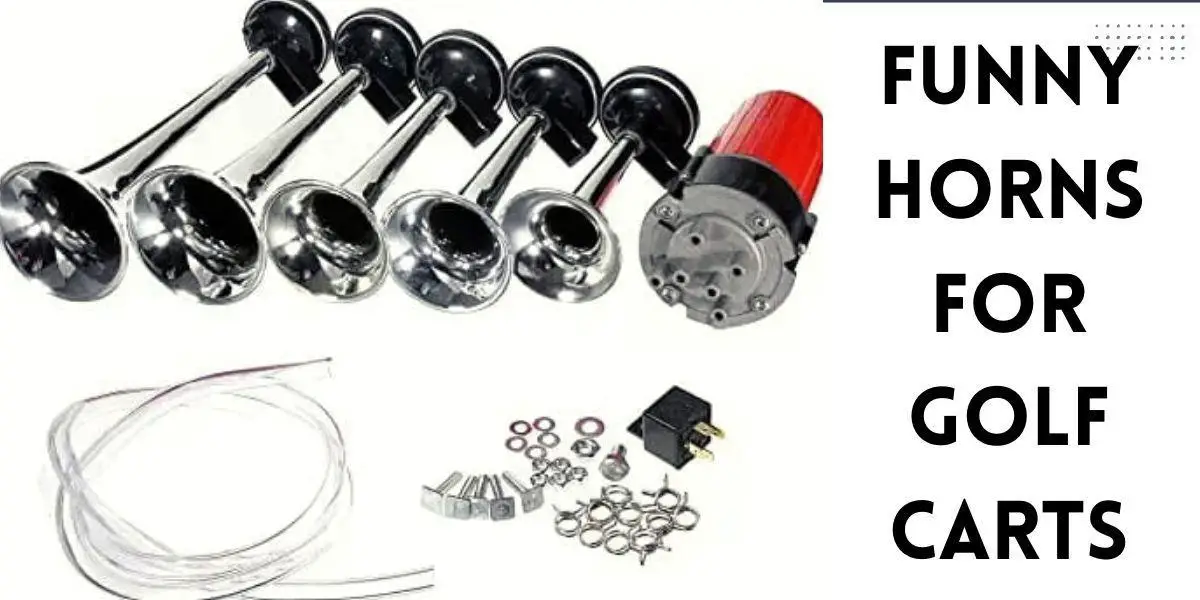 You may also like this article on the top 11 Unique Golf Cart Accessories.
1. Train Horn for Golf Cart
Distinctive sound.
Easy installation.
Classic and  beautiful body.
Comes with a normal operating range of 70 PSI to 120 PSI and an upper limit of 140-150 PSI and a sound quality of 115 dB.
The Train horn is one of the best Funny Horns for Golf Carts and an awesome accessory for your golf cart. Apart from the fact that this horn is very loud, it also provides a good aesthetic value to your cart because the horns were crafted beautifully and arranged in such a way that each horn doesn't get in the way of the other.
Pros
The horns have a great design and would fit well on almost any vehicle.
They are easy to install.
They have a loud and powerful sound.
They are durable and can work for a long time.
Cons
The electric solenoid that comes installed in the horns could cause the sound of the horn to be too loud and this can be solved by getting a different solenoid.
2. Dukes of Hazzard Horn for Golf Cart
A loud sound of up to 110 dB.
Compact design.
Great sound quality.
Works on any 12 volt vehicle.
Comes with a momentary button switch which controls them.
The Duke of Hazzard Horn is another option on the list of Best Funny Horns for Golf carts to purchase. They are perfect for any golf cart and any vehicle with a 12 volt battery. They are made by Boom Blasters and they ensure that the quality of sound is top notch.
Pros
It can be quickly and easily installed.
Comes with very loud sound quality.
It lasts long.
Cons
It is not waterproof and must therefore be installed in a dry environment.
3. Bugle Horn
A distinctive sound.
Comes with a steel durable, weather-resistant body.
Corrosion-resistant body.
It only requires a screwdriver to install.
It has a length of 7 inches, a Horn ball diameter of 2.2 inches, a Metal mouth of 2.9 inches, and a Handlebar diameter of 0.87 inches.
The Bugle Horn is next on this list of  Funny Horns for Golf Carts. It is a universal horn, making it not just suitable for your golf cart, but for various kinds of vehicles. It offers great sound quality and a water resistant body.
Pros
The sound it produces is loud and unmistakable.
It provides ease of installation.
It doesn't require any form of power source to function.
Cons
The rubber ball could tear after a while.
4. Loud Ahooga OOGA Vintage Car Air Horn
A powerful, "old-fashioned" sound.
The horn is equipped with wired female connectors and a mounting screw.
Has two terminals.
The FIAMM 66059 OOGA is a strong and durable type of horn that produces a very loud sound. Its design is simple and it can be added to another horn on the same vehicle. This horn is easy to install and very affordable.
Pros
It is not expensive to purchase.
Gives a loud sound.
It can be easily installed.
Cons
The sound quality will gradually deteriorate if it is not used often.
5. Vixen Horns VXH1002C Old Car Air Horn
Sound clip video is available in the media Section.
Chrome color.
12V Heavy Duty Air Compressor
Installation is Easy.
It gives off an antiquated sound like a vintage classic old car.
The VIXEN Horns VXH1002C horn, as the name implies, gives off the sound of a vintage car. It comes with cables that will enable you to mount it properly on your cart. This horn also is also lightweight despite its size with a durable plastic trumpet and housing.
Pros
It has a very durable build.
It is equipped with mounting hardware making it easy to install.
Its compressor is heavy-duty.
Cons
It doesn't make the same sound as the normal Ooga horn people are used to.
Best Wireless Golf Cart Horn
The best wireless golf cart horn is the Bugle Horn. It comes with an easy-to-install body and only requires that you mount it on your cart. It doesn't require any wiring whatsoever.
Best Golf Cart Horn Sound Effect
The FIAMM 66059 Ooga Horn is regarded as the horn with the best sound effect for golf carts. It gives an Ooga sound that most people are familiar with and love to hear.
Best 12v Golf Cart Horn
The Train Horn for golf carts is the Best 12v Golf Cart Horn. It produces a very loud and powerful sound that you can't miss anywhere.
Check out this article on how to Decorate Golf Cart for Halloween.
How Loud Is a 12 v Horn?
A 12 volt horn is very loud with a sound range of 110-115 dB. Some even get up to as high as 150 dB.
How to Put a Horn on A Golf Cart?
Next in this article on Funny Horns for Golf Carts are steps on how you can install a new horn on your golf cart.
For a floor mount horn, you will need the Horn, Horn Button, Horn Decal, Rivets, and Butt Connectors.
Make sure to disconnect any sources of voltage to avoid electrical accidents.

Find a suitable and convenient area to mount your horn button and drill a ⅛-inch hole onto the floor of your cart.

Pass the horn button's wire through the hole and pull the wire up to the area of the dashboard.

Make sure the horn button is well centered then place the horn decal on it. 

Find the headlight harness under the dash panel, locate the red and yellow wires, cut them, and discard the three-pin connector. 

Use the butt connectors to connect the yellow and red wires from the headlights to the black wire of the horn button.

Also, make sure to connect the black and yellow wires from the headlights to the horn.

Install the horn in an area that is convenient for you on your cart.

Replace the headlight harness back into the dash and tuck the wire of the horn button under the floor mat and replace the dash panel.

Reconnect all the previously disconnected power sources and test your horn.
Golf Cart Horn Wiring Diagram
This is the Golf Cart Horn Wiring Diagram: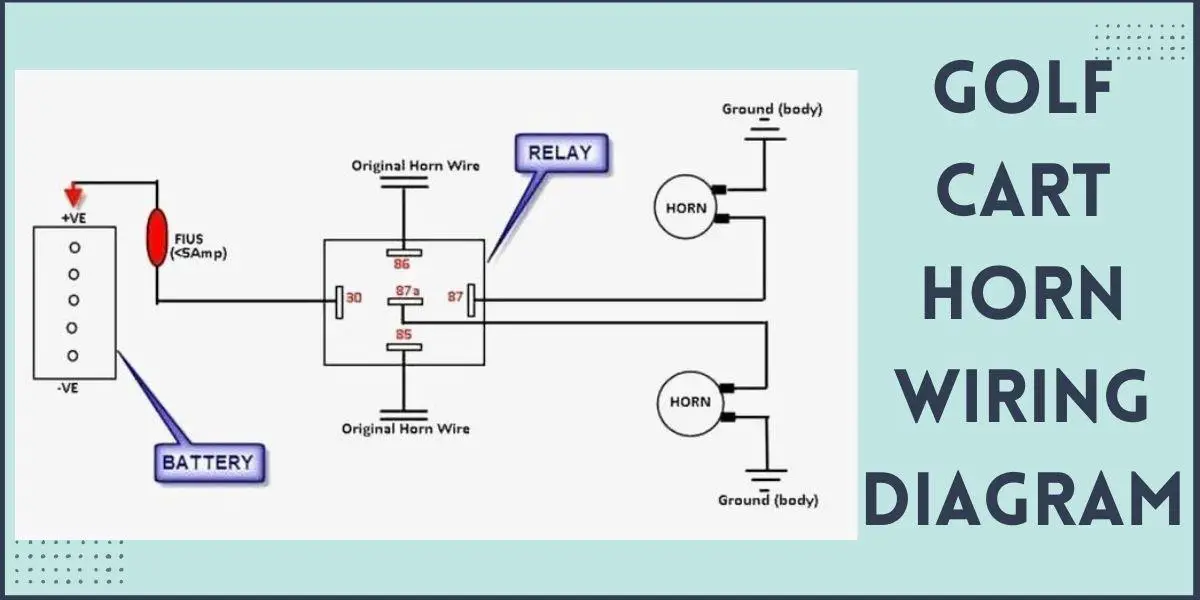 If you own an EZGO, you will find the EZGO TXT Parts Diagram useful.
Conclusion
As you have seen, horns are very important accessories to have installed in your golf cart. The recommendations presented in this article on Funny Horns for Golf Carts are the best in the market today.