Converting your electric golf cart to gas can be a very stressful task. There are several things to look out for when you want to carry out an electric golf cart to gas conversion by yourself, and sometimes you can get the steps mixed up.
In this article, we provide you with simple and DIY steps for Electric Golf Cart to Gas Conversion:
Electric Golf Cart to Gas Conversion: How to
Follow these steps to carry out an electric golf cart to gas conversion:
Get the necessary equipment needed to accomplish the task. This includes an adequate golf cart electric to gas conversion kit. When this is not available, you can purchase a used gas-powered golf cart and break it down for its parts.

Lift the electric golf cart using cart Jacks. Once it is secured, with the help of your user's manual, remove the battery, transmission, and every other part that is peculiar to an electric golf cart. 

Remove the engine and transmission from the electric golf cart. You can sell these parts on their own later on. 

Take the gas engine and transmission from the kit and secure them in the space where the electric engine and transmission originally were. Use the securing tools provided in the kit to achieve this.

Mount the gas tank on your golf cart. Find a place on the cart where the tank will not be near any combustible object and will be close enough for you to easily refuel it. You may have to drill a hole into the body of the vehicle to install it.
Converting Ezgo Golf Cart from Electric to Gas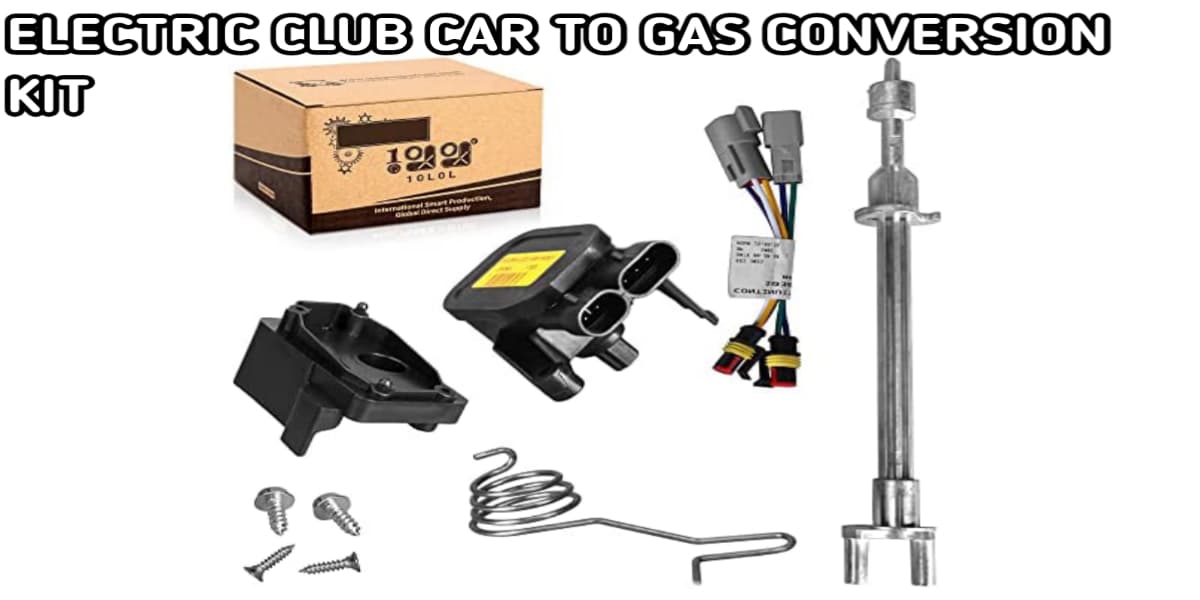 An EZgo electric golf cart to gas conversion requires a decent amount of mechanical expertise. Here is the best way to go about it:
Get a donor EZGO cart that has all the necessary parts in good working condition and a very good conversion kit.

Lift the cart using a car Jack or a mechanic's professional car lift. This will allow you to work with more ease.

Make the necessary adjustments to the rear axle and clutch. This may take some time and precision.

Remove parts that are incompatible with the new gas engine such as the battery and the starter. Use the EZGO Golf Cart Wiring Diagram to look for and remove any other part that would not fit with the new model.

Detach the engine block and transmission. It is usually attached to the cart by a series of nuts, screws, and bolts. The tools in a good mechanical toolbox should suffice to accomplish this.

Put the gas-powered engine and transmission into the cart. This might need you to seek a professional to help with the placement of the engine so it does not damage the cart during usage.

Install and wire the electrical components that are compatible with a gas-powered cart like the new battery and key ignition.

Mount the gas tank into your EZgo golf cart. The back of the golf cart would be an ideal area to mount it because it is away from areas that can get overheated.
To check if the installation went smoothly, put gas in the tank and oil in the engine. Slowly press down the throttle and listen for any unusual rattling noises. If there aren't any, take the cart for a test run.
Golf Cart Electric to Gas Conversion Kit
These are Golf Cart Electric to Gas Conversion Kit for EZGO, Yamaha & Club car:
1. EZGO Golf Cart Electric to Gas Conversion Kit
Performance Plus Carts Navitas DC to AC EZGO Golf Cart Conversion Kit: Fits 48 Volt EZGO Shuttle, S6, L6, S4 H.O.
The performance plus Navitas DC to AC Conversion Kit features a  5 kW motor, Mounting plate and hardware, Navitas adaptor harness for E-Z-GO TXT,600 amp AC Controller with Bluetooth, and Speed sensor/motor temperature harness. It is very easy to install and has an on-fly programmer which allows the user to easily adjust speed, regen braking, torque, and more.
2. Yamaha Golf Cart Electric to Gas Conversion Kit
Revenge Golf Cart Parts & Accessories Yamaha G29/Drive 440A 4KW Navitas DC to AC Conversion Kit
This conversion kit features a 440 amp Navitas Bluetooth Ac controller that will help to increase battery life, range, and performance. Being an On-The-Fly Programmer, this kit will also permit you to personalize your driving experience in real-time. You can also control your regen braking in reverse and forward for added safety when driving or backing down inclines. The lockout feature allows you to lock in settings to control power and speed. The Navitas electric to gas conversion kit also offers motor thermal protection, OEM multi-platform mounting options, and a fully sealed IP5X.
3. Club Car Electric to Gas Conversion Kit
3G MCOR 4 Conversion Kit for Club Car DS Electric Golf Carts 2001+
This electric to gas conversion kit comes with an MCOR 4 Conversion Kit that fits Club Car DS Electric 48V Golf Carts 2001 & up. It also replaces OEM part numbers 1021011, and 1039436, and includes all needed conversion hardware to successfully convert your cart from MCOR 1 to MCOR 4.

To convert your electric to a gas golf cart with reverse, follow these steps:
Take everything off the top of the engine.

Mount a gas tank at the side as low as you can but still be able to get the gas to the carburetor.

Mount a custom choke cable all the way to the dash.

Relocate the starter and control electronics on the dash and make sure the engine is grounded.

Mount a pulley directly on the forward reverse gearbox by putting a bushing, that way you have just one chain directly to the rear end to maintain.

Press the shaft out of the stator on the motor using a press machine down to ¾ inch.

Ensure the engine is moving with the rear.

Mount all the plastic and cover back, add your tires, and your cart is now ready for a ride.
The Golf Cart Solenoid Wiring Diagram will be useful.
How Much Does It Cost to Convert an Electric Golf Cart to Gas?
The approximate price for the change could be anywhere between $2,000 to $9,000. The price will, however, vary depending on how you go about it, the golf cart model, the number of improvisations you make, and which changing kit you choose to buy.
Can You Change an Electric Golf Cart to A Gas Golf Cart?
It is possible to convert your electric golf cart to a gas golf cart. The process is time-consuming, requires in-depth knowledge of golf carts, and can be expensive. However, you need a donor cart for the vital parts needed to make the switch since electric and gas carts have different rear axles.
Conclusion
No matter the golf cart model you're working with, an electric golf cart to gas conversion is probably the most daunting task a golf cart owner can undertake. Hence, if you are considering undertaking the challenge you will need all the help you can get.
This article on Electric Golf Cart to Gas Conversion is a good guide through the process and aims to make your transition as stress-free as possible. We hope you find this article helpful.