Are you looking to get a new golf bag? Are you considering picking the Titleist cart 15 bag but have doubts about how good it is?
You are about to get some answers.
This article on Titleist cart 15 bag review is drafted with all the necessary information about this cart bag, its features, pros, and cons. I have also added some extra info to help you decide better.
2023 Titleist Cart 15 Bag Review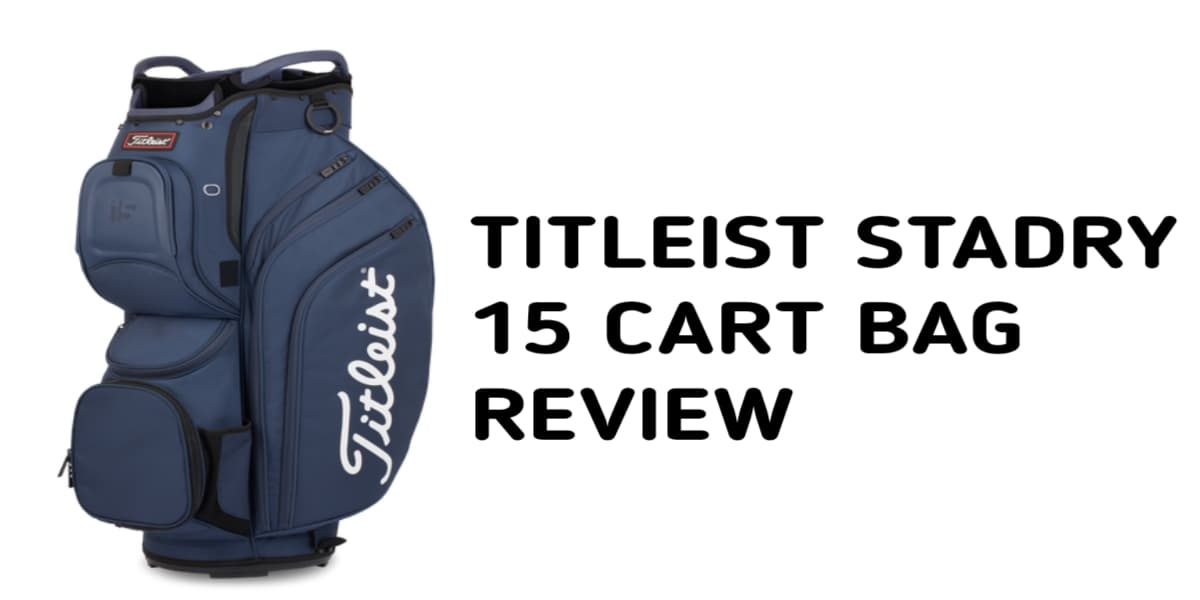 The Titleist cart 15 bag is a sturdy bag with plenty of room for your clubs and other golf accessories. This cart bag has 11 well-organized pockets, weighs only 6.5 lbs, has an umbrella sleeve & two velour-lined valuables pouches with 11 individual pockets, and a dedicated putter well.
A Stadry waterproof construction with seam-sealed zippers.
Two very large insulated pouches.
An umbrella sleeve.
Well-organized pockets.
15 individual top cuff dividers.
A lightweight bag of only 6.5 lbs.
Great durability.
A cooler compartment.
An Adjustable shoulder strap.
Integrated handles.
A shaft gripper.
You might also like this Ping DLX Cart Bag Review.
Pros & Cons of the Titleist Stadry 15 Cart Bag
Next on our list in this article on Titleist Cart 15 bag review are the pros and cons.
Things I like
Well-organized pockets.
11 individual pockets to give your gears their designated spaces.
Its light weight makes it easier to carry.
It comes with a light handle, unlike most cart bags.
Very durable.
Offers 15 dividers and a dedicated putter well.
Very affordable.
The shoulder strap makes it easy to carry around the golf course.
Things I dislike
The umbrella sleeve can be a little difficult to use.
Features of the Titleist 15 Cart Bag
In this Titleist cart 15 bag review, we made a list of 11 unique features of this cart bag below:
1. A Stadry Waterproof Construction with Seam Sealed Zippers
The Titleist cart 15 bag is designed with a stadry waterproof construction. It is made of 210D nylon with 880D Dobby. It also has seam-sealed zippers which prevent water from getting into your bag.
2. Two Very Large Insulated Pouches
This cart bag has two large insulated pockets on the inside with one on each side to store your beverages/food or drinks.
3. An Umbrella Sleeve
This is one feature on this Titleist cart 15 bag review that we found to be very helpful. It offers you a space to put on your umbrella when it's raining to prevent your cart from getting dirty.
4. Well Organized Pockets
The Titleist cart 15 bag is designed with 11 organized individual pockets. It has 3 pockets inside and 8 outside for easier storage and organization. The outside pockets of this cart bag include a ball pocket for your golf balls, a full-length apparel pocket, a score card pocket, a tee holder, a pencil sleeve, and an insulated drink pocket. These pockets are very easy to reach since they are positioned in front of the bag.
5. 15 Individual Top Cuff Dividers
The Titleist cart 15 bag stadry has 15 individual slots for your clubs. It also has a putter well to securely store your putter. A great way to ensure your clubs are safely stashed without hitting against each other.
6. Lightweight
This cart bag has a lightweight of 6.5 lbs. It may not be the lightest bag on the market, but it is the lightest full-feature bag we have tested. It sure is light enough to give you the convenience and comfort you need.
7. Great Durability
The Titleist 15 bag is durable with a very strong stand. Designed with a 210D nylon and 880D dobby, this cart will last you for many years. This bag has a metal grommet on the button to keep it from getting wet when it rains.
8. A Cooler Compartment
This is another exceptional feature of this Titleist cart 15 bag review. The Titleist cart 15 bag comes with a cooler compartment for keeping your drinks or water bottles at a cool temperature irrespective of the hot weather.
9. Adjustable Shoulder Strap
The Titleist cart 15 bag also has an adjustable shoulder strap, making it easier to carry it around the golf course.
10. Integrated Handles
This cart bag comes with integrated grab handles which makes it more convenient to carry when you have to move the bag around. These handles are comfortable to hold and make it easy to grab and go.
11. Shaft Gripper
The Titleist cart 15 bag keeps your shaft secured with a rubberized grip right in the middle of the bag. This shaft grip keeps your clubs from falling out while you are walking through different terrains.
Titleist Cart 14 vs 15 Comparison Table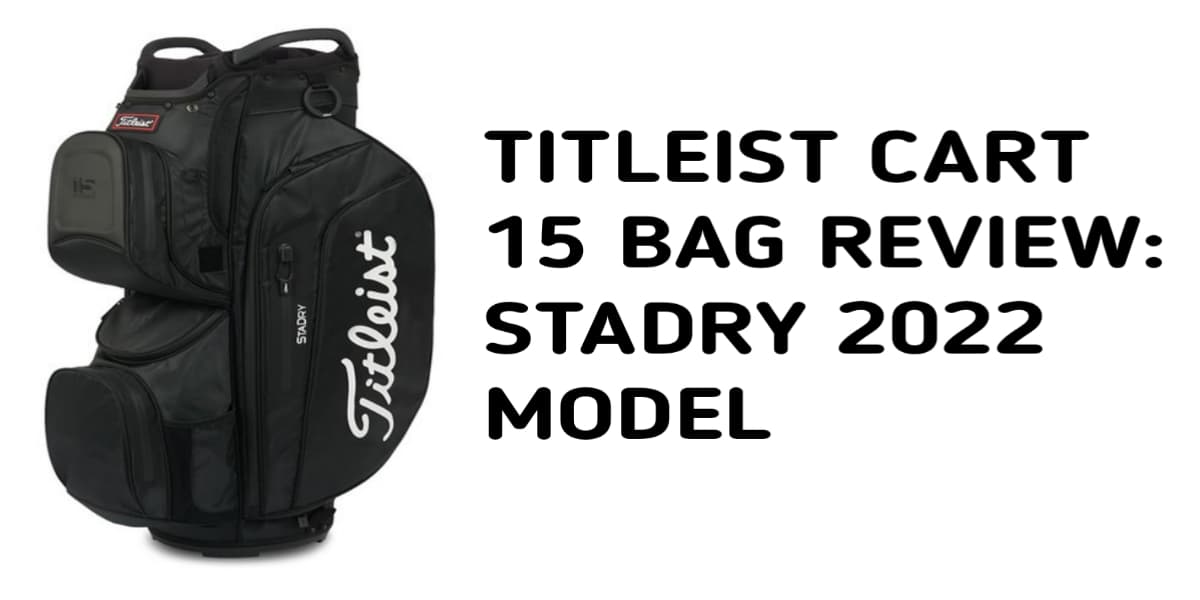 The table below compares the Titleist Cart 14 vs 15 bag:
| | | |
| --- | --- | --- |
|   | Titleist Cart 14 bag | Titleist Cart 15 stadry bag |
| Weight | 5.6lbs. | 6.5 lbs. |
| Pockets | 10 pockets. | 11 pockets. |
| Top cuff dividers | 14 dividers. | 15 dividers. |
| Price | $230 | $325 |
| Colors | Gray-dorado-graphite, charcoal-plamo-black, charcoal-graphite-black, Royal blue-black-gray, black, and dark red-graphite-gray. | Black-black-red, charcoal-lagoon-sky, graphite-gray-flame, and navy. |
Is Titleist Cart 15 Bag waterproof?
The Titleist cart 15 bag is waterproof because it is designed using the stadry construction and steam-sealed zippers to prevent it from soaking up water. As long as you use the provided rain hood to cover the top, your cart is safe from the rain.
Does the Stadry 15 Bag Have an Umbrella Holder?
The Titleist cart stadry 15 bag has an umbrella sleeve which allows you to hold up your umbrella without causing any additional inconveniences.
Video Review of the Titleist Cart 15 Bag
Conclusion
The Titleist cart 15 bag is a premium product that offers you all the necessary features required to carry your golf accessories and clubs in style. It is easy to use and carry around because of its lightweight and adjustable shoulder strap. It is suitable for golfers who are looking out for a cart bag that offers durability, style , and lightweight. The Titleist cart 15 bag offers amazing value for money.
We do hope you found this article on Titleist cart 15 bag review helpful.