For every golfer, there's always a need to store, especially with the golf season right at the climax, you will be needing to store more, or maybe your old golf bag is worn out and you think it's time for a change.
The question is, Is the Ping DLX Cart Bag as good as people say? Let's find out.
I created this article on the Ping DLX Cart Bag Review to educate you on its features, pros, and cons and help you decide if it's the right golf cart bag for you.
Ping DLX Cart Bag Review
The Ping DLX Cart Bag is a durable 15-pocket golf cart bag with a vinyl exterior. Its design is inspired by Tour and comes with two deployable shoe pouches, a dedicated putter compartment, and a high-quality shoulder strap. It also has a strong plastic base and a matching rain cover.
For this Ping DLX Cart Bag Review, here is a list of its amazing features:
15 super sized pockets.
15 way top divider and oversized dedicated putter well.
Magnetic ball and rangefinder pockets.
An awesome cooler pocket.
Cart strap channel.
Deployable shoe pockets.
Durable high-quality vinyl material.
Tour theme styling design.
Premium YKK zippers.
Extra features: It has a shoulder strap for carrying, a space for storing your umbrella comes with a rain hood, and extra soft side handles.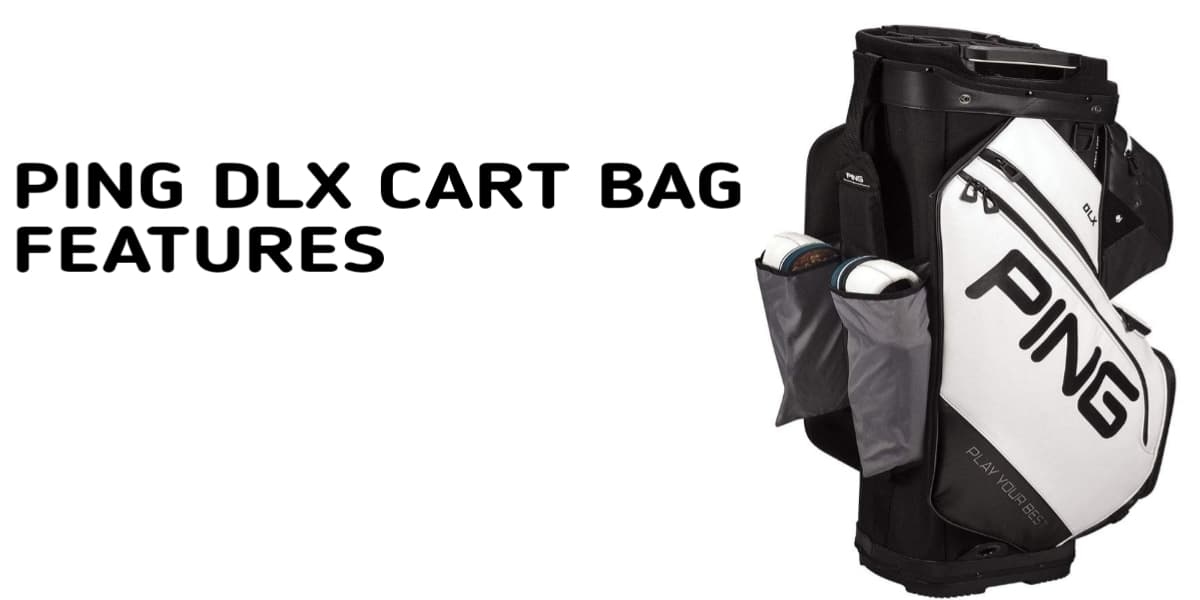 Ping DLX Cart Bag Review: Pros and Cons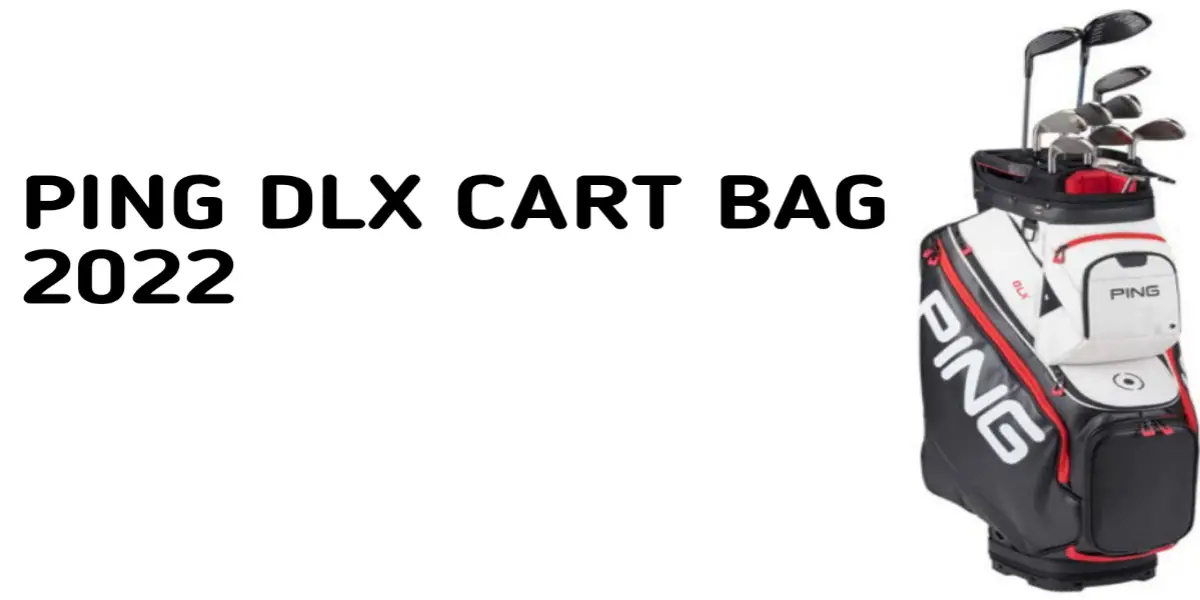 For this article on Ping DLX Cart Bag Review, we drafted this section for pros and cons, to get a better view of how good is this bag:
Pros
Best stylish bag on the market.
Its vinyl type material makes it easy to clean and very durable.
Shoe pockets for your shoe changes.
A 15 way divider + oversized putter well. So oversized putters get to fit in!
Additional elastic/net pockets up top.
It has a rain hood made from vinyl material; very useful.
Insulated pockets can store extras like cans.
It's not as heavy as it looks.
Its rigid plastic tube surrounding the club area prevents the other contents of the pockets from getting into the club area; An added feature for more organization.
1 year manufacturer's warranty.
It's affordable.
Cons
It has just one towel ring.
The shoulder strap is sewn right into the ping bag and connected with a D ring, this can shorten the longevity of this cart bag.
Plus the strap is a little too thin for a cart bag its size.
Related: Are White Golf Bags a Bad Idea?
Detailed Feature Explanation of the Ping DLX Cart Bag
Here's a more detailed explanation of the features of this cart bag for this Ping DLX Cart bag review:
1. 15 Super-Sized Pockets:
The ping DLX bag comes with a total of 15 pockets with enough room. It has two magnetic pockets for your golf balls and rangefinders, a cooler pocket, an emperor size pocket, a valor waterproof lined pocket, a valuables pocket, two large apparel pockets, two deployable shoe pockets, and more. It also comes with a space for your pencils and markers right on the side and a Velcro patch for securing your gloves.
2. 15-Way Top Divider and Oversized Dedicated Putter Well:
The ping DLX Cart bag also comes with a 15 way top divider that goes all the way down the bag for you to store your golf irons and wedges without them colliding with each other. It also comes with an oversized putter space to fit your oversized grip putters.
3. Magnetic Ball and Rangefinder Pockets:
Right on the front of the Ping DLX Cart bag are two magnetic pockets. One for your golf balls with enough room to store as many golf balls and the other for your rangefinder. You can actually use these pockets for storing any other item of your choice, they have just enough room.
4. An Awesome Cooler Pocket:
This is the coolest pocket on the Ping DLX Cart bag. This cooler pocket can store up to 12 cans with a drain hole, should you want to add some ice there. You can have your drinks chilled for the warmer days on the golf course. The front of this cooler bag is detachable and you can add embroidery, your name maybe. This is my favorite feature on this Ping DLX Cart bag review.
5. Cart Strap Channel:
The Ping DLX Cart bag also has a cart strap located in a way that you can still have easy access to all your pockets without smashing it
6. Deployable Shoe Pockets:
This is a very useful addition, couldn't miss talking about it on this Ping DLX Cart bag review. With this feature, you can carry your street shoes to the golf course and carry your golf shoes when you travel. It holds your shoes tightly to avoid them falling. It is also deployable, so if you don't need them, you can easily stash them away.
7. Durable High Quality Vinyl Material:
The high quality vinyl material gives the Ping DLX Cart bag a stylish leather look plus durability. It also gives you an "all season" clean look, basically because the vinyl material is very easy to clean.
8. Premium YKK zippers:
The premium zippers of the Ping DLX Cart bag makes it easy to grab a hold of and just zip up or down without any glitches. For the emperor size pocket, the zipper doesn't go all the way down, preventing anything from falling. No worries about zipper busting and material ripping with these premium YKK zippers.
Is Ping DLX Cart Bag Right For You?
The Ping DLX Cart Bag is the best choice for every golfer who wants a cart bag with more organized space, durability, and style without having to break his bank. Its special features like the rain hood, shoe pockets, and elastic pockets on top make it a great value for its price.
Conclusion
The Ping DLX Cart Bag has just the best features to meet every golfer's needs. It offers awesome organization with its 15 way mesh top divider with a putter well included. When it comes to durability, the ping DLX Cart bag still meets the golfer's need with its high quality vinyl exterior, letting your cart bag stay clean and last long. In regards to style, the ping DLX Cart bag has a tour theme styling design with the logo and compression panels, this bag stands out from the rest with a very professional look. The Ping DLX Cart bag has its price a little higher than most other cart bags, but for its design, durability, and awesome features, it's well worth the price.
So, if you are looking for a cart bag this season, we recommend the Ping DLX Cart bag.
We hope this article on the Ping DLX Cart bag review was helpful to you.