If you're ready to upgrade your hauling game, consider getting a Sure Trac trailer and see what it has to offer!
These trailers by the Sure Trac Company have been designed to make your towing safer and easier, and they have all the features currently in demand in the market today.
As someone who has owned a Sure Trac trailer for over a year now, I can confidently say that it's been a reliable and durable addition to my collection of tools.
In this Sure Trac Trailer reviews article, we answer all your questions concerning the trailer and the reasons why it is worth considering.
Sure Trac Trailer Reviews
Sure Trac Trailers offer excellent quality and reliability for professionals and DIY enthusiasts. Their product line includes equipment trailers, dump trailers, utility trailers, car haulers, deck-over trailers, and enclosed trailers, all of which offer a range of options and impressive hauling capabilities. The construction of these trailers is robust, featuring heavy-duty frames and high-quality materials.
If you want to move your ATVs Using your trailer, you can check out our detailed article on 2 ATVs on 6×12 Trailer.
Sure Trac Trailers: Features
Sure Trac trailers come with many features that make them a great choice for purchase. Some of these awesome features are:
7-Way RV-Style Molded Plug (TA Models).
Breakaway Switch with Battery (TA Models).
Self-retained gate pins.
Setback jack.
Spring-assist landscape gate.
Enclosed wiring.
3-Year Frame and Component Overall Protection.
Mesh Tarp.
Varying Color Options.
16-inch Radial Tires.
Trailer Weight: 6,280 lb.
Payload Capacity: 13,720 lb.
Spring-assist or hydraulic lifting mechanisms.
Tread Plate Fenders.
Rear Trailer Support Jacks.
Wireless Remote Control.
Idler Axle (SA Models).
Brakes on Both Axles (TA Models).
5-Year Standard Tire Warranty.
Weatherproof electrical systems.
Powder coating.
Tie-down straps.
LED lights.
1-Year Tire Hazard and Abuse Protection.
Pressure Treated 2" x 6" Decking.
Front and Rear Board Retainers.
5-Year Axle and Suspension Warranty.
Wiring Enclosed in Tubular Steel.
Setback Zinc Plated Jack.
Fold-Flat HD Ramp Gate with Handle.
Drop-In Toolbox.
Spring-Assisted Rear Ramp Gate.
Easy Lube Hubs.
Silver Wheels.
Powder Coat Finish.
Battery Charger, 110-Volt.
Aluminum Wheels.
Hydraulic Jack.
Fork Holders.
Slide-in ramps.
Mud flaps.
Rubber undercoating.
Pros & Cons of the Sure Trac Trailer
While writing this Sure Trac Trailer Reviews, we found out it has some pros & cons:
Pros
They are proven to be very durable.
The company takes care of all repairs within a 3-year time frame.
They are made by highly skilled engineers who use current technology.
They have a wide range of products.
Cons
It usually has rust issues.
The tires don't last long.
The powder coating starts to come apart.
Some are quite expensive to purchase.
Sure Trac Trailer Models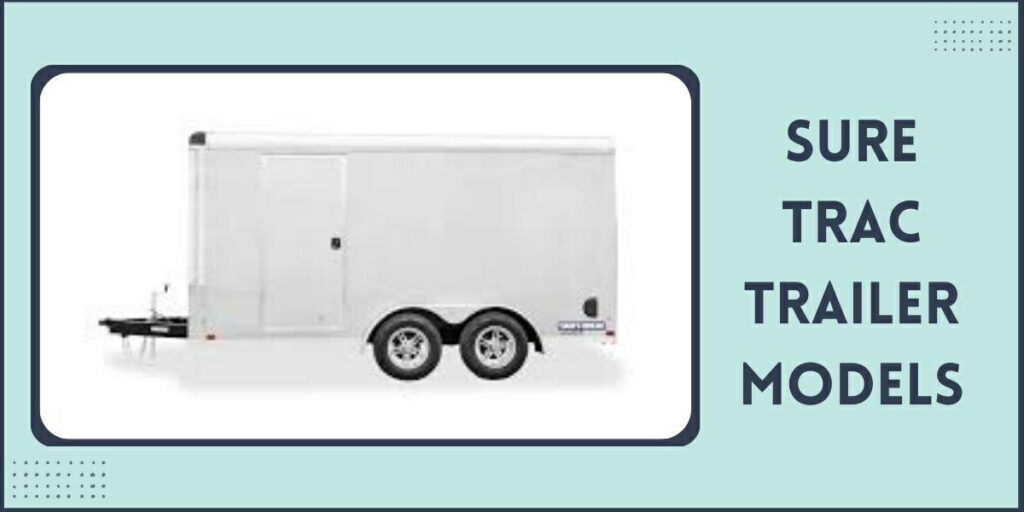 Here are the top Sure Trac Trailer models:
Sure Trac dump trailers.
Sure Trac utility trailers.
Sure Trac enclosed trailers.
Sure Trac deckover trailers.
Sure Trac car trailers.
Sure Trac equipment trailers.
Sure Trac Dump Trailer Reviews
Sure Trac hydraulic dump trailers are manufactured with the utmost care. It offers best-in-class payload capacity and reliability and is available in varying sizes. It is best if you carry a Utility Dump side by side or if a contractor uses an HD Low Profile Dump for all applications.
Sure Trac Utility Trailer Reviews
Sure-Trac offers a wide range of steel and aluminum haul and utility trailers to meet your needs. Its features include spring-assisted landscape gates, self-retaining gate pins, setback jacks, and closed-loop wiring; these trailers are widely recognized for having the best features in the industry.
Sure Trac Enclosed Trailer Reviews
Sure-Trac Enclosed Trailers have features such as a one-piece aluminum roof, boltless exterior, finished interior, and aluminum wheels. They are purposefully designed to be a long-term investment. A 3-year warranty ensures that your Sure-Trac Enclosed Trailer delivers proven all-around performance.
Sure Trac Deckover Trailer Reviews
These trailers provide a lifetime of rugged service with Cross-Track™ bracing to keep the trailer stable under the most extreme loads and a pierced frame for low deck height. They come with a chain spool, self-cleaning beavertail, heavy-duty D-rings, and sidekicks, which save you time and money.
Sure Trac Car Trailer Reviews
Sure-Trac car trailers are the safest choice for towing vehicles, ATVs, side-by-side, compact tractors, or other light equipment or equipment for work or recreation. They create the ultimate car transporter with a variety of models and options.
Sure Trac Equipment Trailer Reviews
Sure-Trac has a wide variety of work trailers. Suppose you prefer a heavy-duty single-axle tilt trailer to haul a man lift or a tandem axle trailer to haul a skid steer. In that case, they are designed by skilled engineers to ensure that these trailers can safely and reliably maximize their load.
Why are Sure Trac Trailers the Best?
Sure Trac trailers have always been known to deliver and provide users with first-rate performance and innovation. They blaze the trail in design from the original folding flat ramp flaps and self-retaining gate pins to the integrated dump trailer side stiffeners and secure underbody tool storage.
Sure-Trac Trailers possess all the features for unique applications, such as LED lights, powder coating, weatherproof electrical systems, radial tires, tie-down straps, spring or hydraulic lifting mechanisms, etc. The company's highly skilled engineers use the latest CAD/CAM technology to optimize design, payload capacity, feature set, and durability, making Sure-Trac trailers a wise choice. Sure-Trac offers an industry-leading 3-year structural warranty on all trailers, ensuring that you are confident and have peace of mind that your trailer will last for a long time. These qualities make Sure Trac trailers the best in the market.
You may want to check out this article on Will a Golf Cart Fit on A 5×8 Trailer if you own a golf cart.
Sure Trac vs PJ Trailers
This is a comparison between the Sure Trac trailers and PJ trailers:
| | | |
| --- | --- | --- |
| | Sure Trac Trailers | PJ Trailers |
| Price | $2,400-$16,000 | $2,500-$28,000 |
| Build quality | High build quality | High build quality |
| Customer satisfaction | Satisfactory | Satisfactory |
Conclusion
As you have seen in this Sure Trac Trailer Reviews, this trailer offers you the best service. Sure Trac ensures that their engineers are skilled enough to ensure that all trailers are top-notch. With the 3-year warranty it comes with, people who have used these trailers can attest to the fact that having one is worth it as it is durable and reliable.