Have you noticed some strange noises coming from the motor or a decrease in power?
Well, before you blame the battery or tires, let me tell you the brushes in your golf cart motor could also be an issue.
After months of frustration with my cart's performance, I finally discovered that my brushes were worn out and in desperate need of replacement. And let me tell you, what a difference it made!
In this blog post, I'll share all the Signs of Bad Brushes in Golf Cart motor, as well as some tips for how to replace them yourself.
10 Signs of Bad Brushes in Golf Cart Motor
These are the Signs of Bad Brushes in Golf Cart Motor: 
Increased energy consumption or battery drain.
Slow acceleration or lack of responsiveness.
Motor overheating or smoking.
Unusual or excessive noise from the motor.
Reduced power output from the motor.
Inconsistent or erratic performance.
Difficulty starting the motor or failure to start.
Noticeable sparks or electrical arcing within the motor.
Burning or melted brush housings.
Excessive wear or damage to the brushes themselves.
If you notice any of these signs, get a professional to determine the cause of the problem and recommend the appropriate repairs or replacements.
You may also like this article on What Should My Golf Cart Charger Read when Fully Charged.
Top 3 Best Golf Cart Brushes
These brushes are the best for your golf cart:
Rrina 20Pcs Electric Motor Carbon Brushes for Replacement and Repair
Carbon brush made with high-quality graphite and copper.
Easy to install.
Suitable for use with various electric motor powered tools and vehicles.
40Pcs Electric Motor Carbon Brushes Assortment 10 Different Sizes for Replacement Power Tool Part Repair
Convenient storage.
Easy to install and use.
Made with high-quality carbon.
Affordable.
Rannb Carbon Brushes for Electric Motors
Great value for money.
Offers ease of installation.
Carbon made.
Versatile usage.
If you like to keep your golf cart clean effortlessly, check out this post on the Best Golf Cart Cleaning Products.
Causes of Bad Brushes in Golf Cart Motor
The following are the causes of bad brushes in golf cart motor:
Overheating: The brushes warp or deform when the motor gets too hot, causing poor performance.
Voltage Irregularities: Voltage fluctuations create inconsistent contact with the commutator and cause the brushes to wear unevenly.
Wear and Tear: The brushes in a motor will naturally wear down from use after a while, making them less effective at conducting electricity.
Contamination: The brushes become dirty or contaminated with dust, dirt, or debris, which will cause interference with contact with the motor's commutator.
Improper Maintenance: Lack of regular maintenance on a golf cart motor, like cleaning or lubricating the brushes, can cause the brush to fail.
Mechanical Damage: Any physical damage to the brushes or the motor can cause problems.
Why Do Golf Cart Motor Brushes Wear out Fast?
Higher operating speeds, increased loads, higher temperatures, higher voltages, poor maintenance, and dirt are reasons why golf cart motor brushes wear out fast.
Motor brushes are made of carbon or graphite material, are relatively soft, and can wear out over time due to the friction and heat generated during normal motor operation.
That is why it is very important to not ignore any Signs of Bad Brushes in Golf Cart Motor.
How to Diagnose Bad Brushes in Golf Cart Motor
The following steps will guide you on how to diagnose bad brushes in your golf cart motor:
Check for any damage or wear on the brushes, like chipping, uneven wear, or cracking.
Measure the resistance of the brushes with a multimeter to see if the resistance is higher than normal or shows an open circuit.
Check for signs of damage or wear like pitting, grooves, or discoloration on the commutator.
Listen for any abnormal sounds or vibrations while in use, which can indicate that the brushes are not making good contact with the commutator or are worn down.
If the golf cart motor loses power or doesn't perform as well as it should, this can also be a sign of worn brushes.
How to Change Bad Brushes in Golf Cart Motor
Follow these steps to change Bad Brushes in Golf Cart Motor:
Turn off the golf cart motor and disconnect the battery.
Remove the access panel to expose the motor brushes.
Remove the retaining clip or screw that holds the brush in place carefully.
Slide the brush out of its holder gently.
Check the brush holder for cracks or wear, and replace it if necessary.
Fix the new brush into the holder, ensuring it is properly aligned.
Put back the retaining clip or screw.
Repeat the process for the other brush.
Reconnect the battery and test the motor to ensure it is running correctly.
If you notice any of the above mentioned Signs of Bad Brushes in Golf Cart Motor, its is better to replace them.
How to Stop Motor Brushes from Sparking
Follow these steps to stop motor brushes from sparking:
Adjust the timing of the motor to minimize sparking during operation.
Replace worn or damaged brushes to prevent excessive sparking.
Make sure the motor and brushes are clean and free of debris.
If possible, reduce the load on the motor.
Use a suitable lubricant to reduce friction and wear.
Use high-quality brushes that are designed for the specific motor.
Ensure the brushes are seated properly and in good contact with the commutator.
Install a brush holder or shunt to reduce the voltage and current at the brushes.
How to Test Golf Cart Motor Brushes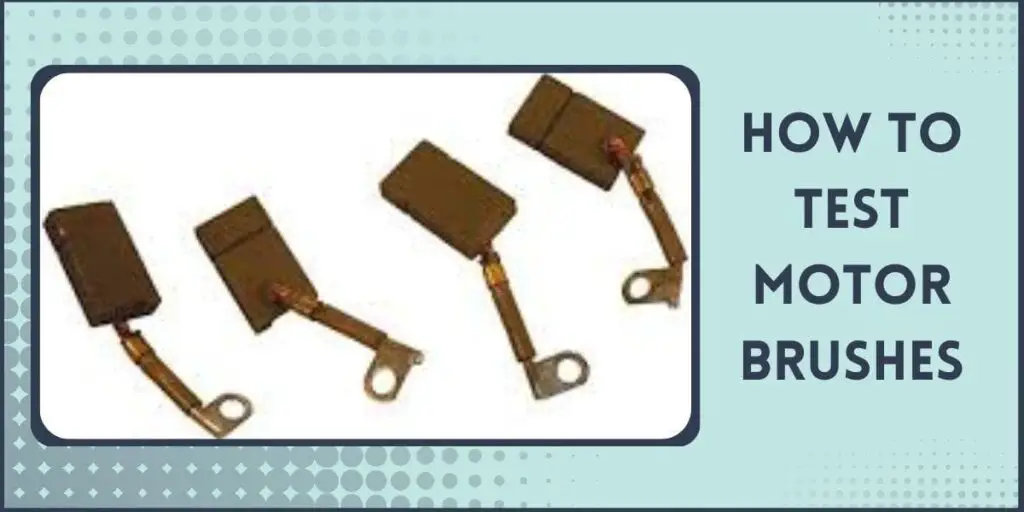 The following steps can be taken to test motor brushes:
Turn off the motor and unplug it from the power source.
Find the brushes on the motor. They are usually two small carbon blocks, one on each side of the motor.
Check if the brushes have any wear or damage, like chips or cracks.
Measure the resistance of the brushes using a multimeter. The reading should be low and stable.
Check if the brushes are shorter than the recommended length and replace them.
Reassemble the motor and test it to ensure it is working correctly.
If you use a Yamaha cart, this might help with Yamaha Electric Golf Cart Troubleshooting.
Conclusion
Golf cart motor brushes are small components that play an essential role. Knowing the signs of bad brushes in your golf cart motor, such as reduced power and strange noises, is vital and will help to maintain your golf cart's performance and avoid potential safety hazards. 
Regular inspection and replacement of your motor's brushes when necessary will extend the life of your golf cart and ensure a smooth and enjoyable ride every time. 
Keep an eye out for the Signs of Bad Brushes in Golf Cart Motors, and always take steps to ensure your golf cart runs at its best.