With the Ping i210 discontinued, there was a lot of speculation and rumors regarding its replacement.
Over time, we have been able to confirm the Ping i230 as the replacement model for Ping i210 irons.
This article on Ping i230 Release Date has detailed information on this iron including its launching date and much more.
What is the Ping i230 Release Date?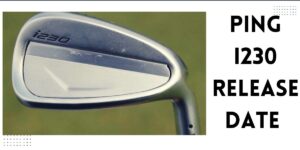 There hasn't been any official release date for the Ping i230 irons. However, most individuals are speculating they will be released this September.
Ping i230 Price
Based on general speculations and insight, the ping i230 should be a little above $1500. This is only a speculation based on Ping's track record of $200-$300 increases in replacement prices.
Check out this article on the Best Irons for 15 Handicap in 2023.
Ping i230 Review
The ping i230 is designed with a thru-slot speed pocket combined with a forged 4140 steel L-face and an inverted cone technology that helps maintain stability and provide maximum ball speed. The i230 is expected to offer better consistency, forgiveness, and accuracy with a longer blade and compact profile.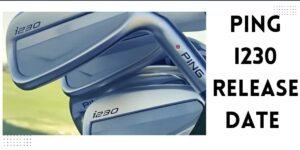 Features
Below are some expected features of the Ping i230.
Thru-slot speed pocket.

Tungsten weight screw in the toe.

An L-faced club forged with 4140 steel.

Softer toe and subdued cavity design.

Slimmer topline.

Increased compact profile.

Slightly less offset

Inverted cone technology.

A long blade length.
Pros and Cons of The Ping i230 Irons
Below are some perceived pros and cons of the new Ping i230 based on the information gathered:
Pros
Offers better forgiveness.
Offers more ball distance.
Increased control.
Increased workability.
Better game performance.
Simple look.
Better stability and consistency around the green.
Exceptional feeling.
Cons
The plain and simple look this iron comes with may be a turn-off for some players.
We suspect the price will be just as high as the i59 irons.
Ping i230 Rumors
Rumors had it that the ping i59 released earlier this year was the i210's replacement. Well, we found out that wasn't the case.
Early this July, rumors of a new Ping iron (i230) being spotted during the 150th Opening at St Andrews circulated. Since this is often a ground for testing out new irons, it has been rumored that the new iron spotted was the replacement for the ping i210 and stated to be revealed this year.
The iron has also been rumored to be seen played by Stewart Cinks and Tyrell Hatton. While we are not sure if the Ping i230 will be released this year as rumored, we however know for sure that it comes with a top-up.
The Ping i230 spotted has a Tungsten screw in the toe which we believe increases the MOI for more forgiveness. This increased forgiveness will obviously reduce twisting and allow players to square up the clubface, and hit the ball higher, and straighter.
There are also rumors specifying August as the release date for the Ping i230, well, this is September and the iron hasn't been released. Other speculations are that the release date has been scheduled for November. We however keep looking forward to it.
You may also be interested in Best Irons for 12 Handicap Golfer.
Popular Ping i230 Forum Discussions
Across various forums like reddit, golfspy, and a few others, the common trend of discussion on the Ping i230 across them all are geared towards the expected features and release date of this new iron.
Features like a Tungsten toe screw resulting in increased forgiveness seem to be the focus. High handicappers can't wait to have this iron in their bag. The price of this new iron is another trending niche.
It was concluded based on Ping's record of adding over $200 to newer models that the new Ping i230 should be around $1500. It was also concluded that this version of ping iron may hit the market this November. This theory was also generated from Ping's previous releases.
Is Ping Coming out With a New Iron for 2023?
Yes. Ping has scheduled the release of the ping i500 replacement for 2023. The ping i525 was to be revealed last year, but Ping pushed back its release date to 2023. Ping i230 is also scheduled to be revealed this 2023.
What to Expect from The Ping i230 Irons?
The Ping i230 is an existing model because of its many top-ups. There are about 5 innovative ideas added to this design that were not present in the Ping i210. Here's what we expect:
1. An L-Faced Club Forged with 4140 Steel
The new Ping model is expected to come out with a forged 4140 steel L-Face which is intended to offer an additional weight in the center, better feel, workability, increased ball speed, feedback, better distance, consistency, sweeter spot, and additional forgiveness. 
2. A Thinner Topline and Slightly Less Offset
The Ping i230 features a thinner topline which provides high ball flight making this iron suited for better players.
3. A Tungsten Weight Screw in The Toe
The ping i230 spotted featured a weight screw added to the toe which we believe would increase the MOI for more forgiveness. The increased forgiveness will reduce twisting on off-center shots allowing the player to square the clubface up, and hit the ball higher, farther, and straighter.
4. Improved small profile and Lengthier blade length
The new Ping i230 features a lengthier blade length which offers the player a better relaxed striking position increasing consistency and accuracy in shots while reducing joint pains. 
5. Thru-Slot Speed Pocket
The ping i230 comes with an improved thru-slot speed pocket which disconnects the lower portion of the club face from the sole of the iron resulting in a free-floating face giving golfers more face area towards the toe and heel. This will promote higher launch, ball speed, stability, and ball distance.
6. Inverted Cone Technology
The Ping i230 is anticipated to come with an inverted cone technology that will help enhance the COR of the club, improve accuracy, boost ball performance, and improve the sweet spot.
Conclusion
While we can't say a lot for sure about the Ping i230 Release Date, there isn't any doubt that this iron is going to be a hit based on its features. With the speculated release date by the corner, everyone is on the lookout for this iron.
I hope you found this article on Ping i230 Release Date insightful.