The JumboMax grips became one of the most talked about grips after Bryson DeChambeau won the NCAA men's individual golf championship with it and accredited his win to the unique make of this grip.
As a golf analyst, I decided to try out the JumboMax grips myself. The test was to find out what really makes it special and who it's best suited for. Also, I just wanted to win some games too, that's if the grip turns out to be all it's been said to.
This article on JumboMax grip reviews is my simplified verdict on this grip as regards to the tests I carried out. It did surprise me!
Jumbomax Grip Reviews
Features of the Jumbomax Golf Grips
While writing the JumboMax grip reviews, I found these features to be the best:
Core: Anti-twist stability core.
Grip Profile: super oversized.
Weight: 41g.
Construction: ultralight construction.
Sizes: standard oversized, X small, small, medium, large, and extra large.
Material: Rubber polymer.
Shape: Round.
Jumbomax Grip Reviews: Things I like & Dislike
In this section of my JumboMax grip reviews, I'll list the things I liked and disliked about the JMX golf grips:
Things I like
Feels natural, soft, and tacky.
Cushions the hand at impact.
Eliminates the pull and hook.
Increased control.
Much lighter compared to other grips.
Creates a faster club head speed.
Improves club face awareness.
Promotes maximum performance in the rough.
Great value for money.
Reduces wrist action limiting twists.
Increases straighter shots.
Swing weight doesn't change on the club.
Easy to install.
Affordable based on its features.
Improves distance.
Enhances accuracy.
Easy to grip and swing.
Game improvement grip.
Better launch angle.
Deep tension for traction.
Added confidence around the green.
Things I don't like
Not suitable for most golfers with smaller hands.
Difficult to get off the shaft.
How is the Anti-Twist Stability Core of the JMX Grips?
The JumboMax grip has a twist-resistant stability core under the softer outer layer which helps to reduce pressure on the wrists that comes from twisting. It takes off the pulls and hooks to guarantee a more comfortable play. It also offers maximum performance in the rough.
What is the Grip Profile of the Jumbomax grips?
The Jumbomax grips have a Super Oversized Grip Profile. This super-sized nature of this grip helps to improve club awareness and control. The grip profile of the JumboMax grips also provides an even grip pressure which results in faster club head speed.
Ultralight Construction
The JumboMax grip has an ultralightweight construction that makes it feel very light. It is 20-25% lighter than standard grips. Also, unlike most large grips, the JumboMax grip doesn't add extra weight to the club head as a result of the ultralight technique used in designing it.
What Sizes do the JMX grips come in?
The jumbomax golf grip comes in different sizes like: standard oversized, X small, small, medium, large, and extra large.
What is the Material of the Grip?
The JumboMax is constructed with high quality rubber polymer which adds a tacky feel to it. It also increases the durability of this grip.
Shape: Round
The jumbomax Grip has a round shape which makes it easier to hold and launch.
How to grip Jumbomax grips?
Gripping a jumbomax Grip isn't very different from how you hold a normal grip. The only difference is that you don't have to exert as much pressure holding it as you would a thinner grip.
Jumbo Max Grip Size Chart
In this article on JumboMax grip reviews, I created a size chart for this grip below.
Sizes

Measurements

Suitable golf glove size

Standard

0.9″

22.86mm

Small

Standard oversized

(+1/16″)

0.963″

24.46mm

Small-medium cadet

Xtra small

(+1 /8″)

1.025″

26.04mm

Medium

Small

(+1 /4″)

1.150″

29.21mm

Medium-Large

Medium

(+5 /16″)

1.213″

30.81mm

X large

Large 

(+11/32″)

1.244″

31.60mm

XX large

Xtra large

(+3 /8″)

1.275″

32.39mm

XXX large
Are JumboMax grips better?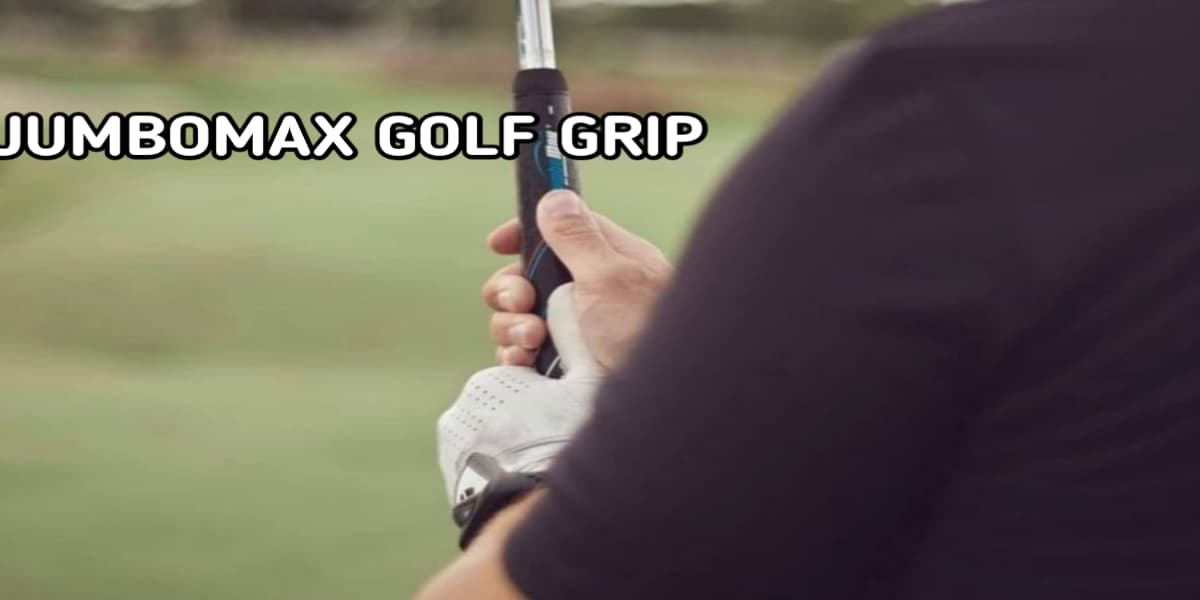 The JumboMax grips are better than all other grips in the market today because they reduce wrist and joint pressure, improves feel, enhances club awareness, has a soft and tacky feel, eliminates hook and pull, and are easy to install, increase ball performance, and more.
It won the NCAA men's championship, that says a lot about this grip.
Who uses JumboMax grips?
The JumboMax grips are used by pros like Bryson DeChambeau. It is suitable for golfers with bigger hands and some with smaller hands too. It can also be used by golfers of all levels.
What size JumboMax grips does Bryson DeChambeau use?
Bryson DeChambeau plays with the X large grip with 4.8 inch circumference.
How Do You Swing with Jumbo Max Grips?
To swing with JumboMax grips, follow these steps:
 Start with your left hand if you're right-handed  and vice versa if you're left-handed.

Ensure the handle runs diagonally across your left fingers.

Check for knuckles after you close your hand over the handle.

Try not to cover the butt of the handle with your palm.

Grip softly but firmly.

Swing away.
Conclusion
I hope this article on JumboMax golf grips reviews gives you a simplified take on them. The JMX grips like the Ultralite, don't exert additional weight on the club, unlike most other large grips.
We hope this article on JumboMax grip reviews has been helpful to you.