Ezgo is a well-known name in the golf world with a wide range of EZGO golf cart models with gas and electric options to their name.
You would be surprised how little you know about the ezgo golf cart models.
If you are an ezgo golf cart user or an ezgo golf cart analyst, then you would enjoy reading this article which has been drafted with all the information you need about the Ezgo golf cart models by year; from 1975 to the present.
Top 6 EZGO Golf Cart Models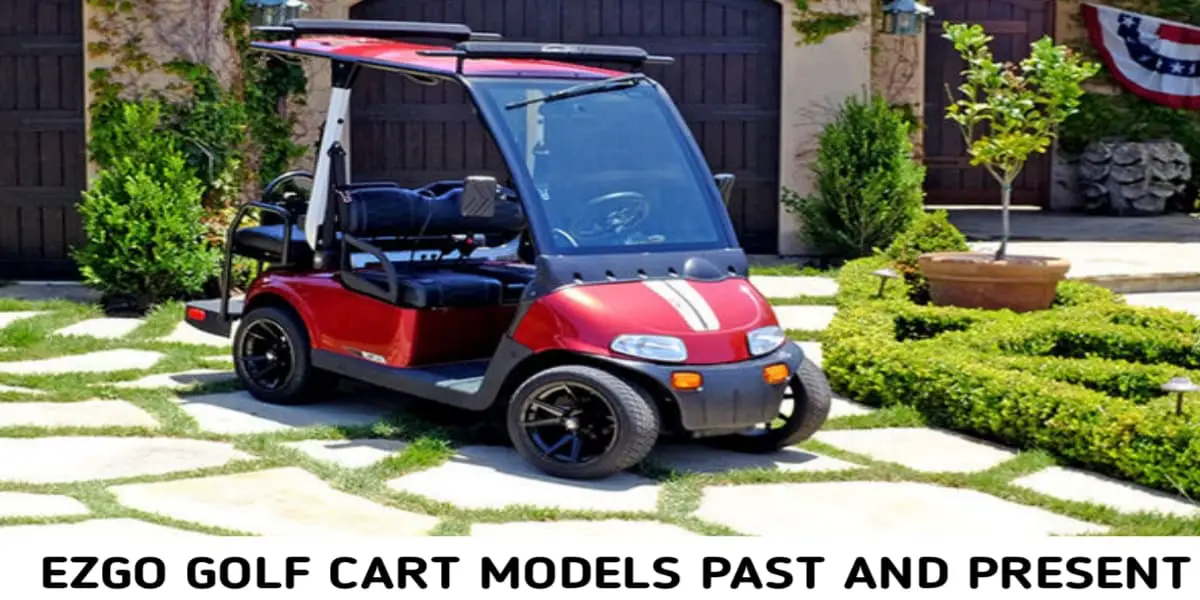 These are the top 6 EZGO Golf Cart Models:
1. EZGO 2five LSV
The ezgo 2five golf cart is an LSV (low speed vehicle) model. This golf cart balances safety, responsibility, and convenience with a maximum speed of 25mph. The ezgo 2five is a street legal golf cart with a speed limit of 35mph. The EzGo 2five model has safety features like 3-point seat belts, hydraulic disc brakes, quality glass windshield, headlights, turn signal, and much more. It is the first of ezgo golf cart models to be designed with an "exceed hybrid technology".
Features
An electric golf cart that can travel for about 159 miles on one charge. It achieves this with a small gas generator supplementing its 48v electric powertrain.

It has a low emission gas powered engine which is relatively environmentally friendly.

An exceed limit tech system designed with a 499 watts power source allows for the use and charging of electronic devices like phones and laptops from the ezgo 2five cabins.

It is also designed with four wheel hydraulic disc brakes which ensures superior vehicle control and braking

The ezgo 2five is also designed to guarantee safety with accessories like headlights, tail lights, automotive light packages, turn signals, and brake lights. 

It has an automated high quality windshield and features a 3-point seat belt for protecting both the front and rear passengers.

It also features readily tires, and vehicle maintenance warnings displayed electronically on the golf carts dashboard to help the driver with the operation of key vehicle systems.

A turtle switch limits the ezgo 2five speed to about 14mph when lower speeds are required.
Pros
It requires less energy to operate unlike a traditional DC powered electric vehicle

The regenerative braking system helps generate an awesome driving experience between battery charges.

Its onboard battery makes charging faster and is energy efficient

12 volts accessory outlet for charging your devices.

Awesome vehicle storage

Exceptional safety accessories

Superior braking and vehicle control

It is street legal 

Eco-friendly engine
Cons
It is quite pricey.

It has been discontinued.
Find out the model of your EZGO, check out my article on Ezgo Serial Number Lookup.
2. Ezgo RXV
The ezgo RXV model is next on this list of ezgo golf cart models with Elite lithium technology and an EX1 had engine options for you to choose from. It features an automatic patented brake, independent front suspension, a spacious dash, and more. The RXV golf cart model provides efficient performance to all its users. It features fleet, freedom, and shuttle 2+3 as its available models.
Features
The ezgo golf cart model can travel up to 30 miles on a single charge of 12-13mph.

It features an advanced automatic braking technology system 

It has an efficient and reliable 48v electric lithium drive with a patented intellibrake technology or EX1 has an efficient engine as options for you to choose from

It has an impact resistant bumper which keeps your hold cart looking new.

It is designed with a foldable windscreen for added ventilation on warmer days.

A flip down rear seat for two passengers which can fold over into a cargo bed.

Innovative dashboard and cup holders to provide you with the needed extra space.

It also comes with front and rear lights, uniquely contoured seats, and 28 inches turf tires.
Pros
Provides a great riding experience.

The latest patented braking system for increased brake control.

It comes with a flip down rear seat.

It comes with primary innovative features like the extra space dashboard, cup holder, and contoured seats.
Cons
The user may experience issues when he tries hitting high speeds or riding downhill.

You may also encounter problems with the micro switch.
3. Ezgo MPT Model
The EZ GO MPT golf cart model is the predecessor to the ezgo workhorse model. It is designed majorly for industrial and commercial purposes, often called a utility cart.
Features
The Ezgo MPT features a square shaped front nose having two light holes.

It comes with a cargo bed or box on the rear

It is available in a gas engine and electric drive system.

It has the MPT 800, 1000, and 1200 as its available models.

It is designed for commercial use and can carry over 1000 pounds of cargo.
Pros
Its electric engine is pollution free and reduces noise.

It is simple to operate.

It is easy to maintain.

Allows for added cargo weight.
Cons
You may encounter issues with the batter of the electric model of the MPT ego golf cart.
4. Ezgo TXT golf cart model
The ezgo TXT is one of the Ezgo golf cart models available in the market today that combines reliability and new innovations to provide its user with a more comfortable ride. Its body is designed with welded steel that is powder coated for added durability. It uses a 6-eight volt deep cycle battery and a 48v DC electric system, with a speed level of 10.2-14.8 mph and 16.4-23.8 mph when lifted. It has leaf springs with a hydraulic shock absorber on its front suspension
Features
It is designed with a solid state energy control.

It has a precision drive system with regenerative braking which allows for energy transfer back to the battery after breaking. Low fuel and oil indicator to help you monitor your fuel level to avoid running out of gas.

It features a gas engine with closed loop EFI and an electric model with a 48v DC system, giving it about 14mph speed level.

It features hydraulic shock absorbers to help give you a smoother and more comfortable ride.

Its electric model comes with a battery charger and charge meter to keep you running at all times without the fear of shooting down.

Its Upgraded Lithium elite model has a unique long-lasting battery that requires minimal maintenance.

Its available models are EX1 gas, electric, and lithium models.
Pros
It has a stylish look and can last long even without upgrades.

It has a durable steel frame.

Its replacement parts are affordable and easy to acquire.

Longssting battery life.

Hydraulic shock absorbers provide smoother rides.
Cons
It is not as good when it comes to hilly terrains.

The replacement parts of older versions are difficult to get.
Related: Best EZ GO Golf Cart Accessories.
5. EzGo Terrain Model
The Ezgo Terrain model is a utility cart that has an array of unique features that makes it suitable for both work and play. It features a standard steel brush guard and an integrated front bumper for a stylish look and protection of the body. It also has tubular steel struts resistant to harsh weather.
Features
It features improved control on wet or loose terrains and traction

standard steel guard and integrated front bumper which gives the cart a stylish look and added protection

Tubular steel struts for visibility and protection from harsh elements

Its available models are EzGo Terrain 250, 500, and  1000 ezgo golf cart

Available as a 48v electric system or Kawasaki fuel efficient gas engine
Pros
Provides comfortable rides.

Suitable for tougher terrains.

It has a durable steel frame.

Its electric model is emission free.

It is easy to operate.
Cons
You may notice it has a short reverse and forward shifter.
6. EZGO Express Model
Designed with a 23.5hp closed loop engine or 48v Dc drivetrain with an additional 30% hill climbing ability and increased torque. The EZ-go express model is one of the best ezgo golf cart models. It has a dura shield powdered coating for added frame durability. A 12v maintenance free elite lithium battery with a fuel capacity of about 22.6 liters.
Features
It features dual headlights and horizontal tail lights for added visibility

It has premium tires and wheels that provide quality rides with a speed level of about 19mph

It has express L4, S4 (HO), and L6&S6 as its available models.
Pros
It has a long-lasting body frame
A maintenance free lithium battery
Increased torque
Improved terrain riding ability
Quality and comfy rides
Added visibility.
Cons
Ezgo Golf Cart Models by Year
Ezgo 2five- 2007 to present.
Ezgo RXV- 2008 to present.
Ezgo MPT- 2004 to present.
Ezgo TXT- 1996 to present.
Ezgo terrain- 2012 to present.
Ezgo Express- 2012 to present.
Ezgo Marathon- 1975 to 1993.
Ezgo medalist- 1993 to 1995.
Ezgo workhorse- 1998 to 2003.
Related: Best Lift Kit for EZGO Golf Cart.
Old EZGO Golf Cart Models
Ezgo marathon (

1976-1987)

Ezgo Marathon 2 (

1988-1993)

Ezgo medalist (

1993-1995)

Ezgo Workhorse (

1996-2003)
Conclusion
Knowing the EZGO golf cart models will give you a better advantage when it comes to choosing a golf cart for your needs and maintenance.
I believe you found this article on EZGO golf cart models by year insightful.