This is a simple DIY disc golf cart build.
I am not the best at building things, so this is what I made with an affordable amount at my home.
Check out how I built this DIY Disc Golf Cart.
The steps and tools I have specified in this article were what I used to build my homemade Disc golf cart, however, they may vary a little bit as you may have to improvise if you don't have some of the tools I used or just make a few additions. Either way, let's get right into it.
How to Make a DIY Disc Golf Cart (Step-by-Step Instructions)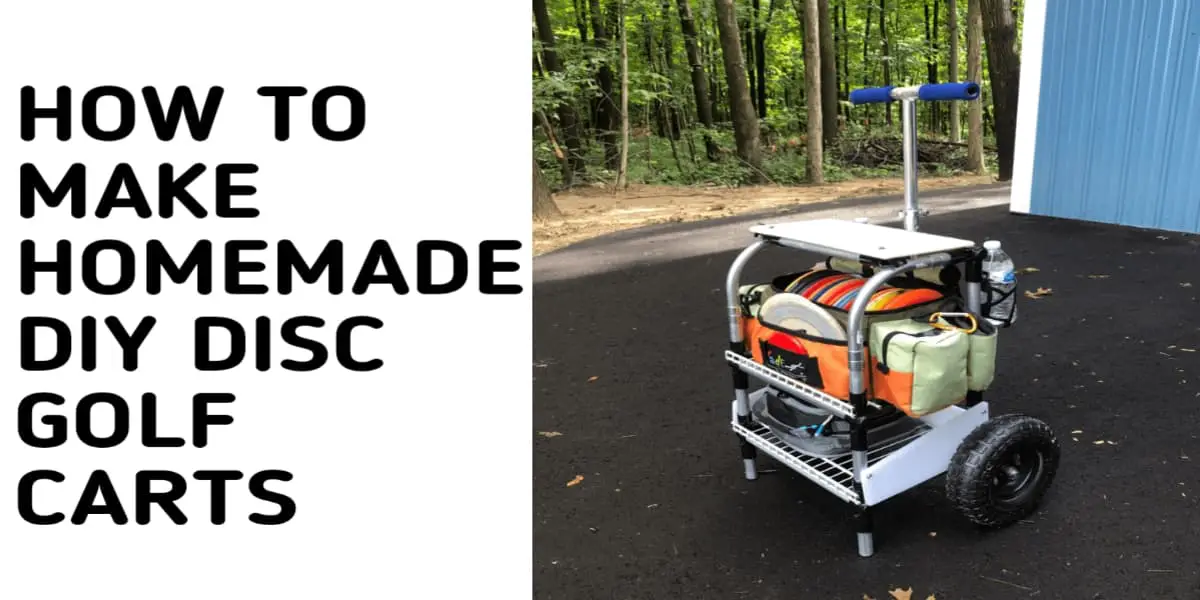 The steps below will guide you on how to make your own DIY Disc Golf Cart:
1. Make a Design Sketch for The DIY Disc Golf Cart
The first step to making a homemade DIY disc golf cart is drawing out a sketch of what you want to achieve.
Since we will be reusing some parts, you have to draw out the points where you will be making additions just to have a clear picture of what you are doing. Make a drawing of the front, back, and side.
Add the Location of the wheels, handle, and possible designs to the sketch.
2. Take Measurements of The Plywood to Be Used
Measure the sides of your disc bag since you are making the cart to suit it. Add these dimensions to your sketch.
Get a Plywood sheet and measure it as needed. My measurements were 19 inches for the back and 13 inches for the base. You can however customize the measurements. Measure how high the front piece or foot will be by measuring the wheel you are going to use. Mine was about 5 inches.
3. Disassemble the Old Golf Cart
You should disassemble the golf cart or pusher that you plan on using. I used an old golf cart and removed the cardholder because of the Udiscs. However, you can leave yours.
You should put each part and bolt in a condition where you can easily reach out for them since most of them will come in handy.
4. Cut out The Measured Plywood
At this point, you should start cutting your plywood as measured. Make sure to have your safety goggles on.
5. Join the Pieces of Plywood Together
Place the 19 inches of plywood on that of 13 inches using some wood glue and brackets to hold it in place firmly. You can also add in some 2-inch screws using a ⅛ inches drill bit to help give it a more stable and firm hold.
6. Take Measurements and Cut out Wood for The Sides
Cut out two sets of plywood that are 13 inches wide and 19 inches long to add to the sides of the structure.
7. Design the Side Woods
Work on the design you want to add to your cart. You can leave the wood all long and plain or add a design that will allow you easy access to your side pockets.
Sketch the design you want on the plywood you have just cut out.
Hold them together with a screw to allow you to cut through them and get the exact design on both sides using a jigsaw. Use an orbital sander to give the edges a smoother finish.
Drill a hole into the plywood to get a better access point for your jigsaw to cut through the woods. In cases where you don't have a jigsaw, you can use a multitool to cut through the woods separately.
Use your orbital sanders to smoothen out the edges.
8. Cut out Wood for The Front
Cut out an 11 inches ply and set it to have 5 inches as the wheelbase.
Make an opening on the upper part to allow you easily reach your front pocket. At this point, you should sand off any uneven edges.
9. Add the Wheels from Your Old Cart
Drill in the wheels on the back with lock screws.
Add some thread lock to help give them that firm hold. You can drill in the screws at about three points of the wheel frame.
Attach the handles from your old cart. Ensure you place the handle right at the middle point. Hold it in with lock screws and thread lock.
10. Paint the Disc Golf Cart Using Spray Paint
Use spray paint of your desired color to paint your golf cart.
Ensure to unscrew the wheels first, to avoid paint getting on them.
Do a double coat job to give it that high-quality look. Allow to dry and reattach the wheels.
Tools & Materials required for a Homemade Disc Golf Cart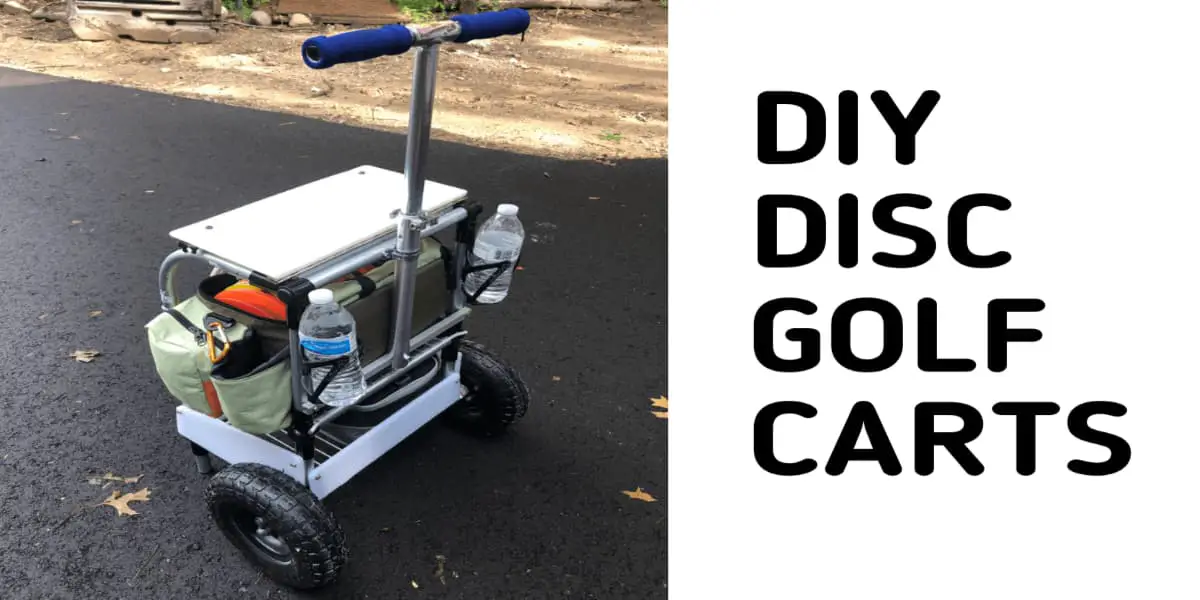 To build a DIY Disc golf cart, you will be needing the following tools and materials:
A rigid multi-tool.

A rigid jigsaw.

A drill set.

A 4-inch grinder.

An orbital sander.

Drill bit set.

Speed square.

T-square of 48 inches.

Safety glass harp clamps.

Clamps.

Painter's tape of about 2 inches.

Spray paint.

Screws of 1-¼ inches, 2 inches, 3 inches, and 9/16 inches.

Bolts of about 4 inches with wing nuts.

Plywood of fewer than 4.8 inches.

Wood glue.

Corner bracket.

Wrenches metric set.

Thread locker Loctite 248 blue.
What Type of Plastic Is Used for Disc Golf?
Most Disc golf is made from polypropylene plastic commonly called polypropene. This is a thermoplastic polymer resin used for various other products. This material easily melts to a liquid when heated and becomes hard when it cools down.
Conclusion
DIY disc golf carts are a great way to save costs. On average, it should cost you about 10 bucks if you have scrap materials lying around to use. You can also get very cheap scrap materials on eBay to use for building your own homemade disc golf cart.
This article on DIY disc golf carts is written to help guide you on how to make your very own disc cart. However, you can make a few modifications or additions. I hope you found this article helpful.